Trip.io, the first travel booking marketplace based on blockchain, announced on February 26 that it has received hundreds of millions of yuan in funding from OKBlockchain Capital, BlockVC, INBlockchain, NodeCapital, Genesis Capital, FreeS Fund, Ceyuan Ventures, F2Pool, TRON and other investors.
The company aims to use its travel services platform Tripio to restructure hotel booking protocol with blockchain technology, so as to solve problems of high commission, intensive operation , false reviews and inaccurate updates on room status. The investment raised will be earmarked for system development, science research, marketing, operation and legal services. Tripio also plans to raise a second round of financing at 10 AM on February 28.
Trip.io has hundreds of employees and a core team comprising former employees of Agoda, Expedia, Hotels, Tripadvisor, eLong, Ctrip, Qunar, Alibaba, Amazon and Microsoft.
The Tripio Whitepaper describes Tripio as a product based on Ethereum's smart contracts. "By leveraging the full-fledged and Turing-complete programming language built into the Ethereum Blockchain, Tripio redefines transaction models and state transition function rules, and hence construct various smart contracts to power travel services in new and innovative ways."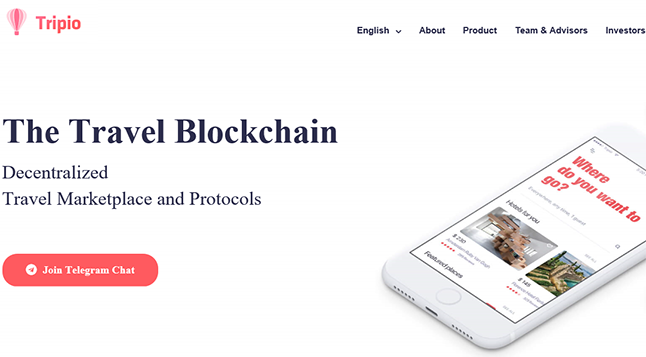 A service provider uses Tripio's smart contract template to list their service. For example, for a set listing fee, a hotel manager can create a new room type with supporting information such as pictures, service descriptions, room dimensions, Wi-Fi availability, breakfast options and terms and conditions. The listing fee is payable by TRIO tokens.
Customers may use any legal fiat currency or digital currency (e.g. USD, EUR, ETH, LTC, XRP, TRIO) to purchase services in the marketplace. Tripio's transaction system will process transactions based on the needs of both customers and service providers. For example, a specific smart contract may hold payments until service is rendered and confirmed by both parties. Upon confirmation, payments are subsequently released to the designated party.
Upon completion of a transaction, participating parties may rate each other, with the option of leaving supporting reviews. Rating and review information is stored on the blockchain, where these ratings and reviews form the basis of reputation for all participants in the Tripio ecosystem.
On the Tripio platform, there is no middleman fee if the transaction is completed using TRIO tokens. Ifother payment methods are used, Tripio charges a 1% to 3% currency conversation fee. By eliminating the middleman layers, transactional overhead is greatly reduced.