Having celebrated its 50th anniversary in 2016, the world's largest travel trade show ITB Berlin will return this year with a strong participation of over 11,000 exhibitors and over 180,000 visitors. As per previous years, over 6 billion euros worth of deals are expected to be made through ITB Berlin.
ITB Berlin 2018 will take place from March 7-11. TravelDaily China, a strategic partner of ITB, will be exhibiting in the trade show and will also organize various events to promote greater understanding of China's digital marketing and travel innovations. Senior executives from China Southern Airlines, Louvre Hotels Group, Maritim Hotels, iGola, Mioji, Shiji, Tujia, Klook Travel, Ocean Link will share their insights in these sessions.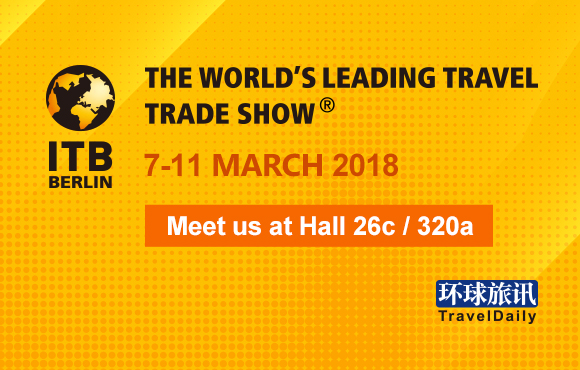 Mark your calendar for the following events:
Connecting the Travel Brands with Chinese Millennials
Venue: Hall 7.1a, Auditorium New York 3
Date: 16:00-16:45 Day 1 March 7, 2018
As Chinese millennials are becoming the driving force for China's outbound travel growth, how travel brands leverage various digital platforms and mobile devices to connect with Chinese millennials? Where your marketing dollars should be spent in the next couple years to target Chinese millennials? Listen to the sharing from China's leading internet company, airline, hotel, OTA.
Panellists:
Jenna Qian, CEO of Destination Marketing,Ctrip
Françoise Houdebine, Vice President Marketing & Sales, Louvre Hotels Group
Roland Elter, Chief Commercial Officer, Maritim Hotels
George Zhang, CEO,iGola
Moderated by:
Joseph Wang, Chief Commercial Officer, TravelDaily China
How Start-ups and Travel Innovation Are Redefining the Chinese Market
Venue: Hall 6.1, eTravel Stage
Date: 11:00-12:00 Day 3 March 9, 2018
China is the largest source market for global travel industry, and technological innovations are driving dramatic changes to its travel sector. How can international travel brands make the most of the latest technologies and ecosystem in order to grow their businesses and better serve Chinese travellers?
11:00-11:10 Keynote presentation
Speaker: Kelly Zhang, Vice President, Mioji
How an AI-powered System Distributes Global Travel Products to China?
Mioji has leveraged AI and big data to develop a system which creates an itinerary within 10 seconds and realizes auto pricing. Being a medium connecting 2 ends, Mioji sets up a network gathering suppliers as well as travel agencies to widen the channel of distribution and share global resources. Mioji's clients include travel agencies, wholesalers, OTAs and tour operators while its suppliers are all categories and worldwide.
11:10-11:20 Keynote presentation
Speaker: Eric Gnock Fah, President & Co-founder, Klook Travel
Marketing Travel Activities to Asian Visitors
Klook is Asia's largest travel activities booking platform, bringing in over 1 million bookings per month with users from more than 50 countries. Being the industry pioneer for travel activities in Asia, Klook shares insights and trends of Asian millennials travelers including demographics, online behavior, and European destination preferences. Klook has raised close to US$100 million investment from world-renowned investors including Sequoia Capital, Matrix Partners, and Goldman Sachs.
11:20-12:00 Panel Discussion
Panellists:
Kevin King, COO, Shiji
Changle Yang, COO, Tujia
Eric Gnock Fah, President & Co-founder, Klook Travel
Tony Jiang, Co-founder & Partner, Ocean Link
Moderated by:
Joseph Wang, Chief Commercial Officer, TravelDaily China
Note: The ITB Berlin visitors have the free access to the above events.
Chinese Night
This special event for international and China's exhibitors and buyers will be hosted by ITB Berlin on March 7. This by-invitation-only event is sponsored by Jin Jiang International and Ctrip and is the best platform for you to meet exhibitors and buyers from China.
Click here to register as ITB Berlin visitor