Locals, a house-sharing platform based in Guangzhou, announced on January 23 that it has secured RMB 150 million(around USD 24 million) in its A round of financing, with Angel Plus being the lead investor, Gohigh Fund and Zhen Fund being the back-ups, and Index Capital being the financial consultant. Among them, Zhen Fund is the lead investor in its Pre-A round of financing, and Angel Plus and Gohigh Fund are newly-added investors.
In an interview with China Travel News, Tongmin Su, founder of Locals, said this round of financing would be used to expand listings, improve technology support, enhance operational efficiency and launch two additional businesses of homeware retail and urban travel. In the upcoming year, Locals expects to see a 4-fold increase in the number of its members, and further recruit middle to senior executives.
For 2018, Locals anticipates its 50,000 properties will draw 20 million visitors and generate 2 billion GMV. In particular, it is anticipated to increase the repeat business rate from 20% to 35% and the spending per customer from 500 yuan to 550 yuan.
The mix of the 50,000 listings will comprise 70% newly added properties and 30% converted from the existing B&B inventories.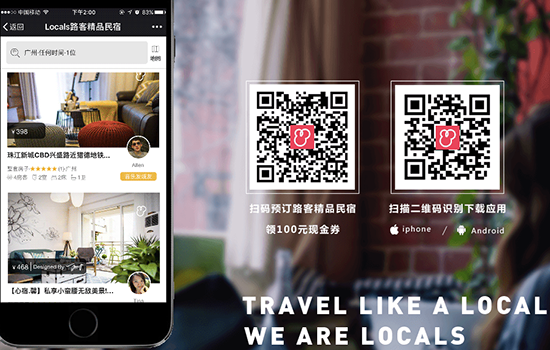 As for cooperation with real estate developers, the company will opt to work with real estate projects that offer mainly personalized accommodation in popular destinations around major cities or characterful tourist towns. "These projects usually include B&B offerings. Locals would like to support these real estate developers in the area of B&B management," said Su.
On the sales channel front, Locals will continue to seek API direct links with more OTAs and B&B booking platforms following its direct connection with Airbnb and Tujia at the end of October, 2017. Currently, Locals is developing systems to achieve direct connection with Fliggy, JD, Agoda and others.
Locals is also improving direct sales channels by differentiating its distribution channels through boutique B&B products. Data at the end of 2017 showed that around 20% of its customers booked their accommodation on Locals, and they were mostly returned customers.
For 2018, the platform will add two additional businesses, namely, homeware retail and urban travel, to further tap into consumption deriving from the B&B business.
In homeware retail, Locals will approach more high-quality home products suppliers to put their products in rooms, on the basis of not adding costs to refurbishing its room inventories. Guests interested in decorating homes and buying furniture can use the QR codes to access suppliers' e-commerce homepages.
Urban travel offered by Locals will be unlike Airbnb's Experiences – it will be connecting customers to services rather than offering the services. It will identify the needs of guests through the friendly services of assistant hosts, and recommend local tour activities accordingly.