Home
>
>
China's passport power is suddenly far ahead of India's
China's passport power is suddenly far ahead of India's
Up until 2016, an Indian passport offered easy entry to more countries and territories than a Chinese passport. But the coin has flipped.
A global ranking of passport power shows China in 75th place, an all-time high, while India came in at 86, on par with Cambodia and the Central African Republic in terms of ease of travel. This year's index, released Jan. 9, looked at 199 countries and regions through data from International Air Travel Association and its own research.
Chinese tourists can now travel to 60 countries or territories without a visa, or with a visa on arrival, increasing from 51 places in 2017, according to Henley. But Indian tourists can do so to only 49 countries—the same number as in 2017, according to data from Henley. Less than a decade ago, in 2010, China had liberalized visa access to just 38 nations or regions, while India could count on easy entry to 50 places. The two countries were neck-and-neck more recently—until China overtook India.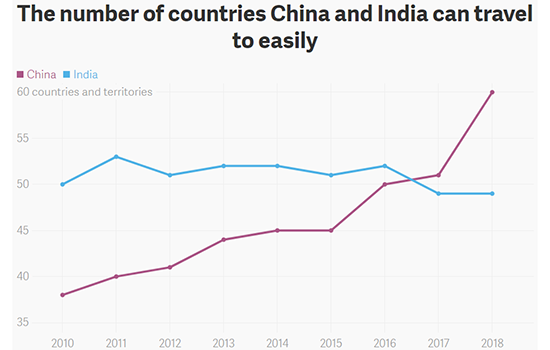 The growing power of China's passport has seen a significant increase in Chinese travel—and spending—overseas. According to the Beijing-based research institute, China Tourism Academy, Chinese tourists spent USD 110 billion overseas in 2016.
Read Original Article