ChinaTravelNews, Ritesh Gupta - Travel is an inimitable experience, and quite distinctive for each one of us. A popular destination can be explored in dissimilar ways by different people. And preferences for trip essentials – buying a bundled offer from an airline or not, standard hotel room, the category of the hotel or staying in an apartment, transfer from the airport etc. – can vary.
So catering to different type of travellers, essentials of a trip means the travel sector is riddled with challenges.
And if we were to assess the future of travel e-commerce, there are several issues that are being concurrently sorted out to simplify travel shopping:
1. Digital identity: Where does the industry at large stand with democratizing of digital identities in a connected world? Is it possible to do it, just the way likes of Facebook, Tencent, Google etc. are doing it (as they force a log-in)? Oliver Dlouhy, CEO at virtual interlining specialist Kiwi.com points out that no one is really anonymous (as deterministic data from log-ins, plus other pointers such as cookies, device IDs, etc. is gradually solving the issue of a digital identity in a connected world). "There are so many footprints across touchpoints before a booking is complete. Key is here to evaluate such data, assess patterns via machine learning. More a customer is known, better the chances of personalising the offer," says Dlouhy, who added that data can be collated from different verticals and not just travel.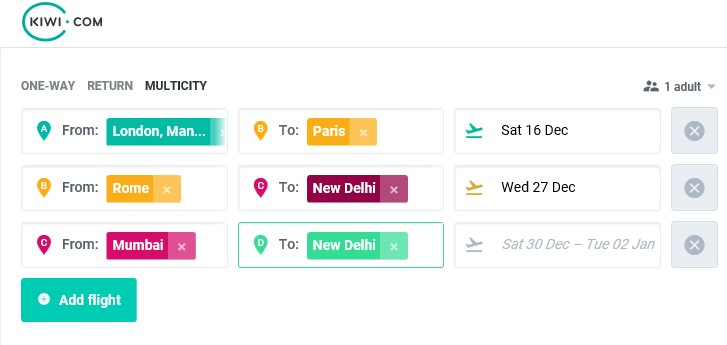 2. A new, possibly a disruptive way of shopping for travel: Disruption doesn't come out of the blue. It's a process. But have start-ups focusing on virtual interlining, proactive alerts, Hidden City Ticketing etc. or emerging drivers such as predictive artificial intelligence paved way for a sweet spot to take complexities out of travel shopping? So rather than just focusing on "Dates" and "From and To" as tabs for search on the home page, can airlines offer a way to finalise a destination, or may be offering a "trip" as per the style of the travel, budget, social context (family, individual, colleagues etc.), timing (weekend vs. weekday) etc.? "The search and discovery process shouldn't be a painful one," says Travis Katz (he co-founded Trip.com, the company recently acquired by Ctrip).
Dlouhy highlighted that China is way ahead of other markets, for instance, convenient check-outs featuring mobile payments. He referred to the introduction of "Smile to Pay" facial recognition or QR Codes being embedded in consumers' lifestyle in China.
Interesting developments have emerged this year. For instance, airlines are evaluating the use of blockchain for ID verification. Zug, Switzerland-based blockchain specialist Winding Tree asserts that travel distribution hasn't evolved over the years owing to the consolidated nature of the travel distribution platforms. This resulted in a scenario where intermediaries have no incentive to embrace novel technologies. The company intends to make travel cheaper via decentralized travel distribution. As for chatbots, it would be interesting to see if companies can move beyond a specific stage of the funnel or support voice-based interaction while counting on chatbots for simplifying the entire travel planning, booking and the journey itself. For instance, a European carrier introducing a chatbot on WeChat couldn't start with voice functionality in the initial version.
3. Improvising on an existing methodology: What about front-end technology or even improvising on functionalities that facilitate flight search? Start-ups acknowledge that with devices like mobile that can be super-sharp in understanding a shopper with contextual signals, then why to push a user to ascertain what they have to search for? "Searching for flights is super complicated, one has to visit numerous websites. Dates, departure and arrival airports…removing search from flight search and travel search in general is the next big thing. How about understanding the travellers, and offering the right itineraries and offers without search is the holy grail," says Dlouhy.
Making it simpler
Dlouhy says there are plenty of buzzwords that are being spoken about, for instance, personalisation is one of them. The real differentiator should the "value" (for passengers) that needs to stands out. As of now, the travel industry isn't capitalizing on the data available. Airlines, OTAs and others store huge amount of data, but still not leveraging this data to the full extent. So using machine learning to come up with relevant, right offers can make a difference," said Dlouhy. Dlouhy underlined that the value that his company is focused on is "cheaper flights", and making travelling simple and accessible to everyone.
So be it for letting one book multi-city itineraries or making the interface simple with coloured tabs (assigning one color to a city where you stop in your itinerary and matching it with the same color on the map that also help in comparing price as there is price next to every onward destination), Kiwi.com's sole focus is on simplification of travel shopping, offering the best deal. The company also asserts that Kiwi.com protects users from flight cancellations, delays, and rescheduling.
Kiwi.com's Dlouhy was in Shanghai for TravelDaily's Airline Distribution Conference. Here's a video featuring his viewpoint on making travel simpler, cheaper.