Travel industry research firm Phocuswright announced the winners of Summit and Launch, held November 7 and 8, during The Phocuswright Conference currently underway in Hollywood, Fla.
During Summit, 24 innovative startup and emerging companies and the winners of Battleground: The Americas, APAC and EMEA demonstrated groundbreaking applications and solutions set to change the travel industry. Launch featured nine established companies unveiling their travel innovations.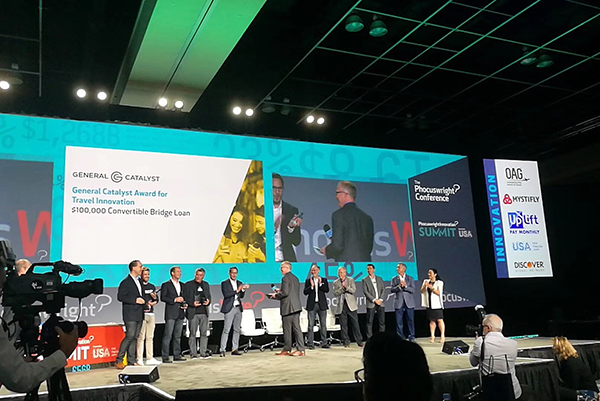 Winners were determined by the Summit Dragons, a panel comprised of travel and technology experts. Winners represent the top innovation in two categories: Startup and Emerging.
Award for Travel Innovation-Emerging Category
Winner: UpLift
Headquarters: Sunnyvale, CA U.S.
Leadership: Brian Barth, CEO; Stu Kelly, CTO; Tom Botts, SVP
UpLift makes it easy for travel providers to offer the best and broadest flexible payment options to boost their marketing metrics. In addition to very low-cost consumer point-of-sale loans, UpLift now offers travel-specific deep neural net underwriting to approve low FICO consumers, travel trade solutions and call center solutions. UpLift is 100% focused on travel and continues to add deep, travel-specific flexible payments solutions.
Runner-Up: Mezi
Headquarters: Sunnyvale, CA U.S.
Leadership: Founders: Swapnil Shinde, CEO; Snehal Shinde, CTO
Mezi is building the most advanced AI for travel, because everyone traveling for work deserves a first-class experience. Mezi's Travel as a Service solution simplifies the process/workflow for an industry that lacks a fast, easy and efficient way to service its customers. The platform - comprised of an Agent Dashboard for partners, and iOS/Android apps for travelers - uses AI and machine learning to automate and perfect the travel booking and management process.
Award for Travel Innovation- Startup Category
Winner: Redeam
Headquarters: Boulder, CO, U.S.
Leadership: Kevin McLaughlin, CEO; Leith Stevens, VP Business Development
Redeam connects resellers and suppliers of tours & activities electronically, removing the burden of dealing with paper vouchers for invoicing and payment. When a reseller makes a sale, Redeam captures it and stores it for validation when the traveler arrives at the supplier; tickets, vouchers or passes are immediately validated upon the traveler's arrival and stored for invoicing by accounting staff. One client went from spending 27 days to a few hours to do their monthly invoicing.
Runner-Up: conichi
Headquarters: Berlin, Germany
Leadership: Maximilian Waldmann, CEO; Frederic Haitz, COO
By digitalizing tedious hotel procedures like check-in/check-out, digital door opening and invoicing, conichi is taking an impersonal standard, utilizing it in a smart way to create a new standard in hospitality. Travelers can use an express check-in and can check out via mobile without queueing at departure. Payments are safely made through the app to ultimately save the hotelier and guest valuable time.
Brand USA Marketing Innovation Award
Winner: Beach-Inspector.com
Headquarters: Berlin, Germany
Leadership: Anton Werner, Thomas Berndorfer, Kai-Michael Schäfer
Beach-Inspector is a new class of metasearch dedicated to beach holidays. We do what no other company in the travel space has achieved yet: combine the two most important places in a beach holiday - hotel and beach - into one metasearch. We only show users hotel offerings, where both the selected hotel as well as the beach criteria are met. Only we can do so, as we have created highly unique beach content (including 120+ data points, photos, videos) for 1,500+ beaches globally.
The General Catalyst Award for Travel Innovation
Winner: Redeam
OAG Award for AI Innovation
Winner: Mezi
Summit People's Choice Award for Innovation
Winner: Redeam
Runner-Up: TWIP and Wanup
Headquarters: New York, NY U.S.
Leadership: Lauren A. Koenig, Heather Wilde
Twip is an online, membership-based social marketplace that connects people to experiences and travel companions based on their 'Travanality.' Travanality is the proprietary behavior assessment that we created to help people understand why they travel when you eliminate limiting factors. Consider us the LinkedIn and Netflix for travelers: we link people together and provide personalized and original content.
Headquarters: Barcelona, Spain
Leadership: Guillermo Vallet, Adolfo Sanchez, Jorge Rodergas, Daniele di Bella
Wanup is the new loyalty club solution for top guest-rated hotel chains and independent hotels. The club, launched in 2016, caters to a new generation of frequent travelers keen to discover unique hotels while accumulating rewards and receiving special treatment for their travel purchases. The collection includes more than 700 properties ranging from design hotels and boutiques, to business hotels and much more.
Launch People's Choice Award for Innovation
Winner: ixigo
Headquarters: Gurgaon, India
Leadership: Co-Founders: Aloke Bajpai, CEO; Rajnish Kumar, CTO
TARA is a 100% AI-driven travel assistant for flights. She takes care of all your flight-related needs across discovery, research, planning, booking and trip management. TARA is exactly like the travel agent of the past, except that she responds instantly and is available 24x7! She has all flight-related information and deals at her fingertips, she is unbiased and knows your preferences, and she doesn't sleep at night! Her aim is to make sure you simply focus on enjoying your trip!
Runner-Up: Sift Science
Headquarters: San Francisco, CA U.S.
Leadership: Jason Tan, CEO & Co-Founder & Fred Sadaghiani, CTO
The Sift Science Trust Platform is powered by live machine learning - a technology that helps businesses mitigate fraud before it happens. The platform hosts a full suite of fraud and abuse prevention products including payment abuse, account abuse, account takeover, content abuse and promo abuse. With Sift Science, companies streamline their mobile business, provide a frictionless customer experience, and protect their brand, all in one place.