China continued to deliver a strong performance in outbound tourism last year as the world's largest tourist source market. A total of 122 million Chinese travelers traveled abroad last year, an increase of 4.3%. World Travel Monitor study, conducted by IPK International and commissioned by ITB Berlin, ranks China as the world's fourth-largest source market when counting only the 51.2 million overnight international trips to Europe. It represented an increase of 13% from the year before. China is ranked behind Germany, the USA and the UK in the IPK report, but is still well ahead of France, which is in the fifth place.
Invited by ITB Asia, TravelDaily China hosted a conference on China's outbound tourism and marketing technology on October 25. About 150 executives from Ctrip, Meituan Travel, Shiji, Maritim Hotels, Hotelbeds Group, Saber Hospitality Solutions, Yearth Group and other enterprises were invited to share insights into destinations and hotel marketing for Chinese travelers, understanding and serving hotel customers with big data, and improving comprehensive revenues.
Ctrip: targeting destination marketing through online/offline integration
Ctrip set up its destination marketing unit in early 2013 to serve destination marketing organizations (DMOs) and tourist attractions at home and abroad through its diversified marketing solutions.
Jenna Qian, Ctrip's general manager of destination marketing, believed that destinations around the globe are interconnected and outbound and inbound are related, and that user data can be fully captured. This gives an opportunity for Ctrip to offer one-stop holistic marketing solution.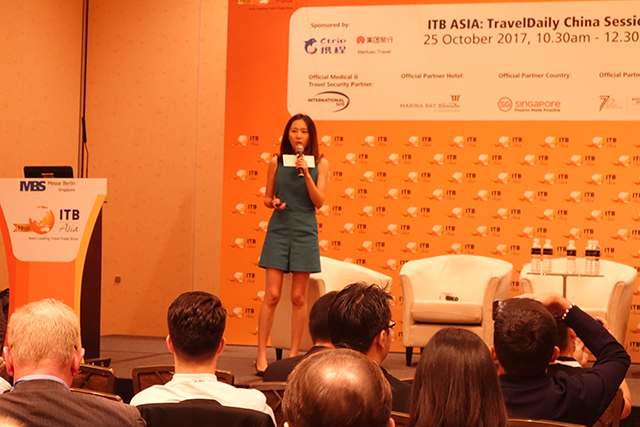 Jenna Qian, General Manager of Destination Marketing, Ctrip
Meituan Travel: boosting online travel with one-stop services
Steven Shu, CMO of Meituan Group, revealed that Meituan Travel registered more than 130 million room nights of accommodation bookings in 2016. In August 2017 alone, Meituan Travel grossed more than 20 million room nights of hotel bookings, and sold over 15 million attraction tickets.
Meituan-Dianping announced on October 19 that it has received a USD 4 billion investment with Priceline Group as a new strategic investor. The Priceline link will help promote the global expansion of Meituan Travel with its supplies of hotels, car rental, air tickets, catering and booking services.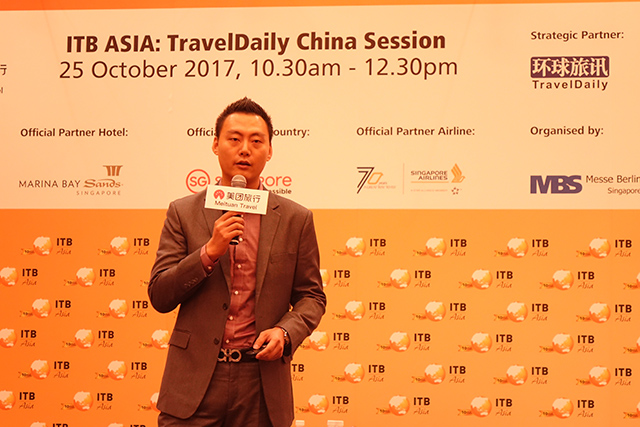 Steven Shu, CMO of Meituan Group
Shiji: leading the fourth transformation with big data and cloud-computing
Shiji Information Technology, as a leading hotel technology company in China, is experiencing its fourth transformation and extending from hotel business to restaurants, attractions, retailing and other fields through strategic mergers and acquisitions and technological innovations, in order to build itself as a platform operator offering big-data-driven consumer services.
Shiji has realized the dramatic changes in the consumption trend of the Chinese market and the global pattern of science and technology, and saw it as the prime time for its fourth transformation, said Kevin King, COO of Shiji. The driving force behind this transformation is a "customer-centric" strategy. To achieve that, tourism companies need to embrace changes and exploit users' demands by making full use of data, products, technology, analysis, cloud technology, artificial intelligence and other available resources.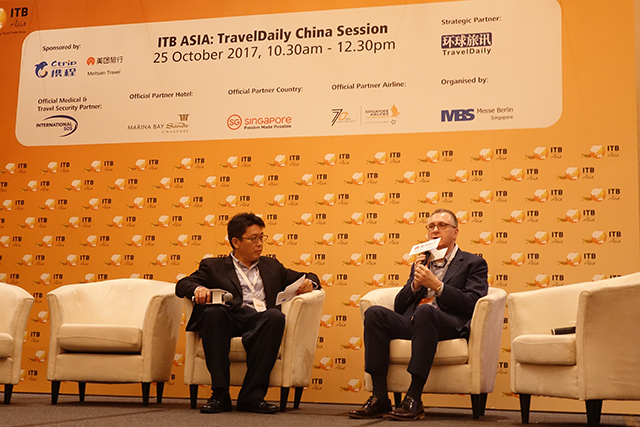 Kevin King, COO of Shiji, in talks with Charlie Li, CEO of Travel Daily
Tourism brands: how to connect with China's millennials?
Examining consumer behavior changes in China's millennials, Andy Tan, vice president of sales Asia Pacific of Hotelbeds Group, cited Bloomberg's data on the growth potential of the Chinese market, saying that 60% of Chinese outbound travelers are "millennials" aged 18-34, and 70% of them use mobile devices for shopping (compared to only 28% in North America). The data showed the consumers' impulsive consumption trait, which has shortened the time between travel planning and purchasing. During the past National Day Golden Week, 710 million trips were made by the Chinese people, and the annual growth rate of China's tourism industry is expected to reach 8% by 2027, which consolidates China's position as the world's largest tourist market.
Philip Liu, general manager of Sabre Hospitality Solution in China, believed that China's millennials do lots of research about the destination, know exactly what they want, and show great interests in local and special events (such as music and art), food and adventurous activities. They trust the word-of-mouth of their friends, co-workers and families, and they look for brand websites and make use of rates comparison tools on websites when making decisions. Younger and older millennials show differences in buying power and travel goals, and they require much more in-depth categorizing and analyzing. For instance, the younger generations are more adventurous and they look for theme hotels, while the older ones prefer comfort and don't mind paying more for luxury or branded hotels. Mr Liu said tourism brands should increase their investments in IT and provide digitized experience and content in every user touch point in order to enhance their capabilities in offering personalized services.
In addressing tourism brands' marketing to the millennials, Yi Xia, founder and CEO of Yearth Group, said that the millennial generations are more willing to pay for experiences in hotel accommodation, and he believed that tourism brands should offer differentiated products and services and "tell stories" to be visible in the avalanche of online information. Since the millennials have become increasingly reliant on the Internet and digital devices, tourism brands must make their products accessible online and on mobile, so as to convert offline traffic into online traffic.
Huilian Duan, vice president of sales and marketing APAC of Maritim Hotels, revealed that Maritim is using social media to showcase its products and services, and building a digital concierge platform to help provide immediate and thoughtful information about hotels and neighborhood information for guests, in addition to promoting and strengthening its online marketing strategy.