ChinaTravelNews, Ritesh Gupta - Chinese airlines' share of "direct sales", as exemplified by top carriers, is on the rise, but a lot still needs to be done if one ascertains who currently own the customer.
If we consider China Eastern, the group in their interim results (first six months of this year), mentioned that revenue from direct sales was RMB21.5 billion, going up by 29.4% year-on-year; revenue from direct sales accounted for 49.4% of passenger revenue, increasing by 9.4% year-on-year. It needs to be noted that selling direct in China has two components - online direct sales via website, mobile, flagship direct sale on 3rd party platforms and SME online sales, and offline direct sales via call centre and ticketing office at city and airports.
"Yes, the top carriers such as Air China, China Eastern and China Southern, today have 40%-45% sales coming in via "direct" channels. But it also includes selling inventory via OTAs (Ctrip.com, Qunar, Fliggy etc.), which could be 70% in case of most airlines," said a source, pointing that selling via intermediaries can step up revenue generation, but airlines don't really gain a lot in terms of details about the passenger. "Be it for click pattern or payment preferences, airlines don't really stand to gain in terms of understanding the web/ mobile behavior. OTAs own the data, and airlines need to enrol passengers in their frequent flyer program or entice passengers to log-in or download an app to eventually gain useful data for personalisation. So carriers in China need to evaluate the rate of growth of the company-owned sales channels vis-a-vis the volume of business that is being garnered by intermediaries."
"The top airlines have been contemplating working out a special organisational structure that can facilitate data-centric retailing, but the progress has rather been slow," said the source. "Let's say a consumer in China browses the airline website as well as the airline app, the sum of all interactions needs to analyzed so the next interaction is capitalized upon with apt personalisation. As of today, random promotions or vouchers are being offered to incentivize the traveller. This isn't enough."
Being in control
Airlines acknowledge the situation, and are in the process of planning and strategizing (for being in control) at this juncture, says Jonathan Tong, Head, Airline IT Solutions, Asia Pacific, Russia, Turkey and CIS region, Amadeus IT Group.
Tong, a speaker at the second edition of TravelDaily's Airline Distribution Conference in Shanghai, emphasized it is not just airlines from China, rather the industry at large that isn't swift when it comes to embracing change.
As also highlighted by Guoxiang Wu, SVP, Marketing Division, China Southern Airlines, airlines "have to respond to customers with a better (customer) profiling".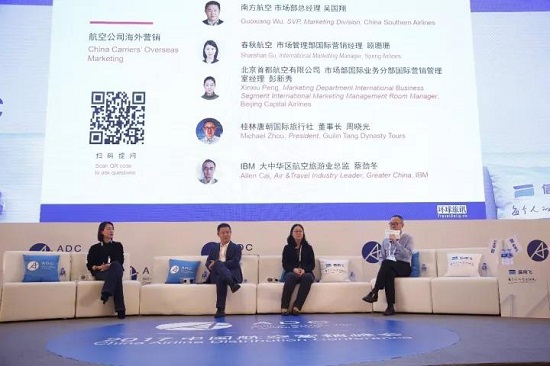 Specialists referred to following areas to overcome such hurdles:
1. Be agile: If airlines continue to work in silos, there won't be enough agility, asserted Blair Koch, Datalex's CTO and President USA. Airlines need to set up business goals and evaluate how to move to a structured, agile program? Evaluate technologies and the role of staff to deliver new applications.
2. Leverage data: Airlines need to drift away from being product-centric or product design and rather put customers as the main focal point, said Liyan Zhao, VP China Operation, OpenJaw Technologies. "How many customer touchpoints are there during one journey? Go deep and evaluate every possible opportunity to serve the passenger. Also, assess areas like when price sensitivity is usually a priority, and when customers are willing to spend (different phases of the journey)." This can only be worked out if airlines act and count on their own core data asset. Do evaluate the significance of data that comes via transactional systems. Once the focus shifts to knowing more details about customers, airlines would position themselves for data-centric culture.
3. Strengthening of digital assets: Certain airlines are already shifting their key applications on cloud. Why? To rapidly create and amend application functionalities for their passengers. So it would mean each and every software updates available for release the moment they are set for release. Another area is faster creation of applications via micro-services (a collection of small services; each service implements business capabilities). Other than the development cycle, airlines also need to look at the user experience (UX). So, for instance, if the content has to be tailored for a smartwatch/ IoT devices or a chatbot, then how to optimise the same? In this context, it is important to evaluate the competency of "Headless", which being termed as an answer for content for multiples screens, and marks the evolution of the content management system architecture.
4. API connectivity: Airlines also need to strengthen their connectivity with intermediaries, be it for meta-search engines or OTAs, in order to showcase direct access to rich content and ancillaries. As witnessed few months ago, Emirates chose to make their offerings available for booking on Alitrip (Fliggy) via an NDC API. It does indicate the readiness of intermediaries in China to embrace new developments. Yes, there have been many versions of IATA's XML standard, but it hasn't stopped certain airlines from working on their APIs to showcase their offerings they have been investing in. Of course, it is not simply an airline publishing its API and expecting third parties to come and easily connect and integrate the API functions into existing workflow and operations. There is a significant amount of work that needs to be done. But at the end of the day such connectivity is promising airlines total control of their content.