"Experts in the travel industry all believe China is a huge market with rapid growing pace. Priceline hires more than 1,000 employees in China to provide services, hoping to do everything we can to keep up with the pace of China's development and change, and to bring new experience to Chinese users," Glenn D. Fogel said on the first CEO Talk session of the TravelDaily Conference on September 13.
Marriage with Chinese partners is a must
Instead of making aggressive moves in China, Priceline had adopted a pragmatic strategy, by establishing cooperation with Ctrip for instance, no matter how appealing the cake of China's tourism market looks, said Mr. Fogel.
Through the collaboration with Ctrip, Priceline's Booking.com wins Chinese outbound tourists and shares Ctrip's experience and customer base in China by providing hotel inventory for Ctrip worldwide. Ctrip in return benefits from the vast global hotel listings on Booking.com.
Mr. Fogel revealed that Priceline is currently working with major companies in the Internet industry to connect to payment solutions of Alipay and WeChat. "New exploration is on our agenda in every cooperation to ensure localization."
In this regard, Mr. Fogel admitted that it is challenging for foreign companies to compete with local brands in China, and the early stage of localization is important in particular. "For foreign business trying to get a slice of the Chinese market, they must, first of all, understand the culture and law of China. As for Booking.com and Agoda.com, as well as Rentalcars and Kayak to be rolled out in China, we hope Chinese users would like them and know them as products tailored for the Chinese."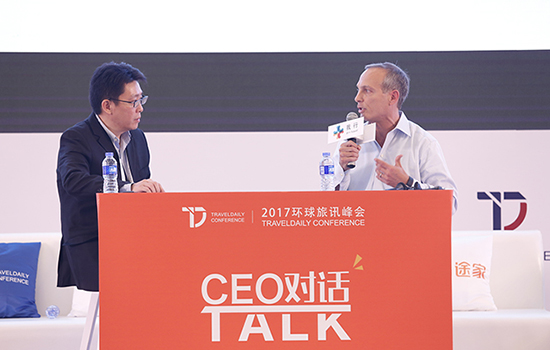 Priceline's CEO and president Glenn D. Fogel in talks with Charlie Li, CEO of Travel Daily
About Airbnb: the OTA still enjoys superiority
Despite being an OTA juggernaut already, Priceline remains cautious, especially towards its competitors in different segments and the pressure arising from market integration.
While conceding that Airbnb is a brilliant company, Mr. Fogel said "I like Booking.com and Agoda.com better, because we can book hotels, apartment, homestay, villas and other resources and view all different options in one go, which is important for the user. Products on Booking.com can be confirmed in real time for instant booking. What's more, we don't impose extra charges on users, unlike some of our rivals."
"Alternative accommodation is indeed an important part of the industry in the future, and Airbnb is doing very well in this regard. Priceline will step up efforts in this sector to make it as good as the standard hotels," Mr. Fogel commented.