Overseas independent travel provider RRUU has recently received RMB 35 million in its A+ round financing. A-share listed QX investment fund was the lead investor, and the round was joined by its earlier investors Lenovo Capital and Initial Capital.
Since its inauguration in 2014, the startup had received angel investment from Initial Capital in 2015 and raised RMB 15 million in the A round from Lenovo Capital in 2016.
The current round of financing will be mainly used to enhance overseas procurement capabilities, expand product categories, build connections and efficiency with a larger number of suppliers, as well as refine the mobile user experience and destination service standards, and build a customer service system of higher standards to provide comprehensive after-sales services for visitors.
RRUU to launch one-stop services for overseas tourists
RRUU's latest upgrading of the tourism platforms is to connect offline destination resources and online users and to create the best user experiences through services targeting different settings.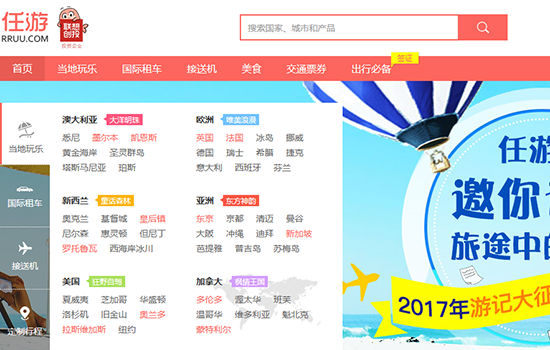 Currently, RRUU's independent travel products cover Australia, New Zealand, North America, Europe, the Asia-Pacific region and other parts of the world. The company has more than 10,000 providers at destinations. The booking platform boasts the richest content for overseas travel. The products on RRUU include entertainment, shuttle service, car rental, transportation ticketing and restaurants. All bookings can be made at the last minute on the go. Big data is applied to help make planning an easier process. The platform also offers instant in-trip services providing travel itinerary map, real-time notifications, offline navigation maps and digital certificates. A 7/20 customer service team is available to address all the problems.
RRUU's setting-specific services become unique characteristics
Statistics released by China National Tourism Administration shows that the number of Chinese traveling overseas in 2016 is 122 million, and the generations that grew up in Internet age have become the main force.
In RRUU's close partnership with Fliggy in the current market setting for global travel, Fliggy serves as a platform of integrated resources while RRUU provides instant targeted services online through app in addition to providing a variety of tourism products. As well, RRUU formed a complementary relationship with community-based platforms Mafengwo and Qyer to provide information, communication and other services for outbound independent tourists.
It's understood RRUU plans to have a B-round financing later this year.