Homestay management platform "Ebnb" has raised RMB 20 million in its Pre-A round financing, according to a 36Kr report. Seashell Capital was the lead investor. It was learned that the proceeds from the round will be used for expanding inventory.
Ebnb, launched in February 2017, offers one-stop services to homestay hosts. Its services range from listing design, decoration and interior design to distribution channel, operation and guest service.
Based on the data of Susquehanna International Group, the global homestay market will reach USD 106 billion in 2018, which will account for 19% of the global hotel room booking projected to be worth USD 555 billion. Homestay platforms have seen rapid growth in the past few years, be it foreign brands like Airbnb, Booking.com and HomeAway or domestic ones like Tujia, Ants short-term rental (mayi.com), Xiaozhu short-term rental (xiaozhu.com) and Belvedor.
Ebnb's cofounder and CEO Zhimin Ruan pointed out that C2C homestay platforms are plagued by problems such as inferior operation and services, highly varied quality of listings, slow response of hosts and one dimensional sales channels. The hosts who are mostly doing this as a side business tend to have little time and energy on running it. Ebnb sees this as an opportunity to provide its specialized management capabilities and to standardize inventories and services for hosts under the name of Ebnb.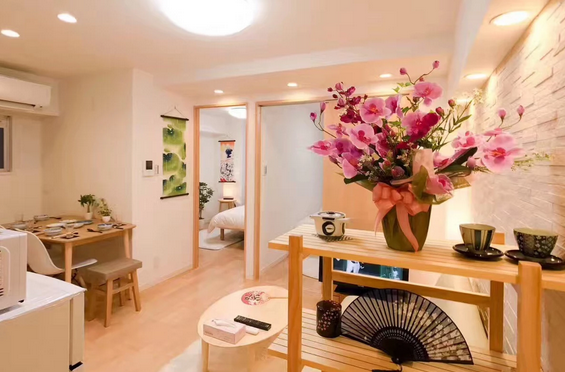 Mr. Ruan told 36Kr that Ebnb is going to make the most out of the idling properties overseas to enhance the productivity of the listings. Certain properties not suitable for homestay will be transformed into long-term rental apartments. Its long-term rental apartment brand Yueju Apartment in Hong Kong has started operation.
Currently, Ebnb makes money by taking a commission from hosts. When it evolves into a quality and highly standardized chain brand, Ebnb plans to expand its B2B business to connect with OTAs and traditional tour operators.
As to its core competitiveness in the homestay management industry, Mr. Ruan said it boils down to three aspects: that its team comes from different homestay booking platforms and boasts advantages in offline resources and sales channels, the company maintains good quality control by sending staff to local markets, and it can expand quickly with the asset-light franchise model.
The company states that it currently has 300 units in its portfolio and a few hundred under preparation. The rates of these housing are 10-20% higher than the market average. The overall occupancy rate stands at 75-80% and up to 90% in Bali and other popular areas. The company claims to be profitable since going online this February.