Home
>
>
South Korean businesses suffer major decline from China arrivals downturn
South Korean businesses suffer major decline from China arrivals downturn
Reduced visitor arrivals from China drove down profit of Lotte Department Store and Lotte Mart by 49% and sales volume by 4.3%; while demand for Lotte milk powder and candies also shrank drastically in ongoing THAAD fallout .
Major South Korean retailers the likes of the Lotte Group have suffered drastic financial setbacks due to the heightened tension between China and South Korea from the THAAD deployment fallout. Department stores, cosmetics brands, and automotive companies have reported some 50% decline in their second quarter results.

Joong Ang Ilbo reported on 4th August that Lotte Shopping (comprising Lotte Department Store and Lotte Mart) announced that its profit shrank by 49% YoY to KRW 87.3 billion (RMB 520 million) and the sales volume decreased by 4.3% to KRW 6.9228 trillion (RMB 41.2 billion) in Q2.
Lotte attributed the slump to the decline of Chinese tourists in South Korea and sales volume in China. Lotte Mart's business in China is almost paralyzed as a substantial number of its branches in China (87 out of 99) were closed and the sales turnover fell by 95%.
Apart from shopping, Lotte's food business is also affected. The export volume of milk powder has dropped by half this year with its profit down by 19%. Lotte Candies' income from China in the second quarter also reduced by 50% to KRW 19.4 billion (RMB 120 million).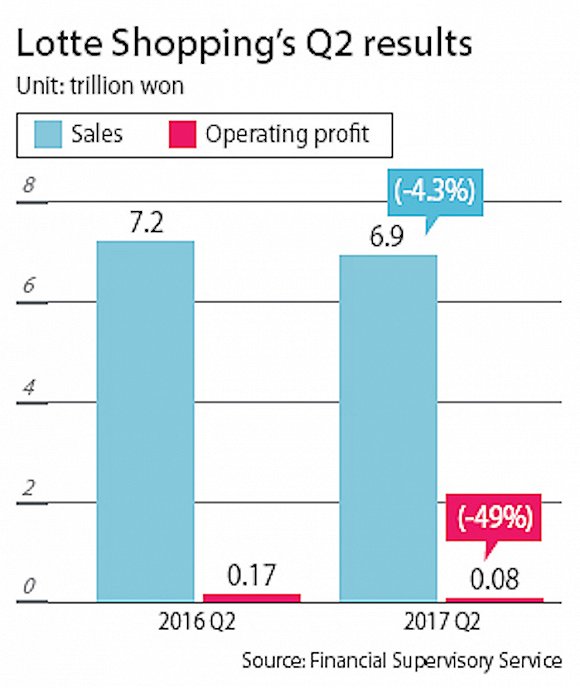 South Korean analysts believe the impact from the THAAD fallout will persist and will leave Lotte subsidiaries unable to recover in the near future.
Korea Tourism Association statistics show that visitor arrivals from China to South Korea fell 41% year on year, from 3.8 million in the first half of last year to 2.3 million in the first half of 2017. The arrival number in June alone accounted for 50% of the overall decline, and also marked the fourth consecutive month of downturn after the THAAD deployment.
Yonhap News Agency reported Amore Pacific's profit for Q2 fell 60% year on year, to KRW 77.4 billion (RMB 466 million), as consumption driven by Chinese tourists has plummeted following Chinese arrival decline.
Park Shin-ae, South Korea KB Securities analyst, claimed that it would be difficult for Amore Pacific to recover unless Chinese tourists return to South Korea.
Meanwhile, South Korean auto giant Hyundai recently announced its net profit for the second quarter slumped 48% to KRW 914 billion (RMB 5.5 billion) due to sluggish sales in the China, its largest market that had contributed to more than 20% (1.13 million cars) of its global sales in 2016. The demand for cars in this quarter has reduced by more than 100,000 cars, compared with the same period last year.