China's outbound tourism is entering a period of moderate growth after more than 10 years of rapid acceleration, director of China Tourism Academy (CTA) Mr. Bin Dai said following the joint release of the 2017 H1 China Outbound Tourism Review by CTA and Ctrip on August 1.
Ctrip's outbound travel specialists observed that China's outbound travelers are upgrading consumption and are prepared to spend more on better products. They are travelling overseas not only for sightseeing but also for enjoying quality lifestyle experiences and services, in terms of climate, air quality, commodity prices, healthcare and education. Travel patterns show that it has become a norm for the middle class to travel abroad at least once a year.
China is still the world's top outbound travel market
In 2017, China continued to reign as the world's top outbound tourism market. According to the statistics recently released by China National Tourism Administration (CNTA), the number of Chinese nationals travelling abroad in the first half of 2017 reached 62.03 million, 5% higher than the total of 59,03 million registered in the same period last year. The total spending of Chinese outbound travelers this year is predicted to exceed last year's total of USD 109.8 billion.
Ctrip reported that millions of tourists from more than China's 100 major cities traveled to more than 130 destinations around the world in the first half of 2017 through Ctrip's package tours, independent travel, cruises and other products.
Major tourism companies in China, such as Ctrip, are also investing in Japan, Singapore, America, Europe and other places to serve Chinese tourists.
Chinese passport holders are increasingly embraced by the rest of the world, and the number of International destinations for Chinese travelers have increased to 153 this year.
Top destinations for Chinese outbound travelers
Among all overseas destinations for Chinese visitors, Thailand ranks top. According to Thailand National Tourism Administration, visitor arrivals from China exceeded 3.8 million from January to May this year and are expected to reach more than 9 million by the end of the year, generating 500 billion Thai baht in tourism revenue for Thailand.
South Korea saw the biggest drop in visitor arrivals from China this year, by 40.97% to only 2.253 million in the first half this year, compared with 3.813 million in the same period last year.
The CTA/Ctrip report indicates that mainland Chinese tourists increasingly tend to visit destinations that are more convenient, secure and hospitable.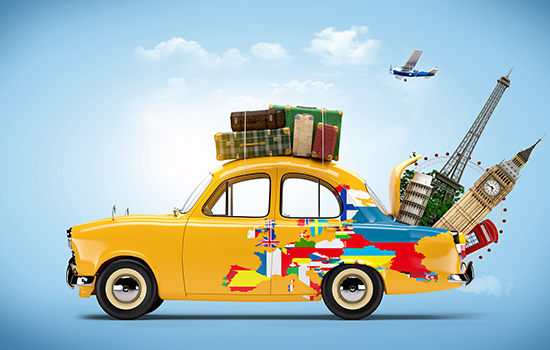 Cities and islands have become the two most popular choices.
The top ten city destinations identified by the report are Bangkok, Singapore, Hong Kong, Tokyo, Taipei, Seoul, Osaka, Kuala Lumpur, Washington and Macau.
The top ten island destinations are Phuket, Bali, Boracay, Sabah, Nha Trang, Okinawa, the Maldives, Krabi, Saipan and Samui.
Package tours still in demand, independent and customized tours on the rise
The report shows that 42% of outbound tourists chose package tours while 58% chose independent travel in the first half of 2017. Package tours are still appealing especially in the second- and third- tier cities. Booking orders from Ctrip indicate that family tour and senior group continue to be the mainstay of package tours. Semi-independent tour and private-group tour also get a lot of attention because of their convenience and flexibility.
In addition, customized travel has emerged as a major dark horse in the outbound sector with an annual growth rate of three-to-four times. Bookings on Ctrip and other online platforms show that the destinations for customized travel covers 956 cities in 107 countries, and family groups comprised the bulk of the demand, at more than 60%. Customized travel is preferred by travelers who seek intimacy, personalized entertainment, one-to-one service and uniqueness.
Consumption upgrade: spending on outbound tourism to increase
Ctrip data show that the per capita spending on package tour was more than 6,000 yuan in the first half of this year, while the per capita spending on independent tour exceeded 5,000 yuan, both were higher than the spending levels in the same period last year. The transaction size of individual outbound travel booking varies from 1,000 yuan to more than 1 million yuan.
The report also points out that travelers' behavior is changing too, from hopping on and off tour buses and being ferried to one shop after another in the old days, to becoming more willing to spend on better quality experiences in dining, accommodation, transportation and entertainment.
What do Chinese outbound travelers need?
Ctrip's "WeTourGuide" big data show that users requested advice on 16 major categories, including transportation (15.9%), attractions (17.0%), food (18.7%), shopping (10.0% and on the decline), weather (4.4%), immigration (1.4%), foreign exchange (1.5%), luggage clearance (0.5%) and allowed items (1.4%).
Interestingly, "travel companion" turns out to be popular for tourists, hence Ctrip's "WeTourGuide" wechat account is providing services for "travel together" and "global gathering" and others.