Technology, some hotels are finding, has its limits.
"Technology cannot hug a repeat guest," said George Aquino, the vice president and managing director of AHC+Hospitality, formerly the Amway Hotel Corporation, based in Grand Rapids, Mich.
That is the reason his company, which manages several hotels, has been running a training program for some of its managers and other staff members to improve their hospitality skills, connect with local business leaders and learn more about local tourist offerings.
Similar programs are sprouting in other cities, involving not just hotels but also restaurants and even cities themselves, which see the personal touch as giving them a competitive edge. For business travelers, in particular, talking to someone knowledgeable about a city can lead to a good restaurant. And it can also help expand business leads.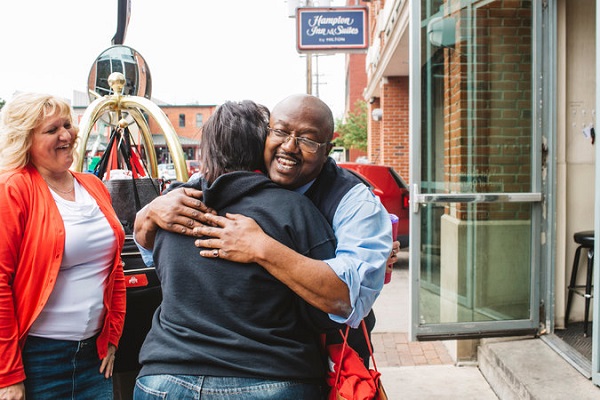 Steward hugging a hotel guest
Some cities and regions have developed their own programs aimed at increasing the number of conventions and ensuring that visitors have a positive experience. Among them is the Destination Champions program developed by the marketing organization Discover the Palm Beaches to increase convention activity in Palm Beach County, Fla. The program encourages local business leaders to promote the county as a convention destination whenever they are traveling on business.
Clifford Steward, a bellman at the Hampton Inn and Suites Columbus-Downtown in Ohio, participated in the program. He said he had people skills but wanted to know the city better.
Citing Mr. Steward's precise restaurant advice, Mr. Gose said: "Having well-trained staff helps a business traveler break out of a rut. I think as business travelers you can become very habitual in your travels and not really take the time to embrace the unique elements of certain cities."
Read original article