Home
>
>
China's homemade C919 airliner secures 570 orders
China's homemade C919 airliner secures 570 orders
China's first domestically produced single-aisle passenger jet, the C919, has secured 570 orders from 23 clients, China Securities Network reported.
Commercial Aircraft Corporation of China (COMAC), the Shanghai-based manufacturer of C919, said the aircraft has not only attracted domestic airlines such as Air China, China Southern, China Eastern, Hainan Airlines and Sichuan Airlines, but also foreign carriers, such as German startup PuRen Airlines and City Airways of Thailand.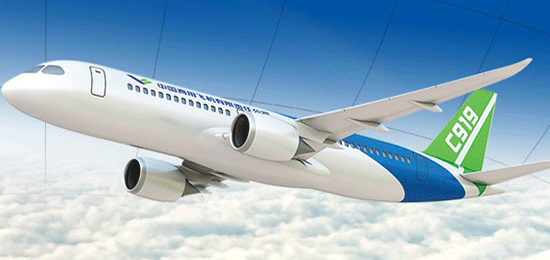 Financial leasing companies, such as Ping An Leasing and CCB Financial Leasing, have become the biggest clients, with each of them ordering 50 units, while ICBC Leasing Co Ltd and ABC Financial Leasing have ordered 45 units each.
Overseas orders account for about 10% of the total, including airlines from Germany and Thailand and others from Asia Pacific and Africa. GE Capital Aviation Services, the largest commercial airline leasing company worldwide, has ordered 20 C919s.
Read original article