Priceline Group reported gross travel bookings of USD 20.7 billion in the first quarter of 2017, up by 24% over a year ago (27% on constant-currency basis). Gross profit for the quarter was USD 2.3 billion , a 16% increase from the prior year (17% on constant-currency basis).
International operations contributed gross profit in the quarter of USD 2.0 billion , a 17% rise versus a year ago (19% on constant-currency basis). Net income was USD 456 million , 22% more than the prior year. Net income was USD 9.11 per diluted share, a 22% increase as compared to the prior year.
Non-GAAP net income in the quarter was USD 494 million , a 7% increase versus the prior year. Adjusted EBITDA was USD 635 million , a 4% increase versus a year ago.
"The Priceline Group is off to a strong start in 2017 with solid growth in room nights and rental car days booked," said Glenn Fogel, Chief Executive Officer of the Priceline Group. "Globally, our brands booked over 173 million room nights during the quarter, up 27% over the same period last year. Booking.com continues to extend its accommodations network, with over 1.2 million properties on its platform, including hotels, homes and apartments, up 36% over last year. Our rental car business grew rental car days by 15% over the 1 st quarter of last year, an acceleration from 14% in the 4 th quarter."
Mr. Fogel further commented: "Our brands executed well in the quarter, delivering strong performance while making smart and sustainable investments to support future growth and to ensure we provide the best possible experience for our customers."
Guidance for the second quarter of 2017 is as follows: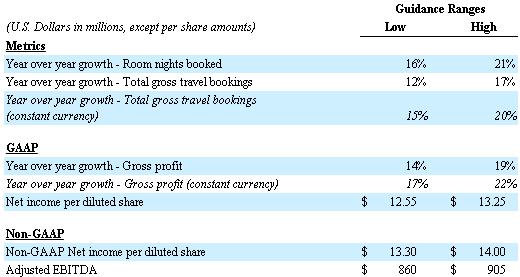 Read original report