The 10,157 star-rated hotels in China reported operating revenues totaling RMB 54.43 billion in the fourth quarter of 2016, according to the China National Tourism Administration (CNTA).
Catering revenue was RMB 23.09 billion, accounting for 42.42% of the operating revenues, while guest room revenue was RMB 24.49 billion, equivalent to 44.99% of the total revenues.
Of the 10,157 audited star-rated hotels, 72 one-star hotels netted a total of RMB 31 million in operating revenue; 1,972 two-star hotels posted RMB 2.154 billion; 4,937 three-star hotels registered RMB 12.963 billion; 2,367 four-star hotels reported RMB 18.649 billion; and 809 five-star hotels grossed RMB 20.637 billion.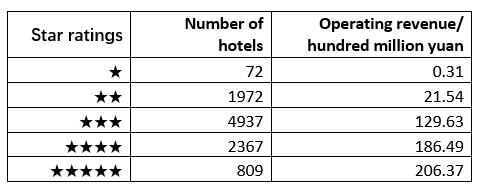 The star-rated hotels reported ADR (average daily rate) at RMB 341.13 per room night and average occupancy rate of 56.6% during the period. RevPAR (revenue per available room) was RMB 193.07 per room night and the revenue per guestroom for the quarter was RMB 36,084.20. (Translated by Jerry)