Home
>
>
Tujia introduces new strategy for home-sharing in China
Tujia introduces new strategy for home-sharing in China
03/27/2017
|
4:09:04 PM
|
中文
While Airbnb announced plans to rebrand itself in China and double investment in one of the world's largest travel market, the "Airbnb of China," Tujia, also announced its future plans and strategy.
At the 2017 Tujia Open World summit, Tujia CEO and co-founder Justin Luo spoke about the company's "3+1" development strategy for the year and other company executives detailed new product launches, looking at the following four perspectives: consumers, hosts, property buyers, and regionalization.
Tujia, which has backing from Ctrip and Expedia, is valued at USD 1 billion. Whereas Airbnb in China, now known as "Aibiying" ("爱彼迎" or "welcome each other with love" in Chinese), has approximately 80,000 listings in China, Tujia has more than 430,000.
Tujia is pursuing similar investments like what Airbnb has done in personalizing lodging experience for its guests. The company plans to harness more resources and better housing options through different platforms including Tujia, mayi.com, Ctrip, Elong and Qunar.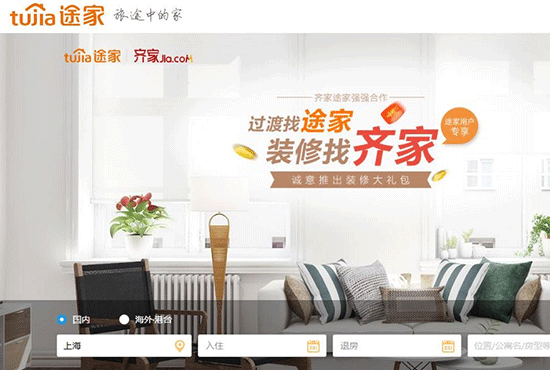 In an effort to address the trust issue, Tujia implemented a "concern-free living strategy that includes a house inspection, Tujia premium hosts, two-way evaluation between hosts and guests, Ctrip credit, Zhima credit, and compensation.
Tujia is also investing in operational training, security consulting, income management and other service support to help the hosts become more professional. The company said hosts that are taught better income management can improve their revenues by 10%.
Tujia wants to work hand in hand with property developers to ensure it has a stable supply of rental listings and make sure the process of renting on Tujia is as seamless and easy for property buyers as possible.
Read original article