Given the wide-ranging assortment of services and as well as investments in tour operators, China Eastern Airlines, and a joint venture with Royal Caribbean Cruises, Ctrip seems more like a TUI Group or Thomas Cook than a Priceline Group or Expedia.
It's a distinction with purpose.
While Priceline and Expedia want to be as global as they can be, Ctrip's vision primarily is to accommodate and support the Chinese travelers, whether it is for a domestic hotel stay or wherever else they wander internationally.
"Lots of countries have lifted their visa restrictions on Chinese customers so that's why it's a wonderful opportunity for us to explore the opportunity along with our customer," Sun says.
The Priceline Group owns around 10% of Ctrip. The two companies seem to be chasing different markets, at least for the next few years.
The competition will, however, become more intense, especially in Europe, when Skyscanner, under Ctrip, competes more directly against Kayak, which is in the process of grabbing the Momondo Group.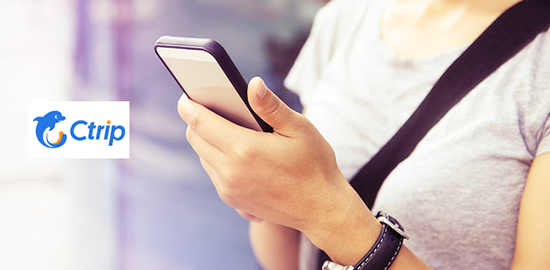 Asked about any looming confrontation, Sun replies:
"I think Ctrip serves China-related customers very well, so the first step is domestic China. The second way is the Greater China Area, including Hong Kong, Taiwan, Macau. The third one will be Asia, including Japan, Korea, Southeast Asia."
"Booking, on the other hand, is a global brand and in hotels, they are just so far ahead of anybody else," Sun says. "I think it will be very difficult for anybody to come to close to them."
But Sun added that Ctrip instead provides "such a comprehensive product suite to the customers, which neither Booking nor Expedia does."
The Priceline Group's total revenue in the fourth quarter last year, the majority of which comes from hotels, climbed 17.4% to more than USD 2.3 billion, while Ctrip saw its accommodations revenue jump 56% to USD 266 million in the quarter.
One of the ways Ctrip should be able to increase its international footprint is through its acquisition of flight-metasearch site Skyscanner, which Ctrip bought late last year for USD 1.74 billion.
Sun said for the next two quarters Skyscanner's costs will be greater than its revenue because it needs to recruit 20 people to a service team. Contrary to published reports, Sun said that Ctrip will probably not integrate Skyscanner into Ctrip search results, although Ctrip will become a prominent booking option within Skyscanner's results.
Among Skyscanner's competitors, Sun sees Priceline's pending acquisition of flight-metasearch company Momondo as being advantageous for Priceline's Kayak unit in Europe.
For his part, Kayak CEO Steve Hafner thinks Ctrip may turn Skyscanner into a full-fledged online travel agency — or at least Ctrip and Skyscanner should test the premise.
When you consider the world's three largest online travel agencies, Priceline focuses on hotels and is very global; Expedia is a full-service travel agency and is trying to get more international, and Ctrip has a wider array of services than all of them.
How will Ctrip avoid major distractions?
"Decentralizing," Sun says. "Ctrip is a big company with 25,000 employees already. We just cannot ask a CEO to make every decision."
Breaking teams down into small units, though, doesn't address all the challenges Ctrip faces with its breadth of offerings and its string of major acquisitions since 2015, including Qunar, eLong and Skyscanner. This remains something to watch in Ctrip's evolution.
Read original article