ChinaTravelNews, Nicole Sy - When it comes to profits, companies had to get creative during the 2008 crisis when consumption spending hit its lows. Many had to think of new and innovative ways to attract consumers, while simultaneously growing revenue. For airlines, the key was auxiliary services; in 2015 global airline subsidiary revenue hit $59.2 billion, according to IdeaWorks. Today, it is even easier to reach and connect with customers for these services with the growing number of touch points that technology brings.
The last executive roundtable for the day, many waited eagerly for industry experts to discuss the topic at hand. On the panel are: Li Yi, Deputy General Manager of Shandong Airlines Marketing Committee; Zhang Yu, Director of the Product Management Center of Shenzhen Airlines; Teng Yang, Vice President of Sales and Marketing Department of Western Airlines; and Hainan Airlines Marketing Assistant Marketing Director and director of e-commerce, Shen Jinping.
Moderator, Guo Haoran, general manager of China Datalex kicks the roundtable off with charts showing auxiliary income in the overseas airlines dramatically increasing. In 2008, the auxiliary revenue of top 10 airlines reached $8.3 billion, while in 2015 it was $25.9 billion, he reported. However, Chinese airlines did not appear on the list. That is mostly because of policy restrictions, according to Shen Jinping of Hainan Airlines.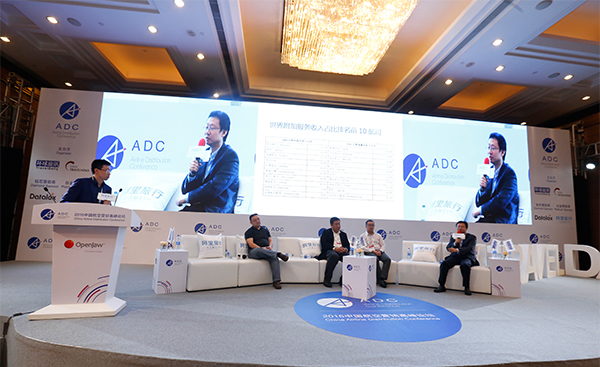 "Like charging for seat selection, Chinese policies will not allow us to sell these like other foreign airlines. For checked bags, they wont allow us to provide additional luggage services. In China's business climate, if we had no policy restraints, we would do great. We have solid models from Europe and America," he says. "Instead, what we can do is demonstrate our best side including value added services like the seat that folds into a bed, but we have to tell our customers about it."
"I agree with Mr. Shen," chimes in Li Yi from Shandong Airlines. "If you look at revenue achievement by other countries, we are inspired by them. Like Mr. Shen said, we are doing more research into revenue study, but on a system and technical level, we have barriers. That means we don't have visibility into the figure for the value added service revenue. Another issue we deal with is we need to work with strong technical providers because we don't have the right IT systems in place."
Teng Yang, from budget airline, Western Airlines, has done relatively well with optimizing value added services. "For Western Airlines, 50% of revenue comes from value added services in the first half of year. But for the next 3 years, we still have a long way to go," he says. "Flying is a high-end way of traveling, that's why people will go for cheaper deals. That psychology will remain unchanged in the future. Value added services are very important for us, but Chinese passengers will be reluctant to accept these charges."
Policies may change, so it is indeed more of managing expectations of consumers, according to Zhang Yu of Shenzhen Airlines. "Price is an expectation, and we have to manage that expectation properly," he says. "If you are selling tickets at low price, the consumers will expect LCC tickets, and expect that services may have to be charged extra. But for example, Emirates' first class ticket costs tens of thousands of dollars, so people expect don't have to pay for anything else."
Something all four panelists agree is a challenge for them is improving their IT systems, still not up to par with their foreign counterparts and the other OTAs and Big 4 airlines in China. "When it comes to ecommerce and IT, we are weak. Our capabilities are much weaker than OTAs," admits Shen. "Since our basic principle is selling tickets according to sales targets, it's not a priority. We don't have a goal of how to make our website better. But in the internet era, we can't think like that. "
"The OTAs are better at selling tickets," Li agrees. "Another thing is when passengers are on your plane on board, and you don't want to do sales, then you aren't just giving away ticket sales, you're giving away a lot of things. We're not fighting or competing with OTAs, but are working with them, but we also need to make concrete moves."
"Traditional airlines are only thinking but not doing anything in practice. Some airlines now are making some moves and also I think in the future, for a lot of the passengers and consumers, if airline companies provide comprehensive services to them, they won't be as price sensitive. They may consider the overall service instead of price when traveling with family, children, or older parents," he says. "If your service is good, they will come back to use your website and buy from your airline companies."
Meanwhile, Teng warns against unscrupulous practices some third party platforms carry out to take advantage of those with weaker IT systems. "A lot of companies brag about this ratio (of direct sales), but actually when you want to increase your direct sales ratio, its very simple, just lower your price on your website, and OTAs will buy directly from your website," he explains. "If they're buying from your website, then selling to passengers, they can't transfer your values, they only care about the price. Then passengers find out there are plenty of extra charges," making them unhappy.
Zhang, with 17 years of airline distribution experience under his belt, believes airlines aren't utilizing what they have when it comes to collecting data from their IT systems. "Data comes from airports but we haven't utilized this in an efficient way. They're on diff data islands, and we cannot connect them together. Shenzhen Airlines has been trying to integrate data we have and analyze them," he says.
Another issue to consider is working with existing partner platforms to share data. According to Zhang, working with ecommerce companies like Alitrip, which invest in tech capital, will be beneficial for airlines that don't have the technology infrastructure right now, especially for mobile. "At the end of the day, its all about convenience, and extending multiple contact points to customers. In the past there were only three touch points with consumers: when they check in their luggage, boarding and waiting at boarding gate. With mobile, we have more connecting points, and more things to explore and do. It also helps us service people well," he says.
Moderator, Guo adds that 58% of Chinese travelers use apps to book their tickets today. Some also use apps to upgrade their seats on the go, an example of value added sales through a touch point always with them. Indeed, a very powerful function.
Yang isn't as optimistic, simply because their target market as an LCC is too price sensitive. "My view on airline company websites is that they are mis-positioned. Some don't even have their own app. Chinese passengers are price sensitive and loyalty is low. They will search and compare price online," he says. "It's because Chinese travelers are not as frequent travelers as their foreign peers. If they buy tickets only once or twice a year, they only think of Ctrip."
"I don't disagree, I'm very open for all kinds of partnerships, but first we have to look at ticket sales, then auxiliary services," he says.
For bigger players like Hainan Airlines, however, the exciting possibilities with their new app to be released in December 2016 are aplenty. "For mobile tech, I don't think that consumers can easily switch between mobile to other channels, we just have to provide the best services," says Shen. "We need to think about how the app can attract the attention of customers. Since apps already occupy the time of customers, we have to create incentives for them to play with apps. I can see that it would be very helpful in bringing more value added services in the future."