ChinaTravelNews, Nicole Sy - In the arena of airline distribution, there is the constant tug of war between distribution channels. From direct sales from airlines, to travel agencies, then online travel agencies (OTAs), and now, back to the airlines, technology has played a constant role in the shifting channels. Most recently, Chinese airlines have responded to OTAs by focusing on direct sales and axing agency commission fees. At the heart of their argument was that the move was for the consumer.
The first executive panel of TravelDaily's Airline Distribution Conference brought together an all-star cast to discuss whether airlines were warranted in their unilateral move away from commissions and how platforms and OTAs are responding. On the panel are Yuebo Zhu, Deputy General Manager of Sales Department for China Southern Airlines; Bonita Huang, Deputy General Manager of Sales Department of Air China; Wells Zheng, Vice President of Alitrip; Boaz Hulsman, Regional Manager Eastern China for Air France KLM; and Morton Huang, Founder & CEO of Yiqifei.com.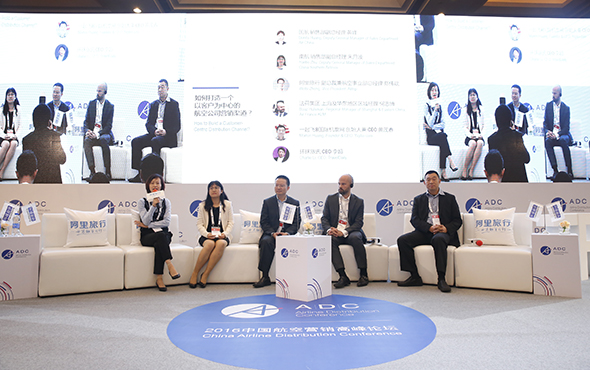 Those from Air China and China Southern first explained the impact of their renewed distribution strategy over the past two years in China, which included zero commissions for domestic ticketing, shutting down "flagship stores" on some OTAs—often verifications of legitimacy of the OTA, and prohibiting ticketing agencies from distributing the content through 3rd party channels.
"The reason is because a lot of the complaints come from the consumers and passengers," begins Bonita Huang of Air China. Third parties, according to her, were breaking ticket rules and price regulations and passengers were not happy. Now, "the rights of passengers have been guaranteed. In terms of the distribution channel, after July 1 (when the change in channel distribution rules came into effect), the overall market flattened. Those loyal customers have become stronger, and for Air China, direct sales have been increasing, while sales through OTAs are decreasing."
Yuebo Zhu from China Southern Airlines says they also saw a flattening of the market on their end. "In the past, there were about seven to eight middle men. Now after July 1, this has changed. From airline companies to customers, we want to cut the middleman and we want to be more adaptive to IT development for more consolidation of channels," she says. "Another thing we noticed is because we want to manage distribution better, in terms of price, we will have more fair competition. In the airport, we will know why it's more expensive than with OTAs or other 3rd parties."
Distribution strategy is not separate with the airline's policy, according to Boaz Hulsman of Air France KLM, the third panelist from an airline. To be customer-centric, you have to be there for their needs, he says. And that means being more visible. "In China, more than 2 million people a year visit our website. But with our partner Alitrip, they have more visitors in a day than we have in a year so it makes sense to partner with them," says Hulsman.
Wells Zheng of Alitrip agrees with this and clarifies the difference between being a platform and an OTA. Alitrip isn't an OTA, according to him. "The difference is we are the bridge. We are like a shopping mall, and the OTA is like Walmart, a retailer. You (the airline) own the traffic, you own the customers. We only help you sell the ticket," he says to the airlines executives. It is still direct selling. Walmart, or OTAs, he differentiates, "procures at a lower price then sells at higher price. We have consistency and transparency. At a user level, we're on the same page."
"Direct selling the way to go for internal and external reasons. The airlines need to find partners. I think it's a win-win partnership with each other. Airlines have two approaches: zero tolerance or using some airline distribution channel with good records and tightening their policies," says Zheng. Agencies are sometimes actually advantageous for both customers and airlines, he argues. "Agencies can help airline companies not only help sell but also service online but also offline as well. Airlines cannot do it all on their own."
Morton Huang from Yiqifei.com also defends how their platform, like airlines, also has the consumer in mind. "We want to transfer this value to different clients," he says. "For airline companies, especially those in China, if you don't have a lot of SMEs that provide customer service to clients, you're not going to cover the full market."
With all this in mind, roundtable moderator and CEO of TravelDaily, Charlie Li asks the panel: what then is the ideal distribution given the current situation in China? For the airline companies, Huang from Air China believes "if you look at airline companies, we are looking at value issue. If we look at channels in the future, and with the power of the Internet, selling tickets is easy. The question is what channel is effective to bring value for airlines?" she asks, as the Internet assures transparency in ticket prices online and offline.
"TMCs (travel management companies) are something we really like. They provide services we can't provide on our own, which prove they are valuable channels. But I think you cannot talk about channels to summarize this point," she says. "For big platforms, we work with them directly to market the most efficient products in the most efficient way. It's not just about the channel."
"For our company, the ideal and perfect channel is needed by both customers and passengers. If everything centers around the customer's needs, we have open doors to work with you," says Zhu. But competition is tough. When it comes to booking volume on the mobile end, there are five to six competitors on the same page. "What is the key differentiator to choose us?" she asks. "First, look at what's the easy channel for customers."
"I agree with fellow airlines, the mix depends on the customer, and where the customer is," says Hulsman. "From the European experience, the corporate traveler is different from the person who owns their own business. Our travelers are international which is already different from the domestic traveler."
"Customers also like to be in the same environment. If there's one app where there's everything available, China is ahead. We as a European airline can learn from the Chinese distribution environment," he says. "But the trick is to be relevant to the customer. Our main challenge as an airline is to add value to the customer."
On the other side, the platforms describe how they can optimize their distribution channels with big data and their services. "No matter where they are coming from, Taobao or Tmall, we have this data, which is very valuable," says Zheng of Alitrip. Furthermore, "if airline companies do everything in-house, no matter how strong they are, they don't have a strong enough app or cover the entire spectrum. We will have to consolidate and innovate."
"As the passengers become better buyers, they will expect better level of services, and will want to get the best value for their money," says Morton Huang. "We distribute the value offering instead of only the product. At the end of the day, (airlines) cannot distinguish themselves from the rest of the field. I think pricing isn't the core issue but the value provided by the airline is the best sales speech. What value added services can you offer?"