ChinaTravelNews, Nicole Sy - The proliferation of Low Cost Carriers (LCCs) has not left China untouched, with Spring Airlines clearly leading the pack. By far the largest LCC and with market cache at the heels of the country's "Big 4" airlines, Air China, China Southern, China Eastern and Hainan Airlines, Spring Airlines has made a name for itself as a force to be reckoned with not only within China, but also regionally with its foray into the Japanese market.
The first speaker at TravelDaily's first Airline Distribution Conference, President of Spring Airlines Yu Wang remains humble of the company's rapid growth. He understands the changes that come with their successful IPO 20 months ago in January 2015. "We have a lot of opportunities, like we're trying to have a lot of stock incentives to attract better talents to our company. At the same time, we have responsibilities, social responsibilities, stock responsibilities, and other same responsibilities we had before too, like safety," he says.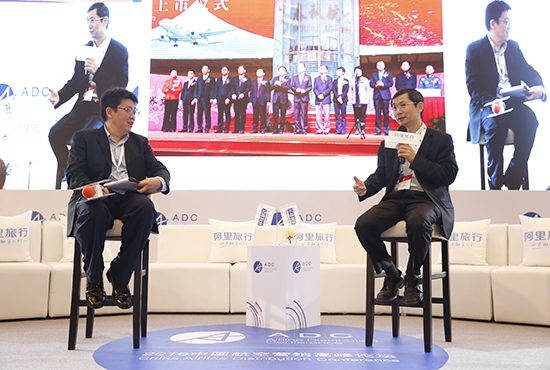 From left to right: TravelDaily China's CEO Charlie Li, Spring Airlines' president Yu Wang
As of September 30, Spring Airlines has a market value of more than 36 billion RMB ($3.14 billion), with a large part of their success coming from the younger travelers and the company's remarkable marketing campaigns that continues to create plenty of buzz. "We are a young company, our passengers are usually 20-30 years old," says Wang. Their practices of charging for in-flight meals and extra luggage are not new in the world of LCCs, but did surprise the average Chinese traveler. "In China, lots of traditional travelers like eating onboard, but we are looking at our target segment, and they don't have a lot of luggage and don't really eat on the plane," he explains.
When it comes to understanding the needs of their target segment, Spring Airlines has done well with its charging for auxiliary services, accounting for about 4% of total revenue of RMB 320 million in 2015. "We want to position ourselves with metrics of providing personalized services. Our customers are usually young people. We want to think outside the box, to better provide services. For our young passengers, they fly frequently not for business, so they don't bring luggage," says Spring Airlines' President.
Spring Airlines' campaigns were viral sensations, closely aligning their brand with that of majority of their customers. Their Men of Spring calendar, full of shirtless, well-toned men, was a hit, as moderator and CEO of TravelDaily Charlie Li and Wang joke. "This is totally worth it!" laughs Wang. "We will do it every year if nothing changes." The company also initiated a "blind flight" campaign where it took some of their young passengers on a blind date on a trip.
Subsequently, these younger passengers' behavior has fueled their direct and mobile sales, reaching up to 70% last year. "I think in the future it will be more direct sales. The other airlines will also have more direct sales," he says. Similarly for mobile, "yes it's very big for booking and apps on board, buying and procurement."
When it comes to looking outside their borders, Wang sees Spring Airlines' ventures in Japan as different but complementing strategies to their domestic ones. "In China, we want to be a fashion and fast brand, but in Japan we want to be a bit more conservative," he says. "Japanese passengers are different from Chinese passengers, so we cater to Japanese local preferences and culture. We want to differentiate our brand image in Japan."
However their core market is still the Chinese traveler, as evidenced by their latest venture into opening their Spring Sunny Hotel in Japan. "We made a lot of consideration before doing hotels, as they are a very limited resource in Japan, but we wanted to offer services for Chinese travelers to Japan." People traveling from China to Japan have no place to stay, according to Wang. "Most people staying in our hotels are Chinese, about 60-70% are Chinese passengers. It's 4 stars rated, so like a boutique hotel. Chinese passengers, they have special demands, Japan's hotel rooms are small and crowded. Chinese like bigger sized rooms, so we try to cater to that. Korean and Southeast Asian travelers can also stay in our hotel but its mostly targeting Chinese passengers."
Additionally, Spring Airlines believes their move is a winning situation for both parties. "We are driving up property market price, its good for all," he says with a smile. "It's good for us and its good for them."
As for the future of Spring Airlines, long-haul flights are on the table, though Wang admits it will be challenging, and will look at less serviced cities like second tier cities. Otherwise, Spring Airlines will continue to do what they do best. "Our target is still the same, our core market is still the same," he says.
"We will focus on low cost, and we will spend more effort in the future for our brand, products, and tech." The company will also continue looking into big data by analyzing consumers' mobile and other purchasing behaviors.