ChinaTravelNews, Ritesh Gupta – Quarter after quarter established OTAs like Ctrip and Tuniu are questioned about the possibility of achieving profitability, and what would it take to become more consistent to sustain the same, too.

But it seems with strong growth of the travel e-commerce pie in this market and aspiration of looking beyond just China, this question in case of Ctrip needs to take a back seat. With a healthy balance of cash and cash equivalents and other instruments, exceeding RMB18 billion at the end of the first half of this year, Ctrip is keen on sustaining its growth trajectory.

Before delving into how Ctrip is looking at scaling up with improving operating margin and considerable cost control initiatives, it is clear that the group is eyeing as big as pie of the travel commerce category in China as the team can in the next 4 years. This today seems like a prudent move as the digitisation of the whole travel category is hovering around 11-12% of the total online penetration, and this is projected to touch 19-20% over the next 2 years.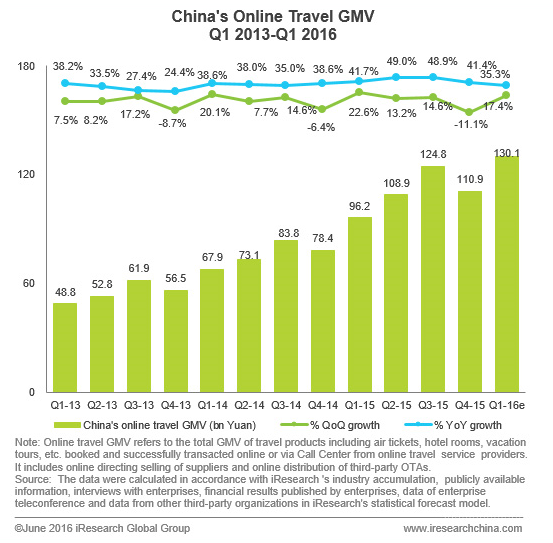 In January this year, Ctrip shared with us that the group is focused on achieving certain landmarks, including topline compound annual growth rate of about 30% to 2020; and touching gross merchandise volume (GMV) of 1 trillion RMB by the same year. At the end of June, according to iResearch, China's online travel GMV was 130 billion Yuan in Q1, going up by 41.4% from a year earlier.

Overall, the revenue of China's online travel agencies touched 6.5 billion Yuan in Q1, rising by 51.3% compared with the same period of the previous year.

Of course, after building on its business organically over the years plus with a spate of strategic alliances, including the key acquisition of Qunar expanding of its portfolio, Ctrip wouldn't budge from its goal of being a giant in the travel e-commerce category in China.

Ctrip reported net revenues of RMB4.4 billion in Q2, representing a 75% increase from the same period last year primarily due to the consolidation of the financial results of Qunar starting from the end of 2015.

During its Q2 earnings call, the team shared that Ctrip expects to continue with a "healthy net revenue growth trajectory" at 70-75% y-o-y in Q3.

Making the most of virtuous cycle

James Liang, chairman of the board and CEO of Ctrip, speaking during the company's Q2 earnings call, referred to establishing of the largest base of Chinese travellers, and featuring more than 16,000 partners across major product categories on their one-stop travel platform. "Users can find almost everything related to travel on our platform so they become more engaged, visiting us more often, spending more time per trip and purchasing more products. Eventually, more active users attract more suppliers and more suppliers attract even more users. As a result, the virtuous cycle is established," said Liang.

"The scale that we can achieve will be significant going forward," stated Jane Sun, co-president and COO, Ctrip.

Sun explained that the company is moving ahead swiftly with the integration process, and said "…once the platform is built, we do not need to add as many engineers and product managers into the platform." Sun also pointed out that the team has managed to tie-up with offline partners as well, for instance, a deal with Beijing Tourism Group. "With our brand, scale, reach, and backend support, Ctrip is the ideal platform for offline tour and attraction operators to accelerate their business volume."

Operating margin

Q3 is being described as peak season for the company. Ctrip intends to improve their non-GAAP operating margin in the range of RMB700 million to RMB800 million in Q3.

Liang mentioned that operating margin also saw healthy improvement during the quarter. The non-GAAP operating margin exceeded 4% in the quarter, "materially higher than our original expectation", he said.

A main reason behind the lift was removal of irrational pricing competition and reduction in marketing expenditure on hotel coupons, coming down from around 20% to high single digit. However, some level of expenditure would be continued on coupons, as Ctrip's ploy is to rely on the profit that's generated from the mid to high-end hotel properties to subsidize mid to lower-end of the hotel range. This way the OTA intends to combat any potential competitor trying to enter into this space.

Add to this the contribution of mobile as a sales channel. "More than 70% of our orders are generated from mobile platform, which has higher ROI than traditional channels. In addition, about 90% of the mobile traffic comes from the mobile apps and the majority of this traffic is organic," said Liang. "Ctrip and Qunar are the most popular travel apps in China and have a very large user base." Another interesting point related to mobile is serve customers outside of the mainland China, starting with the Greater China area. Liang said many of these markets have a large and fast-growing mobile population. "To better serve our customers international and travel needs, we need to focus our efforts on creating a more comprehensive international travel product offering. Our current international products cover from international air tickets, to international hotels, rental cars, local attractions and shopping," said Liang.

Capitalizing on travel shopping model

As for new avenues for revenue generation, a critical point is how OTAs are looking at air ticketing, since online airline booking accounts for nearly 60% of the online travel GMV. Sun mentioned that Ctrip has rather a "stabilized take rate which is as a result of our continuous efforts to increase our cross-selling product on Ctrip's platform". Referring to one-stop travel shopping offering, Sun said air ticketing tends to be the origination of a trip. "And after you book air ticket, you'll probably need an airport pickup, you need to book hotels. And you can find all these products on Ctrip's platform," said Sun.

"…within the 4% to 5% take rate, actually the commission coming from airlines is less than half. So, majority of our take rate already coming from profit that we cross-sell, variety of products that customers need, based on customers' demand," said Sun.

If we talk of hotels and total coverage, in this arena, too, Ctrip is going strong. Accommodation reservation revenues for Q2 were RMB1.8 billion, up by 61% from the same period last year Ctrip's domestic hotel coverage reached 460,000 hotels, increasing by almost 40% over a year ago.

Liang made it clear that the company is looking at favourable factors to sustain growth, banking on their one-stop travel platform. "Travel continues to be a very promising industry, driven by increasing GDP per capita in many markets across the globe," he said. By focusing on their platform, stepping up of international inventory coverage, and improving operating efficiency, "we will leverage the industry tailwind and create more value for our shareholders," stated Liang.