ChinaTravelNews,Ritesh Gupta – Chinese online travel intermediary Tuniu has had to counter downbeat evaluation of its financial performance in the last two months or so. From "unprofitable growth" to "gross margin being low", such assessment meant the results of Q2 were eagerly awaited.

The team at Tuniu is upbeat about the growth rate as well as overall margin improvement, as Q2 results came out last week.

Net revenues were RMB 2.4 billion in Q2, representing a YoY increase of 55.6% from the corresponding period last year. This growth, importantly according to Tuniu, is coming at a stage when the online penetration rate of the travel e-commerce category in China has a long way to go.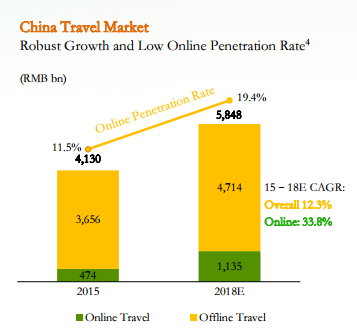 Donald Yu, Tuniu's co-founder, Chairman and CEO pointed out that the group is now well placed to leverage core assets, without making significant investment and yet expanding market share in areas such as transportation ticketing and accommodation reservation. At the same time, the company also believes the take rate margin for packaged tours will gradually increase. Cost control and making the most of Tuniu's brand value are going to be an integral part of the plan going forward. It needs to be noted that revenue generation from organized tours was RMB 2.21 billion of out of the total garnered in Q2.

Net loss was RMB 766.9 million in Q2, compared to a net loss of RMB 246.2 million for the same quarter last year.

Acknowledging that the company posted a "pretty large loss" in Q2 (despite the number of trips sold increased by 64.8% to 1,666,455 in Q2), Yu said the focus going forward is on "improving growth margin as well decreasing operating expenses as percentage of revenue". This is for the first time the team is taking considerable cost control measures, by leveraging its brand, and regional expansion. Yu did refer to USD 150 million share repurchase program, and stated that the cash position remained strong.

Building on foundation laid so far

Gross margin was 5.1% in the Q2 of 2016 compared to 4.7% in 2015.

Referring to the merchant model, Tuniu asserts that the branded products marked by higher margins, and direct procurement has its advantages. Clearly the team believes that its brand is now in a position to monetize their user base more effectively, and unearth "growth catalysts" for Tuniu's business. Total travel gross merchandise value (GMV), which includes gross booking from packaged tour products and the GMV of travel-related products, increased by 94.3% to RMB 4.5 billion.

A critical question then is - as the company counts more on relatively new standalone products, in addition to its core offerings, how quickly all of this can lend a more positive dimension. So is the GMV of travel-related products strong enough at this juncture to make a meaningful contribution?

Yu affirmed the same as he mentioned that the current matrix offers a holistic reflection of growth rate going forward, as the contribution from offerings such as transportation ticketing and accommodation reservation goes up. GMV of transportation ticketing and accommodation reservation in Q2 went up by 11 times and 8 times or so when compared with the same period last year.

The driver for such optimism when it comes to travel-related products is price competitiveness (bulk sourcing of products from suppliers, and the company asserts that having access to a "group rate" gives it an edge over other online travel players).

Another promising sign is the involvement of the loyal customer base, which now is resulting in strong revenue generation. According to Yu, the total travel GMV contributed by repeat customers cross the 45% mark in Q2, driven by product category expansion and customer loyalty program. A case in point is the "smart recommendations" based on Tuniu's big data technology, which is being labelled as a strategic advantage in serving existing database. "(It's) about right product at right time," said Yu.

Whether such plan is going to step up the overall margin would be an interesting key performance indicator to watch out for.

Leveraging available resources

Yu mentioned that air, rail and bus ticketing has witnessed "tremendous" growth, marked by serving of 4000 cities across 234 countries. As more and more airlines are looking at diversifying their sales strategy and counting on the platforms owned by intermediaries for reaching out to the massive traffic, Tuniu mentioned that it is gearing up to capitalize on such opportunity. In addition to its core packages business, where it thrives on itinerary and pricing, the group believes its clean reputation in serving customers will help it in standalone travel products, such as air ticketing. Yu also underlined that Tuniu has started to leverage its association with their largest shareholder HNA, featuring some of group airlines', including Hainan Airlines and Capital Airlines, entire product offering. The inventory of these airlines has also been fully integrated in the company's tour products.

Yu mentioned that in addition to air ticketing, the accommodation reservation category, too, posted impressive results, buoyed by 22 times increment in GMV of high-end hotels for the first half of 2016 when compared with the same period last year. "This is an ideal time for expanding our accommodation reservation business," asserted Yu during the company's Q2 earnings call. "It's time we capitalize on leisure travel resources, and packaged tour expertise," said Yu. The company also added that by focusing on 4- and 5-star hotel categories, the team is managing to garner relatively "higher margin".

Cutting down operating expenses

As for cost control, the company has chosen to cut down on sales and marketing expenses (RMB 623.3 million in Q2, a YoY increase of 169.0%) in the second half of this year. The figure went up owing to branding campaigns such TV advertising campaign that were signed last year, offline advertisement campaigns etc. "In the second half of this year, this portion of expenses is going to be significantly reduced," said Conor Yang, Tuniu's CFO. The expenditure had also gone up due to expansion of the VIP customer service team and amortization of acquired intangible assets from the previously announced transaction with JD.com.

The company's net revenues are expected to witness 30-35% growth YoY in Q3. From segments perspective, self-guided tours growth is much higher than organized tours at this juncture, and for travel-related products, as Yang shared, Tuniu is targeting "triple-digit growth rate".