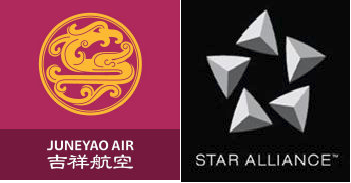 Shanghai-based Juneyao Airlines has confirmed that it will join Star Alliance. Informed sources said the membership application is being processed, though it's not yet announced.
The carrier's chairman Junjin Wang revealed in March that the company was to join a global airline alliance group within the year. As it plans to double its current fleet of around 60 aircraft by 2020, and fly long-haul by the end of the decade, the need to join a global alliance has become more urgent.
By joining Star Alliance, Juneyao Airlines will be in the same camp as Air China and this will help strengthen its presence in the capital city.
Star Alliance carriers will use Beijing Capital Airport, whereas Skyteam members such as China Eastern Airlines and China Southern Airlines will have to move to the capital's new airport in Daxing district, under a new Beijing airports deployment plan.
Informed sources said Juneyao Airlines is planning code-share flights with Air China. At the moment Juneyao only operates a few flights to Beijing.
Star Alliance has been in search of a member carrier in Shanghai after Shanghai Airlines merged with China Eastern Airlines in 2010 and exited the alliance. Juneyao Airlines fits the bill as its operational scale in Shanghai's two airports is just the biggest after China Eastern and Shanghai Airlines, according to CAPA.
Star Alliance will help feed international passengers to Juneyao's domestic routes and further strengthen the carrier's Shanghai hub. Shanghai is seen as an important market for long-haul routes not only by Air China, but also other Star Alliance members including United Airlines, Lufthansa, Air New Zealand and Singapore Airlines. (Translated by Jerry)