ChinaTravelNews – Tujia.com, China's largest B2C sharing accommodation platform, has acquired 100% stake in short-term rental website Mayi.com. Tujia's CEO Justin Luo also said in the internal notice on June 22 that Mayi's original controlling shareholder 58.com Inc. has become a strategic investor of Tujia in the deal.
Tujia and Mayi will continue to indepedently operate their separate brands and the companies will maintain the same core management teams. Mayi's CEO Zhiqiang Shen will report to Mr. Luo. The deal was assisted by China Renaissance as financial advisor.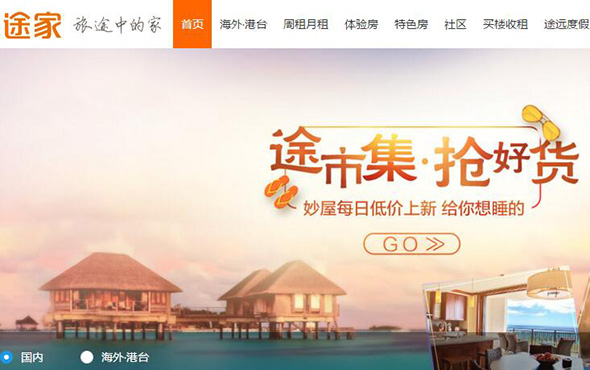 Tujia launched its online platform in December 2011 soon after Mayi's inauguration in November 2011. Tujia aims at becoming a booking platform for global apartments and shared accommodations. The company currently has over 410,000 accommodation listings on its website, covering 329 cites in China and 1,085 overseas destinations.
Mr. Luo said that Tujia.com adopts an O2O- and B2C-focused sharing economy model. The company has initiated its C2C business this year. C2C-focused Mayi is a leading short-term rental platform in China with more than 300,000 housing offerings in over 300 Chinese cities and travel destinations.
Tujia raised billions in various funding rounds
Tujia completed its series A round in May 2012 and series B in February 2013, raising a total of RMB 400 million in the two rounds. The company announced that it had received USD 100 million in series C round in June 2014. China's dominant OTA Ctrip and international vacation rental marketplace HomeAway have invested in all these funding rounds.
The company announced in August 2015 that it had raised a total of USD 300 million in its series D and D+ rounds, entering the so-called "Unicorn Club" with a post-money valuation of over USD 1 billion. The D and D+ rounds had All-Stars Investment as lead investor and were followed by the world's largest international serviced residence owner-operator Ascott as well as incumbent investors.
A brief history of Mayi
Short-term vacation rental website Mayi.com was founded in November 2011 with USD 20 million by Ganji.com, which was acquired in April 2015 by China's largest classified site 58.com.
Mayi's senior executives Kelvin Chen and Liantao Wang resigned from the company in June 2012 and co-founded accommodation service Xiaozhu later in the year.
Mayi's then parent company Ganji announced in January 2013 that the short-term rental platform received millions of US dollars in its series A round. It was announced at the same time that Mayi was split from Ganji. (Translated by Jerry)