For decades, online travel companies have focused on the steak and fries of travel purchases: flights and hotels. But getting door-to-door on a trip can often involve more creative transportation options than just airplanes.

Lately there's been a global uptick in companies offering multi-modal search, meaning, multiple-transport options, such as car rentals, trains, coach buses, ferries, and even car-sharing.

One of the early champions of multi-modal was the Melbourne-based startup Rome2Rio. It is reporting year-on-year growth in the States. For May 2016 its US traffic was up 53% over the same period a year ago, meaning 1.6 million visits from US users versus 1.06 million last year.

CEO Rod Cuthbert told Tnooz:

"For the full 2016 year we expect 110 million visitors worldwide, with an estimated 20 million of those from the US."

More competition

On June 2, Liligo, a European travel metasearch website, has debuted multi-modal search for the US market.

For domestic trips, US consumers can now see options from rail company Amtrak and major inter-city bus company Greyhound, alongside flight choices. Later this summer, Americans will be able to use the site to book tickets on French railway SNCF, to be followed by German railway Deutsche Bahn.

Liligo, owned by eDreams Odiego, offers multimodal options that include flights, car rentals, buses, and rail. But it doesn't offer car-pooling like it does on its sites in France, Spain, Italy, and Germany — where it added multi-modal options in April.

Since 2013, Google Maps in the US has had multi-modal search offerings, which may have helped introduce the concept to broad swath of US consumers.

So, multi-modal usage and options are somewhat on the rise in the US. Yet has multimodal been a harder sell in the US than elsewhere? Yes, says Cuthbert:

"US travelers naturally look at flight and drive options first, because the country is so well served by airlines, airports, and road networks. Bus travel has traditionally been thought of in pretty negative terms; rail networks are patchy — there's no high-speed rail (what the rest of the world would call high-speed, anyway); and ride-sharing hasn't taken off yet, maybe for cultural reasons."

Still, the times may be changing. At least Liligo hopes so.

Liligo says it is "the only comparison tool offering all transport methods with prices compared in real-time based on the search criteria of each user."

Liligo, based in France, has one main rival based in Germany: GoEuro. Liligo says that its main differentiator with its new US product in particular is that GoEuro has no train or bus content for US domestic travel. What's more, GoEuro does not offer hotel options or offer fare alerts, Liligo says. Another rival, Italian multi-modal startup Wanderio, hasn't targeted the US yet with marketing, though it offers flight search priced in Euros for foreign visitors.)

In comparison to Rome2Rio, Liligo says:

"While Rome2rio focuses on schedule information and trip length, it does not provide real-time prices, dates, and times like we do at liligo. For example, if you run a search NYC-BOS on Rome2Rio, you will see that they will only offer a price range for each transport option in the result page and the detail page."

Rome2Rio responds:

"We love the new Liligo site, and it's good to see them moving into the US. Key differences between Rome2Rio and their offering are our speed, and that we display more transport options — for that NYC-BOS search, we display train, a number of air options, multiple buses, and self-drive…."

"All with times and price estimates, in about a second, compared to a mostly air-focused result from Liligo in about 12-15 seconds."

But back to the big picture. Perhaps the strongest headwind that the US faces regarding multi-modal adoption is not about the offerings of search companies but about the lack of variety in its travel options.

Here's an example: Chicago to Toronto (436 miles) vs. Hamburg to Munich (491 miles).

As Cuthbert notes, the Toronto trip offers a 1.30hr flight; an 11 hour bus ride; or drive yourself (maybe 9 hours). With little price differential between the flight and bus options, most people will fly. No train option exists; rideshare is not yet a thriving option.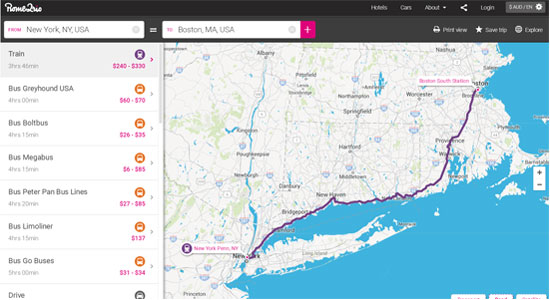 Notes Cuthbert:

"The Munich trip, on the other hand, has numerous good options, including high-speed rail leaving half-a-dozen times each day; luxury, low-cost bus services; well-priced rideshare; and of course flights into either Munich or Nuremberg."

That's true, but there is hope in the US. Inter-city buses handled an estimated 62 million passengers in 2015, about 35% more than in 2008, according to a Chaddick Institute report. Last year, Amtrak has reported a 49% gain in rail ridership since 2002, though its numbers last year were flat.

Read original article