ChinaTravelNews, Ritesh Gupta - China Lodging Group (Huazhu) has asserted that it is on track to become a "world-class hotel group", replicating the trail of Marriott but in a much shorter time span.
Referring to Marriott's growth trajectory and expansion over the decades, Min (Jenny) Zhang, CEO, China Lodging Group stated: "…we have shown you the comparison of what we have done in our short history of 11 years with Marriott has achieved over the past 60 years."
Speaking during the company's Q4 earnings call, she further mentioned that the US-based company expanded its brand portfolio and network via introduction of new brands as well as the inorganic route it adopted. For its part, the team at China Lodging introduced its economy hotel brand HanTing in 2005. Over the next 4-5 years, the group came up with Hi Inn brands in 2009 and JI Hotel in 2010. This was followed by Joya and Manxin in 2012 and 2013, respectively. On the acquisition side, the deals featured Starway and Elan brands. And last year, it signed a deal with Accor, including brand franchise agreements pursuant to which Accor chose to grant exclusive franchise rights in respect of certain Accor brands.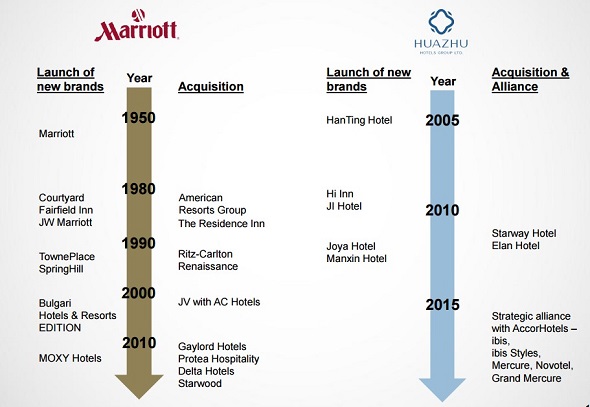 Plans on track
China Lodging has asserted that it performed exceedingly well throughout 2015, standing out for its network expansion, RevPAR garnered as well as the EBIDTA margin.
"We outperformed our peers in both growth and the profitability in 2015," said Zhang, who also chose to highlight progress made since the group came up with an IPO. The hotel network expansion has achieved 44% annual growth by hotel count, touching 2763 last year (growing from 639 in 2011). Similarly, net revenues closed at RMB5,774.6 million for the full year of 2015, rising from RMB2250 million in 2011.
The company underlined that its expansion plans are on track. The overall free cash flow ended at RMB1.09 billion last year. This was based on net cash from operation being RMB1.75 billion. On the other hand, capital expenditure for maintenance and new developments stood at RMB656 million. The company also mentioned that its pre-opening expenses as percentage of net revenue saw a 1.9 percentage drop due to its expanded revenue base and a fewer leased hotels in the pipeline.
Senior management did acknowledge that even though macro-economy is softening, the economy segment is still more resilient especially in first-tier and second-tier cities.
"Of course, we also pay attention to the third-tier city and below. Management, including myself, visited a few cities. We are very actively discussing how to adjust our progress and opening strategy, sales strategy to counter this situation," said Qi Ji, founder and executive Chairman of China Lodging.
According to the team, the new version of HanTing was very well received by the market.
"We have seen RevPAR improvement with the new product, compared with the older product in similar location," said Zhang.
This new initiative has been taken to improve operational efficiency (via an all-in-one bathroom module for designed for smart use of space) and better offering for frequent travellers (new bedding for a better sleep).
Revenue generation
There are several sources that results in revenue generation for a hotel company.
A group of China Lodging's stature gains one-time franchise fee, which tends to be between RMB100,000 and RMB300,000.
The group also collects a monthly franchise fee of around 5% of the gross revenues generated by each manachised (franchised-and-managed) hotel. The franchise and management agreements for manachised properties tend to run for an initial term of 8-10 years.
These figures are important to understand considering the direction in which the group is headed.
The group added a total of 768 hotels last year, and out of these 763 were franchised-and-managed, and remaining were leased hotels.
China Lodging's portfolio features 616 leased hotels, 2,067 manachised hotels, and 80 franchised hotels in operation in 352 cities. At the end of last year, the entity had 21 leased hotels and 656 manachised and franchised hotels contracted or under construction.
Strong direct sales and loyalty program

Talking of revenue generation, China Lodging also collects from franchisees a reservation fee for using its central reservation system and a membership registration fee to service customers who join the HuaZhu Club loyalty program at the manachised hotels.
In this context, the benefits of stepping up direct sales are clear. Also, the group has managed to scale up its loyalty program quite efficiently. As of December 31, 2014, the HuaZhu Club had more than 31 million members. The program had more than 49 million members last year.
If we compare the performance over the past 12 months, China Lodging has done exceedingly well.
In 2014, more than 85% of the group's room nights were sold to individual and corporate members of HuaZhu Club loyalty program. Also, in the same year, 92% of room nights were sold through the group's own sales platforms and the remaining room nights through intermediaries.
"In 2015, more than 90% of room nights were sold to our own channel. More than 80% of room nights were contributed by our loyalty members," shared Zhang. "…we are going to further enforce the policy of best price available in the Huazhu direct channel and most favorable treatments to our members."
The team is reaping the benefits of maintaining an integrated CRM system, as it includes reservation and consumption history and pattern, points accumulated and redeemed, and prepayment and balance. By doing so one can work out attractive promotions and also optimize the cost of marketing campaigns.
Also, as the base of loyal members ramps up, there is always an opportunity to monetize better. For instance, the group in its 2014 report mentioned that it had four levels of membership: star, silver, gold and platinum. The group had been charging RMB39 as the one-time membership fee for the silver membership. The one-time membership fee for the gold membership - RMB198 or RMB159, if purchased as an existing silver member. On the basis of strong data analytics, and promotions and offers that are based on buying behavior and preferences, the propensity to spend goes up and does contribute to a stronger revenue generation.
This aspect of operations also stands to gain from association with Accor.
China Lodging has gained access to benefits of all of Accor's international distribution and loyalty platforms, and is set to participate in its loyalty and distribution platforms.