The European travel market flourishes as online channels boom
05/06/2016
|
3:24:08 PM
|
中文
As Europeans continue embracing digital channels, and especially mobile, for booking their trips, the European travel market continues to reach new highs with projected revenue of €264 billion in 2015.
Despite recent troubles, the European travel market continues to reach new highs with projected revenue of €264 billion in 2015, shattering the previous year's record of €251 billion.

This upward trajectory for travel is expected to continue as Europeans continue embracing digital channels, and especially mobile, for booking their trips. As growth continues, online travel agencies (OTAs) and suppliers will continue their battle for market share dominance.

In 2015, the European travel market grew an estimated 5% over the previous year to €264 billion (see Figure 1). Over the next two years, growth will slow slightly to an annual 3% rate, until it reaches the €282 billion mark in 2017.

Growth in online travel continues to outpace the overall market. After a whopping 13% spurt in 2015, the online travel market will grow at a healthy 8% per year through 2017.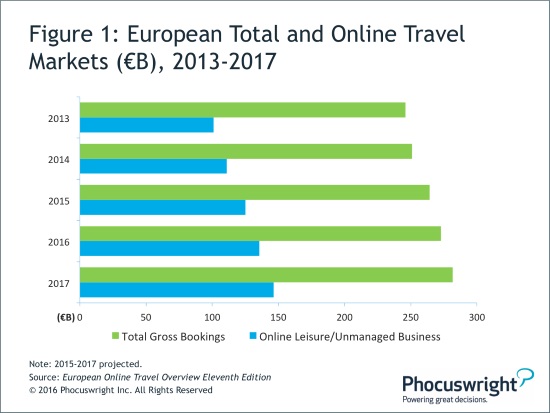 Online travel market

European travelers continue to embrace digital channels for travel booking. For the first time, Europe will surpass the US and claim the top spot globally for online adoption.

In 2015, 47% of travel revenue in Europe will be booked online, compared to 45% in the US, 31% in Asia Pacific and 23% in Latin America (see Figure 2). The gap between Europe and the rest of the world will continue to widen. In 2016, Europe is expected to reach a milestone, with half of all gross bookings made via online channels.

Germany, Italy and Spain will lead the sustained increase in online adoption, as consumers in those countries avail of improved website and mobile experiences from suppliers and OTAs.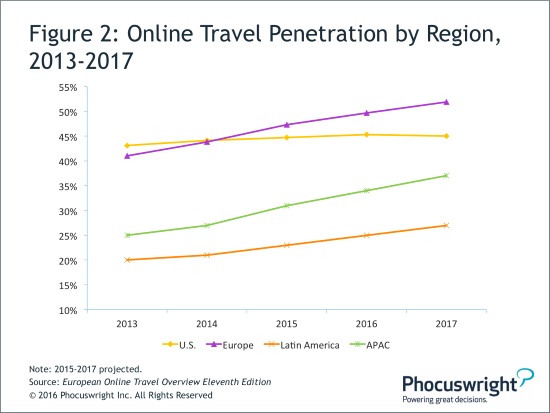 The rapid erosion in offline channel share will benefit both OTAs and suppliers. With their faster rate of growth, OTAs will comprise almost a quarter of the total travel market in 2017, a slight increase from 2015. Supplier direct bookings will grow from two percentage points in the same period.

The OTA/supplier battle for share

Increasingly mindful of the threat from OTAs and acknowledging technology's power to influence consumer behavior, suppliers have been investing heavily in online functionality and user experience.

This adaptation has helped them stem what, until recently, seemed to be the unstoppable rise of OTAs. The strategy to focus on the online experience seems to be working, as OTA growth rates for the next few years are projected to slow to 9% in 2017. By then, OTA growth will be only two percentage points more than suppliers.

By 2017, OTAs will comprise 44% of the total online market in Europe, a very modest increase from 2015.

While OTAs account for the largest share of online revenue, airline direct revenue share outstrips all other product segments combined. Only a quarter of European online travel revenue comes from bookings made directly with hotel, rail, car rental or tour operator companies, compared to approximately a third from airlines.

In 2015, online direct revenue for the airline segment will be just over €40 billion. Traditional airlines make up the lion's share of airline direct revenue at just over half, while the rest is booked on low-cost carriers (LCCs). Hotel, rail and tour operators' own websites and apps each comprise 7-8% of online travel gross bookings.

The overall composition of the market is not expected to change to any great extent through 2017.

Internet adoption across European markets

European countries' diverse cultures and economies have meant that internet adoption rates and travel suppliers' willingness to invest in technological tools vary greatly across countries.

The UK and Scandinavia led the way in consumer adoption of the internet, as is evident in their higher share of the online market versus the total travel market.

The UK represents just over a quarter of the online travel market and markets like Germany, Spain and Italy – relative laggards in the digital space – will enjoy growth of up to 15% during this period. The exception to the rule is France, which due to its unique single-supplier dominated travel segments (e.g., Air France-KLM), has limited growth potential.
The mobile rule

After years of hype, mobile has gone beyond the trend stage and is proving to be a sustainable channel in its own right.

Consumers have moved past using mobile for inspiration and search to conducting transactions. By 2017, mobile travel revenue will reach €35 billion – nearly a quarter of the total online market. In most major European markets, suppliers have a slight edge over OTAs in the mobile channel, driven to some extent by the air and rail segments. In 2015, suppliers are projected to represent 58% of the mobile market (see Figure 4). But, OTAs are catching up and will increase their share by three percentage points in the next two years.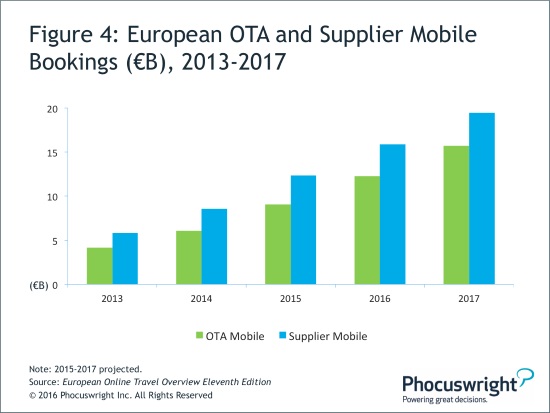 For more information and analysis, purchase Phocuswright's European Online Travel Overview Eleventh Edition, which gives a detailed overview of the European online leisure/unmanaged business travel marketplace, providing market sizing and growth forecasts through 2017. The report includes dedicated reports on France, Germany, Italy, Scandinavia, Spain and the UK and highlights key trends for all major travel segments such as air, hotel, car rental, tour operators and rail.

Read original article