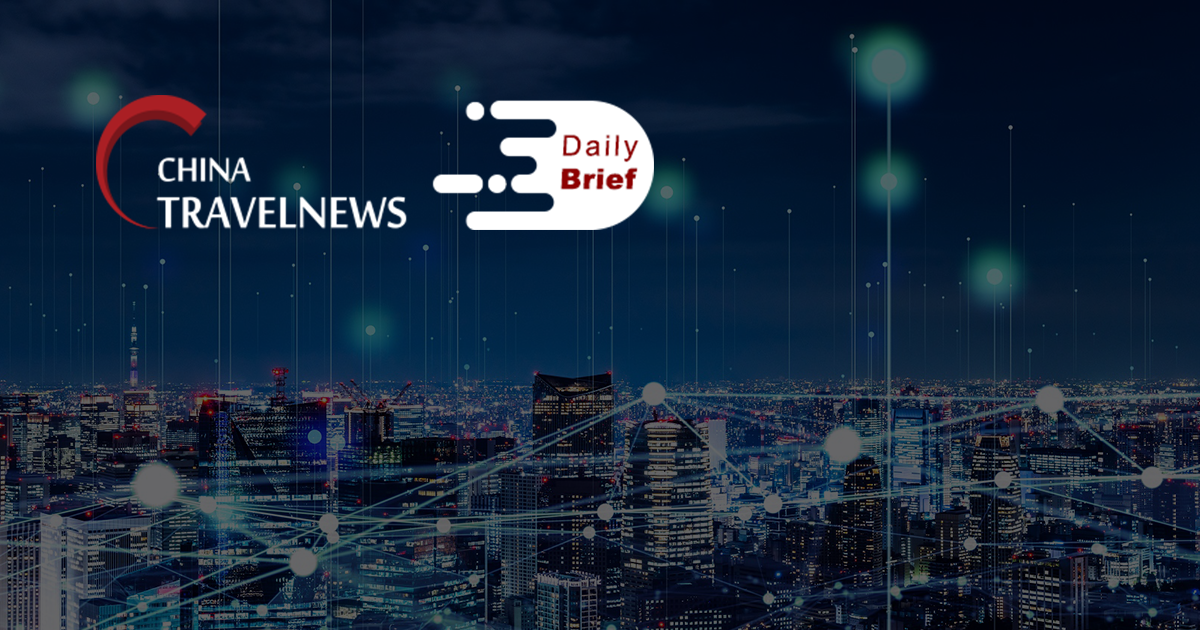 Cloud-planted art J Hotel Shanghai Tower debuted at the top of Shanghai
>> J Hotel opened its first hotel in the 632-meter Shanghai Tower, the tallest skyscraper in China and the second tallest in the world. The J brand is the leading luxury brand of Jin Jiang International Hotels, the largest hotel group in China and the second largest hotel group in the world.
Eastern Chinese city offers free plane tickets to elderly to boost economy
>> The Chinese city of Jining has announced that the elderly will be entitled to two free flights within the coming year, though the policy has been criticized for being impractical. Those aged 65 or above can take advantage of the policy by booking tickets a week in advance, and their accompanying family members will also receive a 10% additional discount. Authorities in Jining, a city in China's eastern province of Shandong, said the policy aimed to stimulate the air travel industry and bolster interest in local flights.
Tencent founds digital inflight company with HNA Group
>> Tencent announced that it has founded WeFlyShare Aviation Technology (Hainan) with HNA Group and Donica, aiming to enrich digitalized inflight services with their video, music, information and other resources. Tencent stated that the company's digitalized inflight services have been operating on different airlines over the past year and they estimate to serve up to 120 million passengers in the coming 3 years.
UNWTO adoption of Chinese as official language shows China's growing role in global tourism
>> The United Nations World Tourism Organization's (UNWTO) recent decision to adopt Chinese as one of its official languages reflects China's growing importance in the world tourism market, the organization's Secretary General Zurab Pololikashvili has told Xinhua news agency.
China "is a top destination in its own right and, prior to the pandemic, had established itself as the number one source market for international tourists. Including Chinese as one of UNWTO's official languages ensures the increased participation of China in our organization's work, reflecting the significance of the country to global tourism," he wrote.
Online Winter Olympics exhibition ties Beijing and New York
>> An online exhibition was unveiled recently to promote the 2022 Winter Olympics under the auspices of the China National Tourist Office of New York and the New York State Olympic Regional Development Authority. The Chinese Winter Olympics delegation made its debut at the 1980 Winter Olympics, which was hosted in Lake Placid.
Shenzhen tightens curbs after variant Covid infection found
>> Shenzhen, a Chinese city neighboring Hong Kong, tightened controls on entry and exit after a restaurant employee was infected with the delta coronavirus variant. All visitors entering the city via airport terminals and their ground transportation centers must provide a negative nucleic-acid test administered in the prior 48 hours, according to a statement by Shenzhen Airport Group. Airlines will adjust the city's inbound and outbound flights accordingly, according to Shenzhen Airport.
Hong Kong to reduce quarantine to 7 days for fully vaccinated residents subject to antibody testing, travel history
>> The mandatory quarantine period for fully vaccinated Hong Kong residents testing positive for coronavirus antibodies on their return from lower-risk countries could be halved from 14 to seven days. The shortened quarantine period is set to cover residents who have been fully vaccinated for at least 14 days and have returned from countries deemed to be "high risk" or lower for Covid-19. On arrival, they must test positive for antibodies against the coronavirus and negative for the virus.
Cathay Pacific to increase flight schedule in October, marking start of recovery bid
>> Cathay Pacific plans to add substantially more flights by the autumn marking the start of its ambitious comeback from the effects of the coronavirus pandemic, and the airline said it was on track to lose less money in the first half of 2021 than in the same period last year. Cathay said it expected to fly 30% of its pre-Covid-19 passenger flight schedule from October onwards, marking its biggest step forward to recover from the virus.