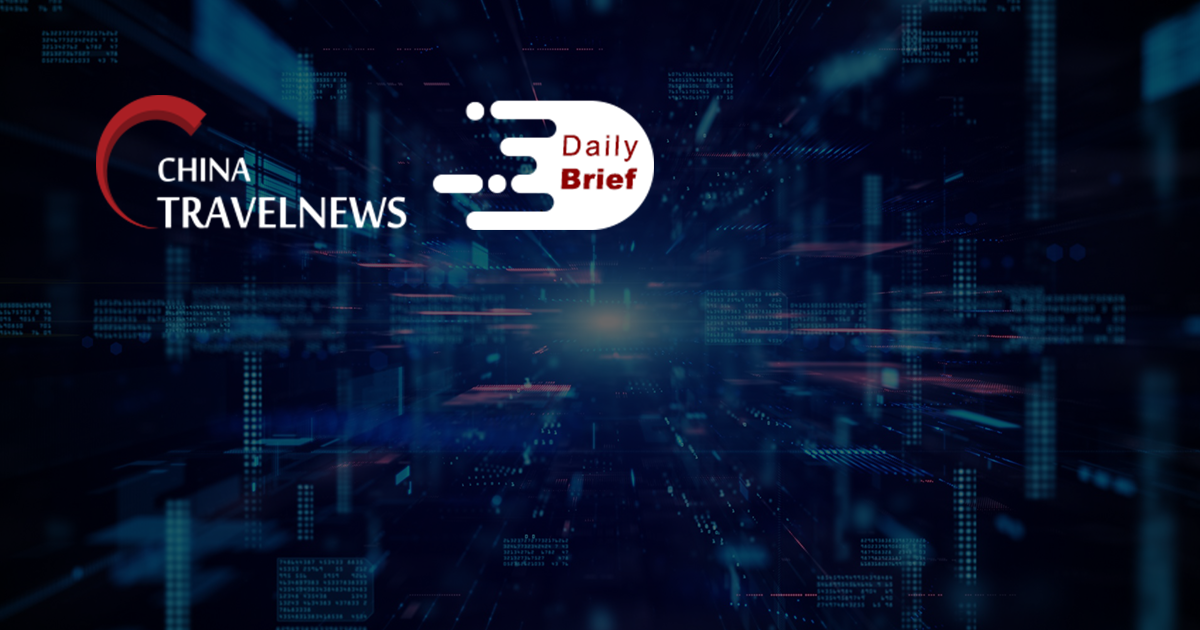 Meituan posts 113.9 million domestic hotel room nights in Q3, up by 3.7%
>> Tencent-invested local and travel service platform Meituan said its total revenues rose 28.8% in the third quarter this year. Revenues from in-store, hotel & travel business were up by 4.8%, while operating profit from this segment climbed 19.5%. Meituan reported 113.9 million domestic hotel room nights consumed in the third quarter, 3.7% more than that of the same quarter last year. The company mentioned that contribution from high-end hotels further increased year-over-year.
Think tank accuses Taiwan OTA of leaking client data to China
>> The Economic Democracy Union in Taiwan accused online travel agency ezTravel of maintaining ties to Chinese government agencies and receiving funding from Beijing in exchange for leaking customer data. EzTravel is effectively controlled by Singapore-based Trip.com, union secretary-general Chiang Min-yen said, adding that "they would probably pass on personal information of Taiwanese travelers to the Chinese government, if Beijing demands it."
Fosun targets Greater Bay Area tourists with Thomas Cook resort on Zhuhai island
>> Chinese conglomerate Fosun has chosen Guishan island in Zhuhai for a boutique hotel that will target creative tourists from Hong Kong. The launch will coincide with improving ties between the two cities, which are part of Beijing's Greater Bay Area development zone. Casa Cook Guishan Island will be developed by Fosun Tourism, the leisure business of the conglomerate. It will partner with Visun Group, the organiser of the country's biggest yacht show, on the project, which is expected to open in 2023.
Japan, China resume business travel
>> Japan and China are resuming business travel between the countries on Monday, as part of efforts to ease entry restrictions and promote economic activities. An influx of Chinese travelers is expected at Narita Airport near Tokyo. About 20 flights to and from Chinese cities are operated weekly. Business people are now allowed to make trips for both short- and long-term stays.
Chinese airlines to lead aviation sector recovery
>> China's large domestic market will allow a return to profitability by the end of this year, according to the International Air Transport Association (IATA). Passenger demand has been steadily rising over the past few months, with flights — mostly domestic — carrying more than 50 million passengers last month, 4.97% higher than September and 11.7% less than the year-earlier period, according to data from China's civil aviation administration.
China Southern Airlines' subsidiary announces restructuring
>> China Southern Airlines General Aviation Limited has introduced three investment entities as its stockholders. After the restructuring, the China Southern subsidiary's registered capital would increase to RMB 1.34 billion (USD 204 million) from 1 billion yuan. Parent China Southern will continue to hold a controlling stake in the company.
Chinese jet to challenge Airbus and Boeing, C919 in final testing stage
>> Commercial Aircraft Corp of China (COMAC) has mostly finalized the design of its C919 narrowbody jet, paving the way for China's aviation regulator to oversee final flight testing, the manufacturer said. China's answer to the Boeing-Airbus duopoly on passenger jets still has hurdles to overcome to meet its planned roll-out next year, and not all analysts think it will arrive on time.
Olympic test event in China called off amid travel concerns
>> Another test event for the 2022 Beijing Olympics was called off Saturday, when bobsled and skeleton officials canceled plans to have a training week and World Cup race on a newly built track to end this year's sliding season. The reason was the same: ongoing concerns about international travel during the coronavirus pandemic.
Guangzhou leads strong China hotel development pipeline
>> In the latest China Construction Pipeline Trend Report, Lodging Econometrics analysts said China's total hotel construction pipeline remains robust at 3,409 projects (634,119 rooms), up 1% by projects and rooms year-over-year. These project and room counts are, however, down slightly over Q2 peak totals, which were the highest seen in China during this lodging real estate development cycle. Guangzhou leads China's pipeline with 137 projects (26,615 rooms), followed by Chengdu with 131 projects (26,064 rooms), and Shanghai at 125 projects (23,296 rooms).