Home
>
Destinations
>
China set to become world's largest business travel market
China set to become world's largest business travel market
China's inbound and outbound tourism traffic is expected to grow 5% in 2016, to 263 million, of which inbound tourist arrivals are expected to increase by 2.5% to 137 million, while outbound tourism traffic will increase by 8% to 126 million.
As China anticipates becoming the largest business travel market in the world this year, China will leverage tourism to underscore its influence in foreign relations and global economy, according to Jin-zao Li, chairman of China National Tourism Administration (CNTA).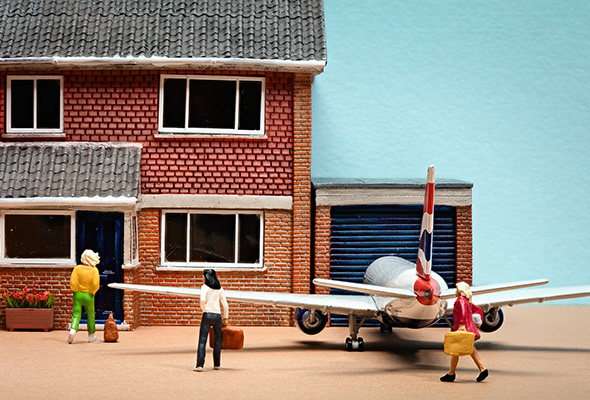 "China is expected to leapfrog the United States and become the largest business travel market in the world this year. China's tourism industry is now a major driving force for sustained development of the global economy. As China's tourism development has given us a bigger say and more influence on the international market, we will leverage tourism for China's diplomatic strategy as well as global economy involvements," Mr Li told the 2016 National Tourism Conference on January 29.
Launching 60 routes for inbound travel
China's inbound and outbound tourism traffic will increase by 5% to reach a total of 263 million in 2016. Of which, inbound tourist arrivals will top137 million, increased by 2.5%, while outbound tourist arrivals will be 126 million, increased by 8%. China will redouble efforts on attracting more oversea tourists by playing up the "Beautiful China" image, especially in brand advertising campaigns in major source markets like South Korea, Japan and the United States. CNTA will participate in five key international tourism exhibitions, including ITB Berlin, and take part in 17 overseas tourism exhibitions such as FITUR Spain.

CNTA will launch 60 travel routes spun off from destination brands such as "the Yellow River under the sun, the enchanting Yangtze River, the Great Wall, the Beijing-Hangzhou Grand Canal of Millennium, the Silk Road, Jiangnan waterfront towns, the Qinghai-Tibet Railway, the Shangri-La, Ice and snow in North China, Lingnan scenery, the Ancient Tea Road and the World Cultural and Natural Heritage.
China will woo visitors from Hong Kong, Macao and Taiwan through taking part in eight tourism exhibitions such the 30th Hong Kong International Travel Expo (ITEHK) and Taipei Tourism Expo (TTE), with The Silk Road as the focus of the promotion of Beautiful China. It will also hold the Conference of Study Tour in Mainland, implement the 2.0 Study Tour for youths from Hong Kong, Macao and Taiwan, and host events such as "Beautiful China, Innovative Tourism".
At the same time, China will also further development in the emerging inbound tourist markets, leveraging the "Visit China Year" in India to develop market segments of young people, Muslims and overseas Chinese in India, Vietnam, and Indonesia. Targeting the countries along "One Belt, One Road", China will also develop cross-border and regional tourism traffic from neighboring countries.
Embarking on tourism diplomacy
The launch of "Visit China Year" in India and the "Visit Korea Year" in Beijing at the beginning of 2016, both marked by the high-profile greeting speech from President Xi Jinping, signified the increasingly important role that tourism diplomacy played in the country's diplomatic strategy.
CNTA's Mr Li stated in the tourism conference that tourism would be further adopted in diplomacy to implement the "One Belt, One Road" project. China will kick off the discussions on the China-ASEAN Tourism Cooperation to pave the way for China-ASEAN Tourism Conference of Ministers, endeavoring to work with ASEAN countries such as Indonesia, Vietnam and Malaysia to retrace the Maritime Silk Road and develop relevant tourism products. China will also run promotion campaigns for the "2016 Silk Road Tourism Year", and host the first China-Russia-Mongolia Tourism Conference of Ministers to enhance cooperation on developing the "tea route" among the three countries, as well as setting the mechanism for the minister-level meetings between China and South Asian countries.
Deepening tourism collaboration with Hong Kong, Macao and Taiwan
Mr Li said tourism is also expected to promote mutual understanding between the people of China, Hong Kong, Macao and Taiwan by underscoring the role of tourism in promoting economic development.
For Macao, CNTA will support its development into a world hub of tourism and leisure and its hosting of the Fifth Global Tourism Economy Forum. CNTA will help coordinate the support for making Macao an international tourism island, through promoting the research of developing the Hengqin International Leisure Tourism Island and to accelerate the integration of tourism in Hengqin and Macao. CNTA will also coordinate the integration of tourism in Guangdong, Hong Kong and Macao in order to build a world-class travel destination.
The Mainland will further enhance cooperation with Taiwan, and support making Fujian the base for incubating cross-strait cultural and innovative products, as well as improving the insurance mechanism for mainland residents visiting Taiwan and explore the development of a tourism collaboration region between Xiamen and Jinmen. (Translation by Jerry)