Clear skies ahead for China's business jet industry
China had 24 business aviation companies at the end of last year, with a total of 211 aircraft. Their annual flight hours totaled 31,000, up 19 percent year on year.
When a small Lear jet carrying senior executives of U.S. oil giant Esso flew from Beijing to Dunhuang, in the northwestern Gobi Desert, in 1995, it made Chinese history.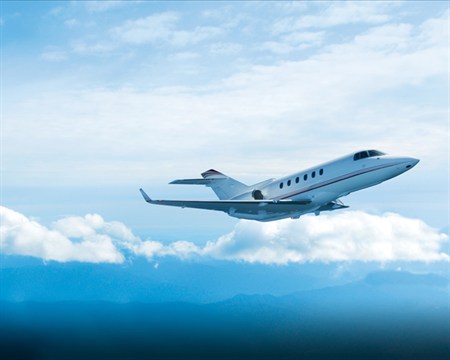 It was the nation's first business aviation flight on a business jet, belonging to the country's pioneer company of the Deer Jet.
At the time, few Chinese could afford to travel by commercial airlines, whose services were still relatively limited.
Twenty years later, the Deer Jet was awarded the title of the World's Leading Private Jet Charter granted by the World Travel Awards (WTA) Grand Final 2015 on Dec. 12 in Morocco. It is the first international honor for a Chinese business aviation company.
Also in this year, the world-renowned Chinese pianist Lang Lang made a 48-hour round-trip shuttle between Beijing and Edinburgh in order to perform at both the Edinburgh International Festival and China's commemorations of the 70th anniversary of the end of World War Two.
"In the time of a concerto, the plane from Edinburgh had reached the sky above of the Norwegian fjords," Lang wrote on his Sina Weibo microblog, expressing his gratitude to Chinese business aviation company Deer Jet.
The pianist's comment is testament to the dramatic development of the business aviation industry in China, says Fang Xinyu, vice president of Deer Jet, Asia's largest fleet of business aircraft.
Business jets are no longer the preserve of wealthy foreign business executives, he says.
"The business jet is efficient and flexible. It is helping more Chinese in business, culture and other fields to control their time, without being controlled," he says.
FREEDOM OF FLYING
Deer Jet's conception actually occurred in the year before the Esso flight.
Chen Feng, chairman and founder of Hainan Airlines, traveled to the United States on business in 1994 - a year after he founded the commercial carrier - and marveled at the freedom of flying by business jet.
The delays and transfers common with commercial airlines were non-existent, the passengers arrived refreshed, and business - even meetings - could be conducted in the air, says Chen.
Soon after his return, Chen applied to the Civil Aviation Administration of China to start China's first business aviation company.
"It was Chen's foresight that started the business aviation industry in China. In the mid-1990s, he saw that China would surely need it and he was right. The day has come," says Fang.
Those Esso executives were the first regular customers, signing up for a one-year contract.
All of early orders came from influential global companies, seeking to break into China's markets.
"Business flights were their preferred transport - it's normal in their countries," says Fang.
LATE ARRIVALS
By 2001, Deer Jet had China's largest business aircraft fleet and Chinese businesspeople were learning of its advantages.
In 2004, Qiu Dedao, chairman of a Hangzhou-based chemical fiber group, took a commercial flight to meet friends and attend the Singapore Airshow.
He arrived late and annoyed after his foreign counterparts had been chauffeur-driven to the airshow in a VIP limousine - a standard extra with business aviation.
Qiu decided there and then to pay 60 million yuan (9.3 million U.S. dollars) for a Beechcraft King Air aircraft. He later named China's first personal business jet "Prime Minister No.1".
Deer Jet took over its operation and daily maintenance.
Such extravagance soon became the subject of public debate, but it also revealed a gap between the aspirations of Chinese entrepreneurs and their foreign peers.
"It was an iconic event for business aviation in China," says Fang. "It encouraged the country's private companies and new rich to believe they could travel like their foreign peers."
BLUE SKIES AHEAD
According to the CAAC, China had 24 registered business aviation companies at the end of last year, with a total of 211 aircraft. Their annual flight hours totaled 31,000, up 19 percent year on year.
However, they've also racked up controversy, either as conspicuous consumption flaunted by nouveau riche, or as a means to court corrupt officials.
"The improper use of business aircraft should not be encouraged," concedes Fang, "but nor should it be used to criticize a highly-efficient means of transport."
He cites cases where business jets have been crucial for their passengers.
After Japan's disastrous Fukushima earthquake in April 2011, the first aircraft to take off from Narita Airport belonged to Deer Jet. The clients would have been left stranded without it, says Fang.
"We are helping more and more people to realize their dreams and accelerate their business expansion," says Fang.
"China's business aviation sector has vast potential with clear blue skies ahead."
Read original article