Didi Kuaidi launches bus charter option on its Didi Bus service
Didi-Kuaidi has introduced a new Didi Bus charter option on December 9. The service is now availablein Beijing and Shenzhen.
Didi-Kuaidi has introduced a new Didi Bus charter option on December 9. The service is now available on the Didi-Kuaidi app's latest version for Beijing and Shenzhen and will soon be available in 10 other cities including Shanghai, Guangzhou and Tianjin.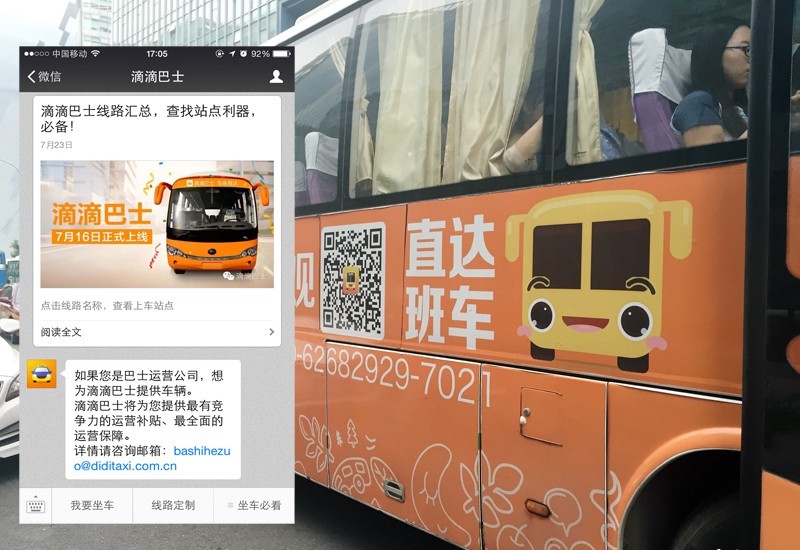 Users can now rent buses on Didi Bus service on Didi-Kuaidi's app
Didi-Kuaidi's bus rental service are available for single trip, one-way or return trip, and day rental. The service offers four bus types–with 7-15 seats, 21-29 seats, 37-39 seats or 45-55 seats. The rental price is calculated based on demand, the location and the bus type. For instance, renting a 7-15 seat bus for a single-trip from Beijing's Zhongguancun to Badaling would cost RMB370 per vehicle, or RMB550 for a 21-29 seater, RMB760 for a 37-39 seater and RMB800 for a 45-55 seater.
Didi Bus's director Jinfei Li said the bus charter service has been launched to satisfy more diverse transportation needs of users and to resolve issues that users face when using traditional vehicle rental. "To some degree, the launch of a bus charter service is bringing Didi-Kuaidi closer to making a truly one-stop transportation platform," he said. Didi Bus was launched on Didi-Kuaidi's app in September this year and is currently offering over 700 routes and 1,500 shuttle services in Beijing and Shenzhen.
Meanwhile, Uber also announced it is testing a bus service called UberHop in Seattle and Chicago it the US. Uber's approximation function lets its drivers leverage smart-selection to form a group of passengers. After the selection, the driver and passengers must gather at a meeting point at the appointed time, and passengers will be dropped off at the same destination.
Although UberHop is similar to Didi Bus, Didi-Kuaidi still has one service that would be very difficult for Uber to duplicate–the carpool service targeting the Spring Festival intercity rush. Didi-Kuaidi added this new function to its carpool service last month, allowing passengers to make their bookings from seven days in advance to 15 minutes in advance. The price for Didi-Kuaidi's intercity carpool service will also be standardized nationwide, and priced based on the starting rate and distance traveled. A single-trip of 1,300 kilometer will cost around RMB750-RMB800, for example. (Translation by David)