Watch out for Qunar's "mobile plus hotel direct" focus
Qunar believes its growing mobile user base as well as the strengthening of its hotel content will pave way for further boost in the "commission rate" of its hotel business
ChinaTravelNews, Ritesh Gupta – Qunar CEO Chenchao Zhuang has highlighted that Qunar and Ctrip are set to capitalize on several opportunities, and the overlap of the customer base in these two organizations is "also small" at this juncture.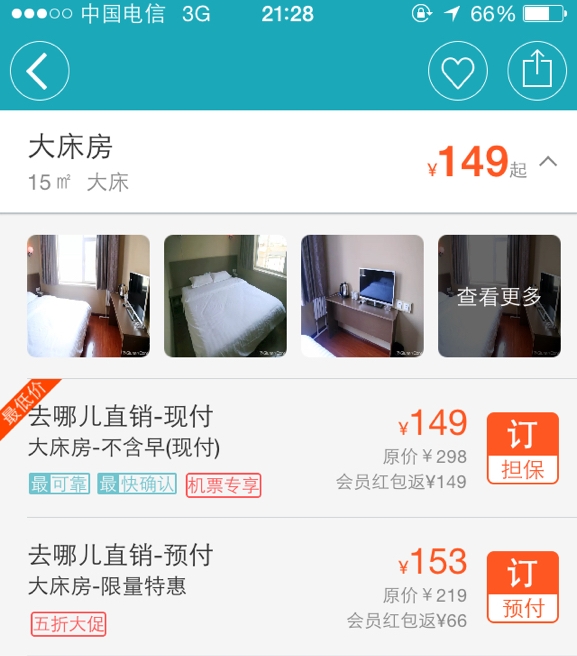 Qunar thinks the key to its growth lies in its mobile hotel bookings
Zhuang, just as Ctrip stated in its recently released Q3's earnings call, stated that details post the recently finalized strategic alliance featuring two organizations are being worked out. But he did acknowledge that Qunar and Ctrip can assign more resources to work out a more efficient technology and a service platform for the industry. "…a new service, complimentary user base, although we "added" two largest online travel companies in China in terms of mobile transaction volumes, wide margin, the two companies are still very small just compared to the entire travel market."
Also, the plan is to not only get rid of irrational marketing initiatives, but also penetrate into uncharted areas from here on, especially the focus on the third-tier and fourth-tier cities.
Zhuang also referred to a stronger product, as the companies can "exchange inventories in area where the two companies can complement each other". He said this will ensure a more comprehensive coverage of products and the services for both companies and we can do this even more cost effective and efficient manner.
For its part, Ctrip has indicated that the alliance will help it to foray into the second-tier, third-tier cities rapidly and gain market share.
It should be noted that Qunar's "mobile plus hotel direct" focus remains a strong growth story. In fact, Qunar's CFO Yilu Zhao indicated that the company has stepped up its game in the hotel business, not just restricting itself to the low-end segment. "…in the four-, five-star hotel segment, the volume continued its triple data growth to a total of 6.2 million room nights stayed in the quarter representing 28% of our total hotel volumes," shared Zhao.
Also, Zhao, during the company's Q3 earnings call, asserted that Qunar is "very independent", and mobile is a strong pillar for the company. "Three quarters of our revenue already comes from mobile…70-80% of our transactions are done through the app."
Sustained growth
The July-September quarter was the sixth consecutive quarter of over 100% top line growth for Qunar.
Zhao mentioned that in Q3 the company's net loss over gross profit ratio improved significantly quarter-on-quarter.
"We continue to expand our market share across different segments of the travel industry in China, with total GMV almost doubling year-on-year to reach RMB49 billion in the third quarter, every year there more Chinese people who start to explore the world around them…," said Zhao.
Talking of mobile, Qunar made excellent progress on several fronts. Mobile revenues for Q3 were RMB975.5 million, going up by 381% y-o-y.
Mobile accounted for 73.6% of Q3 revenues, compared to 40.4% in the corresponding period of 2014.
"Mobile continue to be an area where we have seen great success, with very strong data of new user additions, as well as existing cohorts, with peak and retention patterns, mobile has been a key driver of our user growth over the last two years," shared Zhuang.
A key performance indicator, as Zhuang also mentioned, was the growth of mobile business not only being buoyed by the increase in number of users who have transacted again. But what also stood out was the frequency and breadth of their bookings across different business lines in a product category, said Zhuang. "Quarterly retention rate remain in 20% to 25% range from all quarterly cohort, with transaction frequency for new mobile transaction user continuing to increase y-o-y," he said.
Opportunity
As things stand today, Qunar believes its growing mobile user base as well as the strengthening of its hotel content will pave way for further boost in the "commission rate" of its hotel business.
Coverage remains a major part of Qunar's operational goal. The number of hotels directly signed on to Qunar's hotel network reached 323,000 by the end of the third quarter.
"…we have been able to increase the returns for both Qunar and our partners and in that process steadily increase the gross commission rate we charge from hotels. This started well before the Baidu, Ctrip transaction and the effects should become even more obvious in Q4," said Zhao.
Accommodation reservation Q3 revenues were RMB550.7 million, an increase of 392.9% y-o-y.
Cost control
The company has been focusing on acquiring new mobile users through offline channels.
"Total expenditures through online marketing has been quite stable since the second half of 2014 and it continues to decrease as a percent of our total revenues of gross profit," shared Zhao. "As we shift more of our marketing budget to mobile channels, and as RoI driven strategy enable us to generate high quality returns from those channels every quarter, we believe online marketing expenditures will continue to decrease as a percent of our total revenue."
Zhuang singled out the offline campaign for its performance.
"The offline campaign we started in Q2 contributed to deliver very strong returns to us. Through this program we have trusted millions of previously offline users who have not used our mobile service before," he said.