Homeinns optimistic about achieving higher margin revenue contribution
The hotel chain continues to be bullish about its hotel development pipeline, as well as its frequent guests program which rose to 47m members in Q3.
By Ritesh Gupta, ChinaTravelNews - Hotel companies in China are currently evaluating several aspects of their respective strategies and operations as they target higher margin revenue contribution in a challenging business environment prevalent as of today.
For Homeinns Hotel Group, its revenue growth and RevPAR expectedly remained under pressure in the third quarter, but the group is optimistic that its decision to focus on franchised-and-managed hotels, plus the expansion of its mid-scale portfolio and loyal customer base will eventually result in profitability improvement. And key external developments such as the consolidation in the online travel business or even the emergence of new business model in the lodging industry are not going to have any significant impact at this juncture.
Referring to Tujia during Homeinns Hotel Group's Q3 earnings call, CEO David Sun acknowledged that there could be a minor impact, but "the majority of customers still quite stick on their current hotel industry or hotel service". He added, "I think the impact will (be there) but still on a very minimum level." Commenting on the same, Cathy Li, CFO of the group, said, "the whole trust level between each other or the overall "trusting of credit system" is not that complete or healthy. So that also causes lots of trouble or barriers for that the hotel sharing economy model."
As for another important aspect, the group emphasised that since 90% of "our customer is going to our direct line", the team doesn't foresee any impact of consolidation in the OTA space on its business. Homeinns asserted that it has favourable channel mix, and stable repeat customer base.
Building own assets
It is clear that the team at Homeinns Hotel Group is counting on frequent guests program as a key driver.
Sun mentioned that the group had a total of 47 million unique non-corporate members under its frequent guests program at the end of the last quarter. In comparison, the figure was 38.6 million at the end of Q2, almost doubling the base that was there in mid-2014.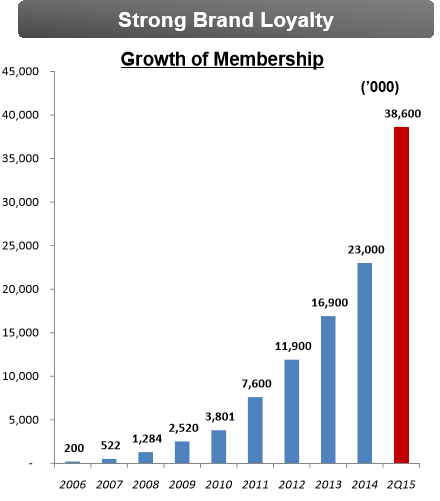 Source: Homeinns Hotel Group
Sun termed this growth as a solid increase over Q2, and these members contributed 63.9% of room nights sold during the June-September quarter.
At the end of 2014, this base represented 62.1% of rooms sold. Corporate contracts last year accounted for 13% of rooms sold. These programs and contracts contribute to the group's repeat customer base. The decision to strengthen multi-brand strategy is also expected to uplift loyalty.
The group has already set up its B2C platform, youxuan.homeinns.com (embedded in Homeinns Hotel Group's website). It offers Homeinns' loyalty members and other customers online purchase access to selected travel and lodging centric products.
The group is also pursuing ways to capitalize on the prowess of its mobile app. Since the launch of the company-owned mobile app almost two years ago, more than 4.2 million users had downloaded the app at the end of the second quarter. The user base touched six million-mark at the end of this quarter. Homeinns' mobile app, in conjunction with WeChat users, contributed 30.3% of total room bookings this quarter, said Sun. These channels are going to be key in attaining high level of customer satisfaction and could also be potentially one of the cost effective ways to expand the customer base, added the CEO.
Business model and revenue performance
As of September 30, 2015, a total of 2,131 hotels had been in operation for at least 18 months. These properties' occupancy rate went down y-o-y, from 88.2% to 87.5%. And ADR went down y-o-y, from RMB174 to RMB170, bringing RevPAR down by 3.2%, from RMB154 to RMB149 during Q3. Sun mentioned that the group's "performance was relatively stable" as it is transitioning into a predominantly franchised-and-managed hotels business from one that used to be focus on leased-and-operated hotels. "Like-for-like performance continued to be negatively impacted by the generally challenging external conditions, but we are not seeing any signs to worsen in the domestic travel industry," said Sun.
Overall, the group's franchised-and-managed hotels represented 67.1% of total hotels in operation by the end of this quarter (up from 33.5% at the end of Q3 last year and 60.7% at the end of Q2 this year).
Sun sounded pleased with the development pipeline, especially asserting that 90.2% of 369 projects were franchised and managed hotels. Franchisee owns or rents property and invests in capital expenditure and ongoing maintenance. For its service, Homeinns earns a one-time initiation fee and ongoing franchise and management fee, whereas franchisee retains profits after fees and operating expenses.
Out of these projects, 235 are under contracted or under construction status, and 134 were under due diligence.
Sun mentioned that demand from franchise partners "remains very strong".
"We expect this to further contribute to our profitability improvement," he said.
Homeinns intends to meet its target of opening no fewer than 400 new hotels in the course of 2015, with approximately 25% as mid-scale hotels.
As for the brand portfolio, Sun said prudent, ongoing expansion is on the right track, with focus on the mid-scale segment, featuring Homeinn Plus (launched in April 2015 targeting tier-one and provincial capital cities) and Yitel, which is based on "Feels like home, works like business" concept and has dedicated guest relations managers delivering personalized services.
It would be important how the group ends up balancing new hotels development speed and profitability. The team has chosen to dedicate more resources to mid-scale hotels, though exact details aren't known. A challenging aspect is the fact that the group has limited operating experience in developing and operating hotels in the mid-scale segment.