Home
>
Ground Services
>
UCAR and Edaijia team up to secure their corner of the ride-hire segment
UCAR and Edaijia team up to secure their corner of the ride-hire segment
CAR Inc's UCAR has formed a strategic partnership with driver-hire platform Edaijia to share resources and secure the ride-share market.
CAR Inc's UCAR chauffeur service has formed a strategic partnership with driver-hire platform Edaijia. They will share drivers, jointly launch the "Luxury Driver Training Program" as well as set up a trans-industrial professional driver service standard to offer users high-quality chauffeur and driver-hire service.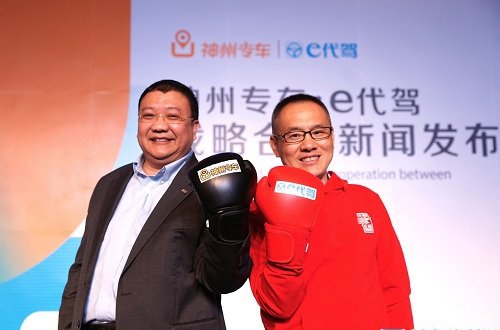 Big hitters int the chauffeur segment, UCar and Edaijia make a powerful team
UCAR's director Zhengyao Lu said: "I'm not ruling anything out, including a future merger (with Edaijia)." Just a few days ago, UCAR announced it was acquiring a 5.28% stake in CAR Inc for US$210 million.
However, Mr. Lu emphasized that UCAR enjoys the advantage arising from the differentiation of its B2C model that enhances user experience and cost structure, and hence doesn't need to rely on any help from a merger or government policies.
A winning combination
Edaijia was set up in 2011. Its CEO Jiajun Yang claims he was sold on the idea of a partnership with UCAR from the start. Both parties had long hoped to collaborate, and both sides have been in discussion since UCAR was formed in January this year.
According to a report by Roland Berger Strategy Consultants, UCAR is leading in performance in the segment, with monthly receipts growing at an average rate of 62% and customer retention rates reached 75% between January to August this year. It has already completed A and B Series financing rounds raising a total of US$800 million. Its current estimated value is US$3.55 billion.
Edaijia has the largest roster of drivers in the Chinese market with 200,000 registered drivers who have an average of 10.89 years of driving experience. The company operates in 298 major cities including Beijing, Shanghai, Guangzhou and Shenzhen. It receives up to 400,000 transactions a day.
UCAR's supply of vehicles is already guaranteed by CAR Inc. By partnering Edaijia, they will also get to share its driver pool. Both partners will also strengthen cooperation in regards to user resources, by linking their loyalty membership club systems and products, and will jointly develop API portals.
Pursuing the "Apple Strategy" in the chauffeur segment
Mr. Lu said UCAR is pursuing an "Apple Strategy" in the ride-hire segment in regards to dealing with competition.
"There are all kinds of Android systems out there but only one Apple phone. Apple has all-powerful brand power, standardization and profitability. Like Apple, we aren't trying to make a lot of different products. We just focus on making superior and safe chauffeur service and that's enough for us," he said.
Edaijia's has been growing at over 20% per month even after the entry of Didi Kuaidi into the driver-hire segment. Edaijia's Mr. Yang thinks that though a market without any competition would be an unhealthy one, there is no need to step over rivals to get ahead in the business.
Mr. Lu said as the major capital market is cooling, investors will take a step back to ponder what are profitable and sustainable development models. Although all the players have high market valuation at the moment, they will each have to make some fundamental changes in order to attract capital in the next stage, which will be over the next 6-9 months.(Translation by David)