Home
>
Destinations
>
Wanda Group takes on Disney in ambitious cultural tourism plans
Wanda Group takes on Disney in ambitious cultural tourism plans
Wanda Group's chairman Jianlin Wang has an ambitious plan to make tourism a key pillar of profitability for the group.
"I am taking on Walt Disney!" Wanda Group's chairman Jianlin Wang declared as he bared his ambitious plan to make tourism a key pillar of profitability for the group and realize his strategy of transitioning to light-asset operation.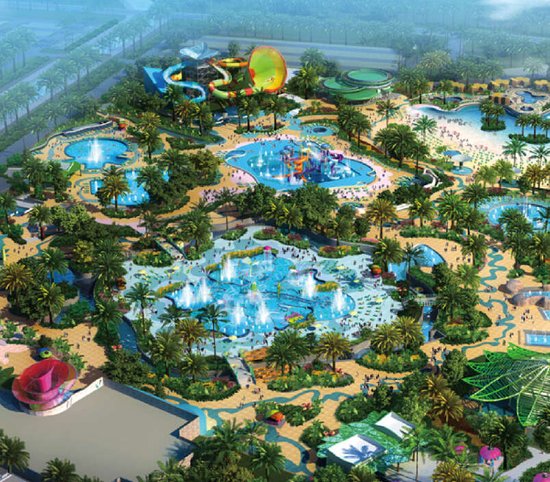 Rendering of the waterpark section of the Wanda Xishuangbanna resort
Mr. Wang said Wanda Tourism aims to have 200 million visitors generating RMB100 billion in revenues within five years, and become the largest tourism company in the world.
One industry observer said Mr. Wang seeks to challenge Walt Disney's bellwether role in the industry by pioneering an integrated tourism project in the popular tourist area of Xishuangbanna in Yunnan province.
Xishuangbanna boasts an average subtropical temperature of 21 degrees Celsius year round and a constant stream of visitors, so Wanda's world-class outdoor theme park in Xishuangbanna won't have to contend with the issue of seasonality that affects theme parks' average annual profits. It will also help generate visitor flow for the Wanda Plaza malls.
Staying a step ahead of Disney
Global theme park giants have been making inroads into China with major attractions such as Shanghai Disney Resort and Beijing Universal Studios, but the Chinese cultural tourism market is still large enough to include many more players.
However, despite the industry having taken root for over 20 years theme parks in China still have low profitability. Among the 300 theme parks, that cost over of RMB50 million to develop each, only 10% have become familiar brands with satisfactory profitability. Only 20% are breaking even leaving nearly 70% of them in the red.
Wanda Tourism has invested RMB16 billion in its third large-scale tourism project- Xishuangbanna International Resort- which covers an area of 5.3 square kilometers. It is a high-level cultural tourism project with the biggest investment in the southwest of China.
Xishuangbanna International Resort is a comprehensive theme park with facilities like the Dai Show Theater, Wanda Resort hotels, Sanjia Hospital and Wanda Plaza.
It not only targets Chinese visitors but also leverages the "One belt one road" initiative to attract visitors to the region via high-speed rail links. A large number of visitors from neighboring Southeast Asian countries are expected to visit Xishuangbanna.
But Wanda isn't alone in this tourism industry segment. OCT's Happy Valley amusement parks are well established while Songcheng Performing Art's Romance of the Song Dynasty historical theaters are highly profitable attractions.
Mr. Wang said Wanda Tourism will be able to achieve complete O2O integration as the company has broken out of the traditional business model and created its own unique branded products and production chain.
A Wanda Group spokesperson said Wanda's Show theaters will become the hallmark of Wanda Cultural Parks in the future. Wanda has invested RMB2.5 billion to build its first Show theater with 200 seats in Wuhan and will invest RMB2 billion to build a 1,200-seat Dai Show Theater in Xishuangbanna.
Up to RMB775 billion in investments planned
Mr. Wang is optimistic of the tourism industry in Yunnan and has been investing in several third- and fourth-tier cities in the province. Wanda Group entered Yunnan as early as 2002 and has injected RMB35 billion into the province on projects such as the Xishan Wanda Plaza in Kunming and Xishuangbanna International Resort.
Wanda Group and the Yunnan Provincial Government signed a strategic partnership on September 26, in which Wanda Group will invest RMB95 billion to construct 19 Wanda Plazas and a Wanda Cultural Park project in the next four years.
This flurry of investments is all part of Wanda Group's widely touted fourth transition, which involves moving from the property development industry to the modern service industry with light assets.
Wanda Group has signed strategic partnerships with local governments in Guizhou, Guangxi, Sichuan, Liaoning, Chongqing and Henan for over 100 projects worth a total of RMB775 billion.
A source familiar with Wanda said that Mr. Wang is driven by his urge to disengage from the property development label and his ambition to build a business that will last for 100 years.
The target date for completing the transition has been brought forward to 2018 from 2020. It will be achieved by speeding up the expansion of the coverage of Wanda Plaza in third- and fourth-tier cities around China, and fast-tracking the development of its subsidiaries in the cultural, tourism, ecommerce and financial industries in the plan.(Translation by David)