Qunar makes organizational realignment to support growth trajectory
Qunar announced an organizational realignment designed to establish, elevate and empower three key business groups in support its strong growth trajectory.
One of China's leading mobile and online travel platforms Qunar announced an organizational realignment designed to establish, elevate and empower three key business groups in support its strong growth trajectory.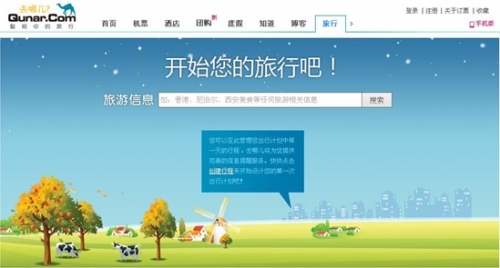 Qunar will boost its Destinations, SaaS Platform and Hotels divisions with new leadership
It said the realignment "reflects Qunar's commitment to building strong business groups and supporting a corporate culture that is agile, innovative and entrepreneurial."
Qunar has created a new Travel SaaS Platform group that will be led by Mr. David Yongqiang Wu who is the compnay's Executive Vice President and the newly established group's CEO. Mr. Wu was previously Qunar's CTO, and will now oversee Qunar's technology and product development while implementing the company strategy to become the technology backbone for the entire Chinese travel industry.
Qunar offers open platform services and SaaS systems to travel service providers in China, focusing in the near term on supporting hotel partners, and will expand its offerings to all O2O players in the market through this business group in the future.
Qunar also announced the elevation of the Hotels Business Unit into the Luxury and Overseas Hotels group which will be headed by Ms. Denise Xiaomei Peng. Ms. Peng was previously Qunar's COO, she will now oversee Qunar's continued expansion and deepening relationships with luxury hotels and hotel groups to drive Qunar's share gain in the high-end market and international markets.
Luxury hotels with a rating of 4 stars or above contributed a significant portion of Qunar's total hotel volume in Q2 2015, now up to around 5 million room nights, more than tripling the volume for the same period last year.
Additionally, former product sourcing VP Qiang Zhang will be Executive Vice President of the Company and Travel Destinations group CEO. Since joining Qunar in January 2014, Mr. Zhang has overseen the rapid expansion of Qunar's hotel direct coverage network, which reached around 280,000 hotels by the end of Q2 2015, up from around 80,000 at the beginning of 2014.
The Travel Destinations group will continue to spearhead Qunar's efforts in further penetrating the mass market hotel sector and expanding Qunar's market leadership in this sector. The hotel direct segment contributed 79% of Qunar's 17.8 million total hotel room nights stayed in Q2 2015, and has been a major driver behind the Company's 145% year on year hotel volume growth.
Mr. Wu, Ms. Peng and Mr. Zhang will report directly to Chenchao (CC) Zhuang, CEO and co-founder of Qunar.
"The creation of and commitment to these business units, headed by proven leaders, will better position the company to more nimbly and effectively maximize opportunities in our key, high-growth verticals," said Mr. Zhuang. "This new organizational structure better supports our strategic priorities and enhances our capabilities by placing more authority in the individual business units. We look forward to David, Denise, and Qiang's continued contributions in their new roles and are confident they will bring our travel business to new heights."
Qunar also announced today the transition of Mr. Sam Hanhui Sun, President of the Company to a non-executive senior advisor role.
"We want to give our heart-felt thank you to Sam for his tremendous contributions to Qunar over the last 5 years," said Mr. Zhuang. "We look forward to his continued support of Qunar in his new role as a non-executive senior advisor."
Original Press Release