Home
>
Ground Services
>
Golf booking platform Cloud Computing Golf lists on the New Third Board
Golf booking platform Cloud Computing Golf lists on the New Third Board
Cloud Computing Golf has a popular golf course booking app that has 240,000 downloads and 138,000 users. It also just listed on the New Third Board.
Golf booking platform Cloud Computing Golf has listed on the New Third Board. Its Cloud Golf app has already been downloaded 240,000 times and has 138,000 registered users. The turnover in 2014 was just under RMB100 million.
Cloud Computing Golf's services
Cloud Computing was established in June 2011 and launched its online golf course booking service in September 2012. Its service network now covers 95% of China's golf courses.
Cloud Computing Golf's COO Ang Li said: "Golf course booking can only reach a small customer group. While we want to be specialists, we can't be boxed in." Hence, the company launched a golf boutique mall, magazines, golfers club and golf training app and services on its platform one after another from June 2014. This year it will open an offline golf academy.
"In this way we hope to become a one-stop solution for golfers to solve the issues of who to play with, where to play and which instructor to choose. Full-platform distribution is our advantage. " Mr. Li said.
"Unlike our competitors, we introduce each operation one after another to make sure we do each one well before we start the next. For example, we spent two years perfecting our golf course booking operation before adding our mall operation," he said.
Mr. Li welcomes Baidu's recently announced venture into golf course bookings. "Competition is not the issue. The small number of golfers is," he said. The Forward White Paper Golf Industry Report 2014 estimates China has a core group of 400,000 golfers (players aged 18 and older who play at least eight times a year), whereas Mr. Li estimates there is another group of casual golfers who keep a set of clubs in their car boot but play less than eight times a year. This brings the total number of golfers in China to about one million.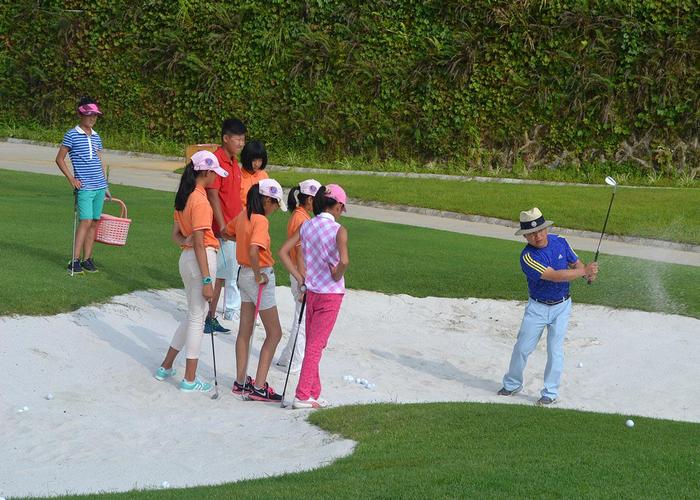 Cloud Computing Golf Academy Junior Class
Meanwhile, Ctrip's company Aiwan, set up to compete in the themed vacation market in August 2014, has a golf division that already took off within half a year of its inauguration. Having raised a multi-million RMB A Series financing round from Fosun Group in March 2015, Aiwan will continue to increase investment in the golf division and enhance its operations, aiming to get 400,000-plus members by the end of the year.
Mr. Li admits that Cloud Computing Golf isn't profitable yet, as golf course prices are highly transparent and most booking agents offer similar prices, except during special promotions, so much so that intermediaries can hardly make any profit. The profitability of its mall business is also dismal as customers invariably opt for the cheapest among comparable products.
Its sole profitable business is the golf academies — its first school became profitable within a month of its launch in Shenzhen this year. Cloud Computing Golf now has three directly operated golf academies and aims to have 12 operating this year.
Listing on the New Third Board
Before setting up Cloud Computing Golf, its CEO Yaohui Zhang, who holds an MBA from Fudan University's CEIBS, worked at golf course management and event company Forward Management Group.
His startup got an angel investment from a group of CEIBS classmates, among them Tencent's co-founder Liqing Zeng, who remains the startup's shareholder.
Cloud Computing Golf's core management team consists of four members — CEO Yaohui Zhang, COO Ang Li, CTO Xi Zheng and CPO Mingbo Chen, a former Tencent employee. It increased its staff from only 26 before Chinese New Year to 60, plus its academy staff.(Translation by David)