Using forums to get inside the mind of frequent fliers
08/17/2015
|
4:32:11 PM
|
中文
When it comes to consumer's online discussion about airlines, those taking place on social media, TV broadcasts and news articles tend to get the most attention.
While Twitter and online news generate most conversations about airlines, forums aren't far behind.
One example of an influential forum is FlyerTalk. With approximately 20 million page views per month and around 50,000 unique visitors per day, FlyerTalk is one of the go-to sites for discussions about airlines and travel. Forums such as this hold a wealth of information for airlines, and in many ways represent the opinions of their most knowledgeable and frequent customers.
My business has produced a report which examined the discussions taking place on the Flyertalk.com forum in the previous 30 days to see exactly what the main topics of discussion were among the hundreds that take place on FlyerTalk forums every day.
Here are some of the key findings and some tips on how airlines can find, analyze and utilize this gold mine of customer data.
Know what your best customers discuss online – and take action
A good starting point is getting an overview of the types of conversations that airlines forums' users are discussing, as this gives airlines an idea of the key points of interest on a specific forum or website: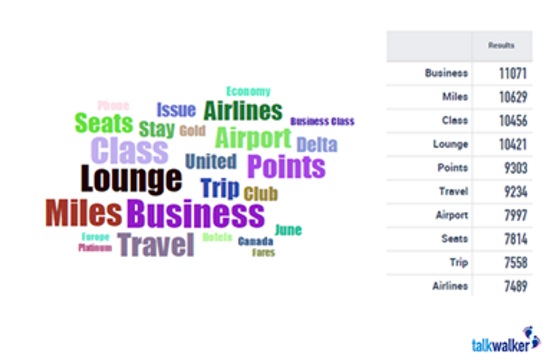 We can see from the above theme cloud that it's discussions about business class, airport lounges and air miles that generated the most activity.
By contrast, our report found that on social networks such as Twitter, conversations were far more focused on delays, lost bags and customer service. This shows that frequent flyer's concerns skew more towards premium products and perks rather than general inconveniences.
This kind of information gives airlines a better idea of what their most loyal customers are worried about and helps airlines to customize their reward programs and maximize upselling.
Airlines can also consider using forums to promote exclusive discounts, rewards and deals to top customers.
Monitor forums to get ahead of issues and challenges – isolate specific problems and target your response
The data in forums can also provide valuable information about, for example, an airline's customer service.
Using this kind of information, airlines can keep a general eye on forum discussions about key issues such as customer service and then dig deeper to identify specific problems:
Such comments are of course present on other media channels too like Twitter and Facebook. But as forums are used by more frequent flyers, being able to track problems in this type of environment is arguably more important, as the people posting are often high value, repeat customers.
Once a problem discussed in a forum has been identified, customer service reps can then contact the customer directly or, if it's a recurring issue, pass the information directly to the relevant team so the problem can be rectified.