Carriers in China set their sights on travel retailing
In order to unlock revenue generation opportunities Chinese airlines need an understanding of what travel retailing means.
ChinaTravelNews, Ritesh Gupta - Merchandising initiatives are becoming increasingly sophisticated as airlines diligently attempt to serve passengers via an apt mix of air and non-air products.
If we assess the way markets have shaped up, airlines in China are now starting to see how factors like product mix, user interface optimization, bundling and unbundling of offerings etc. can help in crafting an effective merchandising strategy.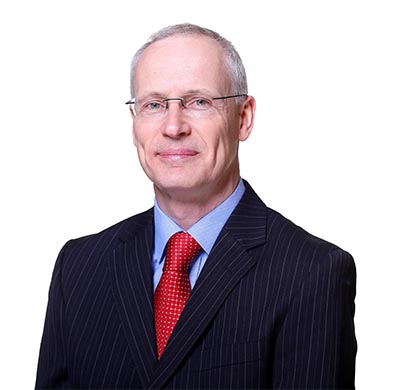 "Airline e-Commerce strategies are largely influenced by their market conditions. Recently we have seen some interesting challenges and opportunities develop in the Chinese market that are having a sizable impact on traditional airlines," says Kieron Branagan, MD, OpenJaw Business Unit at GuestLogix.
Coping up with change
Carriers in China are exploring new avenues for revenue generation owing to a couple of factors.
The first factor is significant competitive pressure stemming from Chinese Government economic policy which favours LCCs, points out Branagan. It has resulted in traditional Chinese airlines looking to save on distribution costs. This macro-economic challenge has resulted in many airlines reducing agent commissions, sometimes to as low as 0%, says Branagan. Another factor is the opportunity arising from the growth in the outbound FIT market, which is seeing a growing number of Chinese consumers moving away from buying reasonably priced, but highly restrictive group tours, towards purchasing their own travel products based on their needs.
"These developments are prompting Chinese carriers to either they try and survive with dramatically reduced margins on flights, or they become full travel retailers by serving more of the customer's total travel needs and carving a greater share of the customer wallet," says Branagan. In the latter scenario, Chinese airlines, such as Hainan Airlines, can transform their revenue growth opportunity by retailing flights, air ancillaries (such as bags, seats and meals) and high margin ground ancillaries (such as hotel, car, insurance, transfers and destination activities) all on a single e-commerce platform. This way the airline can attract more customers to the direct channel, thereby reducing distribution costs, unlock more value from each flight journey, plus earn higher margins of around 18% on other travel products such as hotels, shared Branagan.
He also mentioned that many legacy airlines in the West faced a similar choice a decade or two ago, with the more successful carriers such as British Airways choosing to adopt a retailing strategy. He added although the Chinese market is defined by many unique characteristics (for instance, a gamut of alternate payment methods), the success of some Western airlines' e-commerce strategies acts as a reference for their counterparts in China today.
Approach
So what is travel retailing all about?
First, in order to capitalize on the retailing opportunity, airlines need to both broaden and deepen their product catalogue by partnering with external suppliers where needed, and using the latest retailing techniques such as personalization and other data-driven merchandising strategies, to effectively and seamlessly monetise the proposition. For instance, as we highlighted in one of our recent articles, airlines need to strengthen their car rental content considering that over one-third of car rental globally is captured via airline passengers' booking process. This would also mean meeting trip requirements of a passenger more effectively. As for sourcing of content, it should be noted that there are over 10000 car rental companies competing in the domestic market in China.
Second, airlines also need to focus on operational structure and hiring the right talent, in order to fully understand and service their customers with attractive and competitive products, said Branagan. According to him, examples of two airlines to have successfully restructured are Cathay Pacific Airlines and S7 Airlines in Russia. "Airlines with a holiday subsidiary or tour operations typically have an advantage in this regard," he said. So this would be a particularly interesting proposition for TravelSky (OpenJaw's strategic partner in China) customers such as China Southern and Air China.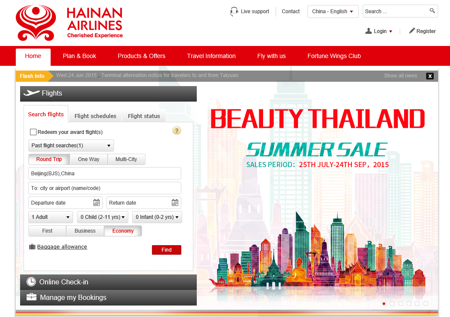 Being in control
OpenJaw recently enabled Hainan Airlines to launch a complete online travel retailing strategy.
This initiative will enable the airline to retail travel products like air ancillaries, hotels, cars, events, and packaged products through multiple channels. The platform also offers them the ability to control their products, channels, and business model in real-time.
A major highlight of this initiative is a rules engine - rules to adjust product availability, price, promotional discounts, commission, mark-ups, biasing etc. are all natively available within the platform.
This enables Hainan business users to author and deploy merchandising rules that control their business model. With these rules, Hainan would be to independently manage its own product propositions (inventory, availability, price, product biasing etc.) according to market demands and opportunities, whereas before, business model changes often required a change in the code. By the time the changes made their way through the development cycle and reached the production system, the market may have already moved on, leaving their changes much less effective.
Distribution
For its part, Hainan can retail and service its flight offering through multiple third-party OTA channels, such as Taobao.com, Qunar.com and Ly.com via the OTAs' web and mobile touch points.
The airline has strengthened its omini-channel support; as a result product content, pricing and inventory are all managed in a single system. Importantly, channel-specific merchandising rules may be applied so the airline is in full control of what can be sold, in which channels and at what prices.
"In terms of the differences between what is offered on Hainan's own website and those of Hainan's OTA partners, they mostly come down to product variety, pricing and user experience," shared Branagan.
OpenJaw's platform enables Hainan to integrate HNA group's own unique travel products and services, as well as those of HNA's partners, and merchandise them through their own brand's site. For example, HNA's own and partner hotels, are offered as optional products with attractive prices within the air booking flow. These hotels can now be booked and paid together with the flights in a single shopping cart, offering greater convenience to their customers.
With hotel resources fully integrated, Hainan is also able to make the most in terms of dynamic packaging capability. "Flights and hotels can now be packaged together dynamically into a single product offering, often at lower prices than buying the products separately, thereby providing both holidaymakers and business travellers greater convenience, flexibility and financial savings," shared Branagan.
Also, there would be over 40 payment methods which include offline payments, vouchers and bank discounts.
Learning from other carriers
OpenJaw views ancillaries as any product that is not a flight ticket, then it categorizes the products into two groups: flight-related air ancillaries (e.g. bags, seats, meals etc) and high margin ground ancillaries (e.g. hotel, car, insurance, transfers, destination activities etc.). Each represents their own challenges and opportunities.
"With regards to air ancillaries, the gains that Western airlines have made by unbundling the fare and retailing these items in addition to the flight ticket are well documented. However there has been some resistance from Chinese consumers to this approach, as was recently discovered at Air China, many believe that these products should be part of the ticket," says Branagan.
He further adds to avoid a negative consumer response, Chinese carriers should create value from their air ancillary propositions in order to make them more compelling and they should offer personalised dynamic bundles of desirable ancillaries to relevant travellers. For example, a frequent business traveller might be attracted to a bundle that includes seat upgrade, lounge access and Wi-Fi.
In the case of high margin ground ancillaries, British Airways sets a very good example. In certain destinations, they offer what we call a "switch sell", says Branagan. This means that if a customer originally searches for a Flight they are offered to switch to another, higher value product, such as "Flight + Hotel" or "Flight + Hotel + Car" packages. The conversion rate for this type of switch sell is very high, because the products offered are relevant, and competitively priced, he says. The key here is to know your customers well so that you can design desirable products, and know your market well so that you can price your products competitively.
When making such an investment, it's important for the technology to evolve alongside the airline's own growth. This requires the underlying architecture to be flexible and extensible in order to support new products or services, in addition to leveraging new industry initiatives like NDC or New Distribution Capability. In short, the engine should encourage and enable innovation rather than limiting it.