Payment acceptance in China is all about dealing with fragmentation
Payment technology maturity and adoption is diverse in China. Airlines need to follow different rule sets and service levels for alternative payment types than that of credit cards.
ChinaTravelNews, Ritesh Gupta - Any airline trying to step up its conversion rate in the travel e-commerce category in China just can't afford to slip on the payment front. The onus is on carriers to facilitate greater transaction acceptance, along with superlative designing of payment pages that automatically distinguish a device's screen size.
Other than consumers' preferences, one also needs to assess the external environment. There is a major development pertaining to the regulatory environment that needs to be noticed. China is currently in the process of implementing its own system - the China International Payment System (CIPS), which is slated for launch before the end of this year.
Whilst CIPS is still in its infancy, it is taking shape through consultation with the relevant players.
"Airlines should continue to participate in a dialogue with CIPS and look to global payment processors for additional insight which can be built into their systems with the most up to date intelligence. As CIPS becomes more established, it is expected that it will become more inclusive and influential across China," says Tang Kok San, VP Business Development, China at Worldpay. San says the airline industry could hugely benefit from leading the CIPS adoption charge alongside global players in the payment industry to ensure that they can play a bigger role in contributing back to China's payments ecosystem.
Another major consideration has to be the current level of fragmentation in the payment methods in China. As industry specialists point out, alternative payments are not considered to be 'alternative' in China as they are the method most consumers are used to paying with.
According to Worldpay's research, almost half (44.3%) of online transactions in China are made using e-wallets with companies including Alipay, China Unionpay and TenPay blanketing the market.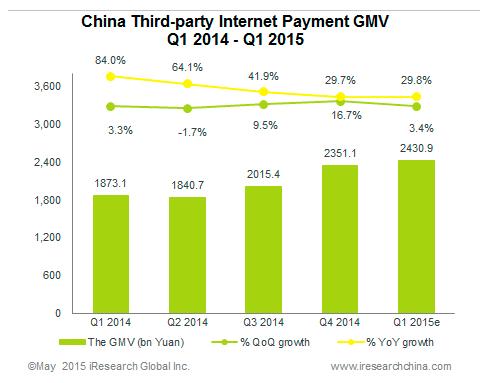 However, there are other companies emerging who are staking more of a claim in the market such as Tencent with its WeChat payment and the Baidu eWallet. Despite the breadth of products available on the market, it is important to assess to what extent do they appeal to a traveller's needs, considering not only who the consumer is as an individual but also how they prefer to pay.
There are intriguing battles in China, for instance, how online shopping is being facilitated say via Tencent's WeChat, and its association with competitor Alibaba Group.
Tencent and Alibaba have been embroiled in several tussles, for instance, over sending cash-filled red envelopes during the Spring Festival. It is vital to understand how Alibaba drives transactions and accepts payment for its ecommerce businesses, and how WeChat is moving ahead with its mobile payment ecosystem and the overall trend of social commerce.
According to iResearch, the GMV of China third-party online payment reached 2.43 trillion Yuan in Q1 2015, 29.8% and 3.4% more than that in 2014 and the preceding quarter respectively.
Preparing for omnichannel shopping
Airlines need to look at market-specific trends as well as how technology maturity and adoption is progressing before deciding how to embark onto an omni-channel payments strategy, says San. The level of online and mobile payments maturity in China far exceeds many other countries.
"However, the knowledge which Chinese airlines may have around such a strategy within China may not be the same in other countries." So even Chinese airlines foraying abroad should understand the nuances of the local market before taking for granted that they can replicate the same strategy outside their country.
If we assess how Air China manages its payment-related initiatives, the airline has an in-house payment management platform which connects to different payment gateways.
"It (generally) takes average three months for our own IT people to develop and test a new payment method. For the new payment methods, we should also setup the anti-fraud system, and test and train the people to adopt the new rules. All these cost us - time and money. For some special alternative payments in certain countries, we could hardly count the ROI based on our judgment," says Air China's Senior Manager of e-commerce, Fajin Hu.
Air China's payment portfolio
According to Hu, for its domestic website the airline has a direct link to major e-banking entities including: China Merchant Bank, China Industry Bank, etc. "We also support main stream 3rd party payment methods like Alipay and WeChat Payment. We also support standard VISA and MasterCard payments for a foreign credit card," he says. Air China's international website supports 17 foreign currencies, like USD/CAD/EUR/JPY/SGD etc. According to the team, "most of payment transactions go through and are processed by three 3rd party payment gateways, GlobalCollect, Worldpay and PayPal, and currently we accept VISA, MasterCard, JCB, AmEx on most of the websites." Plus, the airline also supports some local payment methods such as: The Maestro card on U.K. website; VISA Debit on Sweden website, Sofort (bank transfer) on German website; 15 local debit cards on Korean website; Diners card on Japan website.
Following points need to be considered as an entity gears up for traditional and alternative payment options in China:
1.Build a robust process: Worldpay's San says alternative payment types follow different rule sets and service levels than that of credit cards which has supported the aviation industry for many years. Once a carrier has identified a 'scale' consumer payment requirement, it is important that the carrier assesses the performance and operational fit of that payment type in order for it to be a successful and sustainable asset for the business. Airlines distribute through multiple sales channels and so carriers must ensure that their processes are robust, says San.
-Areas for consideration include supporting refund paths, reconciliation flows, settlement cycle, automated clearing and supporting passenger data amongst many others.
-An airline should consider moving from only supporting traditional payments to integrating alternative payments if it is confident that each of these payment processes can be supported - as well as ensuring there is customer demand.
It's important to assess questions like which payment types are best suited for mobile considering that mobile payment continues to gain prominence.
2.Handling complexities: Airlines need to consider complexity of system integration and handle different gateways for different channels, multiple integrations required into a variety of business systems etc.
Airlines have traditionally faced challenges in managing integration with multiple providers which has caused issues such as the inability to easily reconcile, an increase in complicated processes, reliance on manual overrides as well as confusion on payment-related operations. San says a significant proportion of these challenges have been as a result of companies following the "pick-and-choose-the-best" approach - however this strategy is out-dated.
Airlines need to assess a choice of working with a single provider that can serve all their requirements under one roof.
There is a need to administer transactions across PC, mobile, and point-of-sale through a single payments platform.
Also, payments need to be incorporated into the ledger, revenue accounting, and reservation system. Plus airlines also need to curtail fraud and chargebacks.
3.Optimize user experience: Airlines are investing in centralising and driving out efficiencies in channels to market and passenger reservation platforms. With this in mind, the supplier interface for payment and data management is evolving quickly and so more payments processors are working closely with carriers through specialist partners to enhance a customer's experience in order to facilitate actionable insights for the industry.
One example of this, would be managing the fast growing mobile payments channel. Recognising the user interface and optimising both payment and data capture along with integration with a carrier's loyalty program provides a personalised approach aligned to the carriers marketing/ brand identity. The issue of protecting individual data will only grow in importance.
Even though fraud management is critical, one needs to assess how any action is going to impact the user experience. When it comes to 3D Secure, it does strengthen protection against fraud, but at the same time adds a complication into the checkout for the user. So airlines are today spotting transactions that are high risk (on the basis of location, value of the transaction etc.) and accordingly applying 3D Secure only on certain transactions. So the focus is on letting lower-risk consumers can pay much more easily, and sustaining the conversion rate to a desired level.
4.Understanding payment processing: Every second counts when a consumer is trying to complete a transaction on mobile. So airlines need to assess factors like what is slowing down the payment process. There is a need to check the reliability of the payment platform that can cause companies to lose the most money especially when the system experiences downtime or when providers have little capacity to scale to handle payments at peak times.
Unfortunately, this is something the industry does experience from time to time (and the losses during these occasions can be significant)," says San. To resolve this, it is vital that a payments system has high reliability and is built to scale in order to deal with various peaks throughout the year such as China Single's Day.