Chinese hotel groups get ready for new battles
Chinese hotels are under pressure, with wobbling RevPAR adversely impacting the overall profitability in Q1.
ChnaTravelNews, Ritesh Gupta - Chinese hotel organizations' financial performance is under pressure, with wobbling revenue per available room (RevPAR) adversely impacting the overall profitability in the first quarter.
The fact that the first quarter is generally the slowest period hasn't helped Chinese hotel companies.
In case of HUAZHU Hotels Group, its first quarter RevPAR was RMB137, compared with RMB146 in the first quarter of 2014 and RMB153 in the previous quarter. The year-over-year decrease was a result of both lower ADR and occupancy rate. The sequential decrease resulted mainly from seasonality.
Plus, another critical aspect that needs to be considered is the massive development pipeline of hotel chains in China, which essentially is marked by notable pre-opening expenditure during their development stages.
Considering that a major chunk of operating costs, including rent and depreciation and amortization, is fixed, this adds additional pressure if revenue generation goes down. The financial result then ends up showing disproportionately higher reduction in earnings.
New battle in the offing
One striking aspect today stands the way hotel companies are setting up new battlefront is their multi-brand strategy. A day after it became clear that established economy brands owner Homeinns Hotel Group is now eyeing the mid-scale market, HUAZHU is going after the economy segment. (The slide below depicts the same):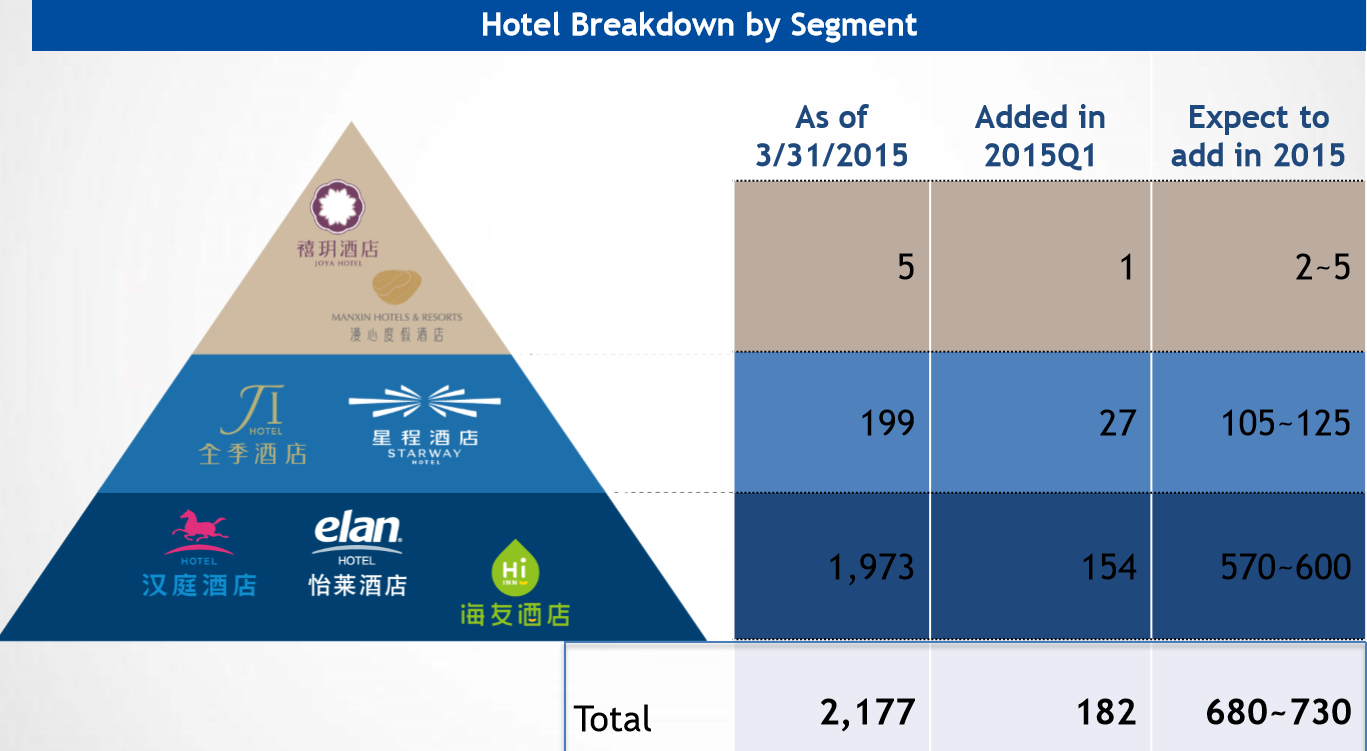 Source: HUAZHU Hotels Group
All the operators believe that the market is highly fragmented. And the flavour of the moment is expansion –geographically plus a segmented approach towards audience.
More brands, more competition
Immediate signs of a market rebound aren't there as acknowledged by these groups, so one major attraction would how these investments shape up going forward.
For its part, during the first quarter of 2015, HUAZHU opened six net leased (leased-and-operated) hotels, 157 net manachised (franchised-and-managed) hotels and 19 franchised hotels. The company had 617 leased hotels, 1,533 manachised hotels, and 27 franchised hotels in operation in 314 cities at the end of March. The number of hotel rooms in operation increased by 39% from a year ago.
As for HUAZHU's plans, it can be said that origination of multi-brand portfolio commenced in the last quarter of 2013. During that period, the group completed its acquisition of Starway Hotels and retained the Starway brand. Plus, it also introduced its mid-to-upscale brand Manxin Hotels & Resorts, and Joya Hotel, a new hotel brand targeting the upscale market during the same period. This was followed by Elan Hotel, a new economy hotel brand targeting business travellers, young customers and urban tourists in September last year.
After eight years of operations, the number of our hotels in operation in China jumped to 1,995 hotels at the end of last year.
As the group targets more geographic locations in China, the team is confident that managerial, operational, technological and other resources would be in demand.
"Currently, we don't see the need of adjusting our strategy," said Jenny Zhang, president and CFO, during the company's first quarter earnings call. "We're growing significantly faster than our competitors with quality to-date because we're penetrating into a much wider range of customers and also, we're able to utilize a wider range of properties." During the conference call, the company indicated that currently with positive sales trend the margin is expected to show slender improvement from the previous year, and that will mainly be driven by significant growth in the franchise and the manachised business.
Certain important decisions are being made going forward. For instance, the plan is strengthen the cost control over its Hi Inns brand. It targets price-conscious travellers. The objective is to step up the RevPAR of Hi Inns through effective site selection.
The business model of new brands is yet to be proven. It would be interesting to assess how HUAZHU manages to bring them on par with its established HanTing Hotel brand. It mainly competes with Home Inns, Jinjiang Inn, 7 Days Inn, various regional hotel groups and stand-alone hotels.
Overall Zhang sounded optimistic. "We remain confident that we will generate significant positive free cash flow this year. With the strong cash flow status and our confidence in our company value in April, we announced a share repurchase program of up to $40 million," he said. "We believe that the share repurchase program is consistently with the goal of increasing shareholder value."
On the operations side, the company mentioned that it strongly believes that its direct distribution channels are avenue for the best offering, and OTAs won't be allowed to cut into it. Around 90% of room nights were sold through the company's own channels during the quarter.
HUAZHU's loyalty program now boasts around 35m members. This base accounted for more than 85% of room nights sold in Q1.