Home
>
Tour Operators
>
Homeinns Hotel Group leaves its comfort zone, targets mid-scale segment
Homeinns Hotel Group leaves its comfort zone, targets mid-scale segment
Despite facing its toughest quarter since Homeinns was established in 2002, the group is hopeful of building on its positive metrics from Q1
ChinaTravelNews, Ritesh Gupta - At a time when hotel organizations in China are struggling to cope up with current challenging market conditions, Homeinns Hotel Group is eyeing an opportunity in product diversification. In fact, the hotel chain, known for its presence in the economy segment, picked the expansion initiative of its mid-scale Yitel hotels as a positive development that emerged from an extremely challenging first quarter.
The group, which also recently introduced its new brand Homeinn Plus, asserted that the timing is apt for sustained evolution of its multi-brand strategy. Homeinn Plus addresses the mid-scale market.
Speaking during the company's first quarter earnings call, David Sun, Homeinns' CEO said that the new brand will fill a void between established economy brands (Home Inns, Motel and Fairyland) and Yitel, which essentially targets individual business and leisure travelers who are willing to spend more than the guests of economy hotels, but have a lower budget than the guests of hotels belonging to a higher start-rating.
Homeinns stated that as of March 31, 2015, it had four Homeinn Plus leased-and-operated hotels under construction, two contracted and 15 to be converted from existing leased-andoperated Homeinn or Motel hotels. In addition, one Homeinn Plus franchised-and-managed hotel under construction and five more contracted.
The group, which had 41 Yitel hotels in operation by the end of last year, had already additional 20 Yitel hotels contracted and under development when this year commenced. The plan is to set up of more than 150 Yitel hotels within the next three years.
According to CFO, Cathy Li, investment in Homeinn Plus will be around 30% higher than Home Inn economy core brand.
It should be noted that Homeinns Hotel Group by its own admission has limited operating experience in developing and operating hotels in the mid to upscale category. There are two critical points that can impact the financial performance: First, the group needs to be spot on with the positioning of each of its brand, not slipping in terms of consistency of each of its offerings. Second, if Yitel and Homeinn Plus fail to garner adequate revenue to offset the costs and expenses, then it would also impact the strategy.
Other than strengthening of the brand portfolio, the group highlighted a couple of other areas:
Franchise-driven expansion
Sun categorically stated that the group is focused on attaining the objective of running a strong franchised and managed hotels. He mentioned that RevPAR declined 6.2% in the first quarter for mature hotels and impacted profitability.
For the first quarter, occupancy rate decreased by 2.0 percentage points while ADR decreased by 3.2%, resulting in a year-over-year decrease of 5.5% in RevPAR.
Sun said 1,749 franchised-and-managed hotels represented 65.7% of total hotels, up from 60.9% in the same period a year ago. Also, revenues from franchised-and-managed hotels increased by 16.8% y-o-y.
At the end of first quarter, the group had 381 hotels projects in the development pipeline. The list features 209 hotels contracted and under construction. The remainder are under due diligence. In total, 92.7% of these projects are for franchised and managed hotels.
Revenue generation via digital channels
Another key highlight was the revenue generation efforts pertaining to WeChat and mobile app. Mobile booking accounted for 29% of total bookings in 1Q15.
Since the introduction of its mobile app in the last quarter of 2013, over 3.3 million users have downloaded it. Sun mentioned that bookings "on our mobile app accounted for 26% of our total bookings in the first quarter". Plus, 3% of total room bookings were from WeChat. This enhanced performance was buoyed by improvisations in the functionalities of mobile app as well as WeChat app.
Commenting on whether there is any pressure from OTAs on revenue generation especially with online intermediaries strengthening their coverage, inventory and content, the group mentioned that the use of the Internet in China has stepped up the overall transparency of providers in terms of their quality and products.
"As a result, we think it overall has a neutral impact to us, because while there are more properties available online there are also more reviews and other information about these properties online," said May Wun, CSO of the group.
"And as an operator with a strong brand and a strong control system, our products and services will still stand out compared to many other standalone properties," added Wun.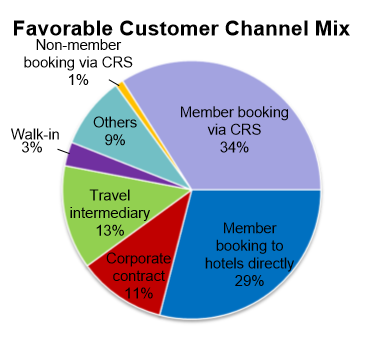 Source: Homeinns Hotel Group
The group also stated that customer loyalty is on the rise. The team witnessed 54.4% y-o-y hike in the membership base at the end of March. Individual members combined with corporate contracts generated 74% of room nights sold.
Going forward, Li mentioned that RevPAR would be a key metric to assess in terms of what essentially impacts the margin.
"RevPAR increase or decrease does have a very big impact on our margin because of a quite big portion of the operating cost at hotel level is fixed," said Li.
Referring to plans for the new brand, Homeinn Plus, the team clarified that considering the newness it would be prudent to build proper leased-and-operated hotels, which would establish a decent base in terms of management as well as operations. Also, this would pave way for acceptance of the product format and standardization. From here on, the group can take Homeinn Plus forward and focus on the franchised-and-managed model.