If TripAdvisor is a gateway to other travel apps, will its strategy fall flat?
03/29/2015
|
7:22:44 AM
|
中文
A recent survey found that those with the TripAdvisor app downloaded to their phones were far more likely to have also downloaded another travel app.
A recent survey of mobile users found that those with the TripAdvisor app downloaded to their phones were far more likely to have also downloaded another travel app, such as a third-party OTA, airline or hotel app.
The analysis, carried out by Strategy Analytics, queried the panel of AppOptix mobile users to determine what other categories of travel apps that the users had installed. The core focus was looking at users who did or did not have TripAdvisor's app installed, and then to analyze from that cohort.
The analysis found that TripAdvisor app owners were far more likely to have another OTA app installed on their phones, followed by branded hotel and airline apps.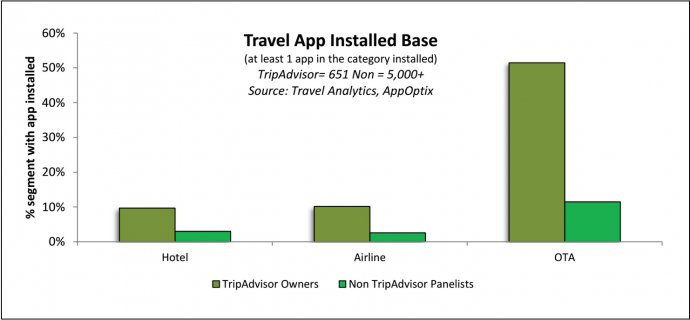 So what does this mean for TripAdvisor?
It seems to suggest that the current "bookable meta" model might not be working well enough to keep users off of competing travel booking interfaces. The service could still be primarily seen as a review tool to consult prior to a purchase on an OTA or other travel-affiliated brand.
This would jeopardize the core strategy as far as delivering bookable inventory on site. The most recent push has been to integrate its acquisition of Viator into the TripAdvisor listings, making tours and activities a bookable part of the TripAdvisor experience. The attempt could well fall flat if users aren't actually searching and booking these items within the TripAdvisor interface.
This also holds true with TripAdvisor's recent Instant Booking product for hotels. If users aren't taking advantage of the feature, hotels will become less interested in participating which would jeopardize the entire push into a bookable ecoystem. The expense fo building out this instant booking platform has already been weighing on TripAdvisor's numbers, which makes it ever more critical that the company finds traction. Otherwise, the entire investment crumbles and it will take a heroic effort to rebuild.
For TripAdvisor to become an alternative to OTAs and direct-to-supplier bookings, then the company must ensure that its engaged user base understands that they can book instantly within the interface. TripAdvisor already enjoys a mammoth presence on most users' phones — in this sample nearly 50% had downloaded the app — so it seems now to be more of an ongoing education effort to shift consumer expectations into solid, repeatable and loyal booking behavior.
The importance of these alternative approaches to data on the TripAdvisor ecosystem lies in the fact that it offers a different shade of analysis to the ongoing discussion surrounding the overall health of the company and whether or not the company could (or should) be for sale.
Read original article