Home
>
Destinations
>
Luring Chinese for international travel – a game that is getting bigger and bigger
Luring Chinese for international travel – a game that is getting bigger and bigger
Foreign tourism boards are trying to capitalize on this opportunity as international travel is increasingly getting more accessible for Chinese households.
ChinaTravelNews - China's prowess as a source market for international travel is growing stronger, buoyed by propitious economic and demographic trends.
According to China National Tourism Administration, the number of Chinese tourists travelling abroad increased by 19.5 percent Y-o-Y to 109 million last year.
Also, according to a recent study by InterContinental Hotels Group (IHG), the middle class category in China is quite attractive as average income has gone up. The report shared that the number of Chinese households earning above $35,000 grew up to around 27 million in 2013 from six million in 2003. Shanghai is projected to go beyond Boston, Philadelphia and San Francisco in GDP by 2016.
Not surprisingly tourism boards, including ones representing the long-haul travel segment, are trying to capitalize on this opportunity in an earnest manner.
Take the case of Los Angeles (LAX). The city welcomed 6.5 million international visitors – of that number 700,000 were from China. The figure rose from 570,000 in 2013. China is LAX's number one overseas international market. It is estimated that Chinese spent more than $1.1 billion in the local economy in 2014 alone.
"China is a hugely important source market for us," says Kate Chang, Regional Director, China, The Los Angeles Tourism & Convention Board (LATCB).
Of course, destinations with easier access, including simpler visa policies, are set to gain the most.
Chang says with the new 10-year visa policy in place, and more new air connections to LAX, a double-digit visitor growth is being projected for 2015.
Astute planning
Tourism boards are looking at digital marketing in a big way to inspire Chinese to visit their recommended destination.
Of course, flight connectivity is a major factor, but it doesn't mean that an advertiser in this category needs to blatantly restrict spending.
"Destination marketing needs to evaluate on certain parameters such as air connectivity, segmentation of the audience etc. For China, of course, the major source markets for outbound travel are tier-1 cities. But the tourism boards and other entities can't ignore the prowess of tier-2 and tier-3 cities considering the number of first time travellers that will emerge from such source markets," says George Cao, Co-founder/CEO, Dragon Trail Interactive. He says advertisers need to diligently target the more affluent audience for long-haul travel, and also need to target the experienced mass market travellers from various source markets.
Understanding peculiarities
For its part, LATCB has staff in Beijing and Shanghai to identify and leverage in-market opportunities. "As opposed to all other markets, we operate a standalone website hosted in market. Our website, helloLA.cn, was built and is maintained in China. All of our social media is conducted in market as well. This was done because China is a top priority for our digital efforts," says Chang.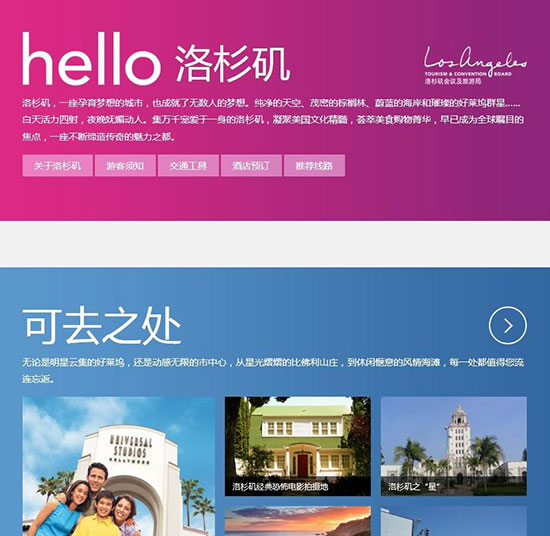 She says unlike many other markets, China is a mobile-first audience. The team has created custom mobile experiences for the China market. "We also have established a strong presence on Weibo (1.5 million fans) and WeChat because we understand the need to communicate directly to our customers," she says.
"Our number one priority is to develop content that is engaging and relevant. Los Angeles has a variety of options for visitors but Hollywood sets us apart. We find as many opportunities as possible to sell our most valuable asset," shared Chang. The focus is on developing relevant and contextual content – for instance, Hollywood is a renowned topic. The team focuses on locations where movies are generally shot or accentuates areas that are often visited by celebrities.
So LATCB often tries to create buzz around activities that symbolize popular themes. For instance, in order to promote helloLA.cn, the board created a giveaway to the Lakers exhibition game. An interactive microsite that allowed users to shoot a basketball was set up. The more points scored by users, the better their chances at winning the lucky draw. There were several winners who then shared their experiences on social media. There were nearly 10,000 participants. Also, late last year, when Eric Michael Garcetti, the Mayor of Los Angeles, was in China on a multi-city tour, the team chose to broadcast live questions from the Mayor on Weibo and via WeChat. The questions were related to Los Angeles, and it was a giveaway campaign. This, too, proved to be an effective campaign, said Chang.
Beyond signature experiences
Cao says enticing audience with signature experiences initially is fine, but eventually destination marketing needs to progress to promoting ideas that go beyond renowned places.
"A destination might not be popular but has a lot to offer. Take the case of Yukon, the westernmost and smallest of Canada's three federal territories. Not densely populated, Yukon has loads of outdoor activities to offer. The key is to promote it, considering the season, and the time of the year and popularize it. Other than seasonal aspect, campaigns also depend upon the research conducted," he says. So, for example, in case of a search marketing campaign there is no pointing in trying to outbid OTAs on major keywords. Rather, one would look at long tail keywords.
For her part, Chang says the foundation of the local website is built on content to drive organic visitation for those researching Los Angeles. "We rely on Baidu PPC to drive incremental visitation for those dreaming of long-haul destinations. Through programmatic, contextual and behavioral advertising, we're able to extend our reach and utilize channels like Ctrip, Dao Dao and Qunar to further extend the messaging. We work particularly close with Ctrip for online travel booking specifically. We also work with airlines, tour operators on co-op initiatives to boost visitation and hotel booking," says Chang. The entity's main objective is to drive visitors to LAX via these campaigns. Other than create awareness about the destination, such advertisers also look at metrics like how much visitors spent in-destination to evaluate the efficacy of their marketing campaigns.
Cao also added that the segment is quite sophisticated in terms of analytics and how the same is being used for re-targeting. "Being a frequent visitor to tourism board sites, I have seen display ads popping up on other travel sites with relevant messages."
Points to consider
Going forward one of the major focus of the marketing campaigns would be to reach out to a new set of travellers.
Chang says considering the geographical diversification, and cultural differences across the country, the integrated marketing campaign has to be crafted carefully.
"We consider the air connectivity with LAX and target source markets accordingly. So Shanghai and surrounding areas are obviously hugely important for us. But the connectivity is expected to improve considerably. For instance, China Eastern is planning to fly from Chengdu via Nanjing. Then Delta is planning a flight from Shanghai. In all, six airlines – Delta, American Airlines, United Airlines, China Eastern, China Southern and Air China fly to LAX," she says.
Cao recommended that the power of strong content shouldn't be underestimated. For him, content marketing and mobile are going to be significant areas.
Running mere display ads and keyword campaigns won't pay desired results, he said. In fact, advertisers need to optimise spend as per the content consumption on different sites and apps. For instance, the "moments" section on WeChat needs to be evaluated for content to be shared and gaining maximum exposure. He also referred to videos as a strong content format. Citing an example, he said authorities at the Canadian Tourism Commission in China are savvy about usage of videos. "They are running a bi-weekly original video series, and it is an integral part of the entire marketing campaign. These videos are produced and created in Canada and China, featuring Chinese voice-overs, sub-titles etc." he says. The duration is 15-20 minutes for a typical video, and can be seen on major video sharing sites in China, and primarily on Iqiyi.com.
Overall, destination marketing needs to be done in a collaborative manner. A tourism board doesn't sell any product, but rather provide a reason to travel. So a call-to-action might result in a landing page, featuring an OTA site or a tour operator. This strengthens industry and trade relations with chosen partners. But tourism boards are generally very careful about the quality of the product that is being promoted. So local partners are chosen accordingly. (Report By Ritesh Gupta)