Home
>
Destinations
>
Vacation booking startup Yueyang Dujia gets multi-million US$ funding
Vacation booking startup Yueyang Dujia gets multi-million US$ funding
Yueyang Dujia has raised a Series A capital investment worth multi-million US dollars from iStart.
ChinaTravelNews –ChinaTravelNews has learned that overseas vacation booking online startup Yueyang Dujia has raised a Series A capital investment worth multi-million US dollars from iStart , a venture capital company jointly founded by the two key partners of Softbank China. Its managing partner Chauncey Shey has joined Yueyang Dujia's board of directors. Yueyang's angel investor Oriza Seed Fund Management also participates in this round of financing.
Fixed room purchases secret behind low prices
Chinese demand for overseas vacations is set to take off, evident by Fosun's recent success in acquiring international French resort group Club Med in a bidding war against Italian investor Bonomi.
Yueyang Dujia was established in Shanghai in August 2014 by CEO Yang Chen, who is fluent in English and Thai and has experience in the overseas vacation ownership industry since 2001.
Yueyang specializes in overseas vacation product bookings, including resort accommodation or FIT resort accommodation and air ticket packages, under its "Travel the world for one price" slogan. Its products uniquely feature a large selection of eight-day seven-night itineraries with most of the global destinations all priced at an incredible RMB399 per night.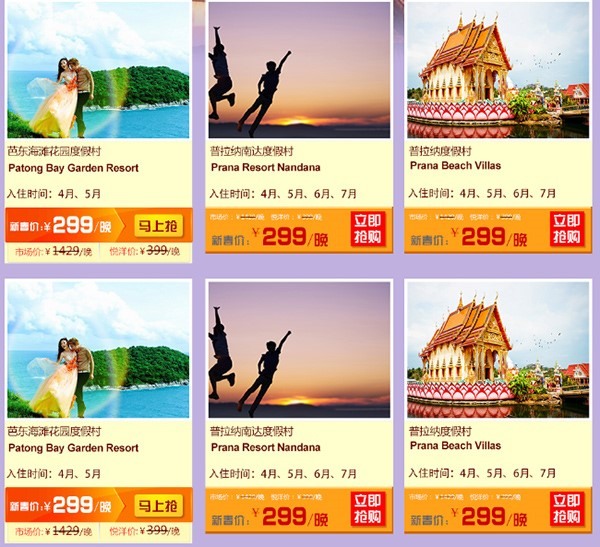 Spring Festival deas for RMB299 a night by Yueyang Dujia
"We discovered through a customer survey that some users simply couldn't believe how our prices for Shanghai resorts could be so low when it costs at least RMB200 just to stay one night in a budget hotel like the Jinjiang Inn," marketing director Qi Ao told our reporter. "The secret of our low prices is that we buy the resort rooms for fixed periods of time giving us full pricing rights," he said.
Yueyang Dujia, already touted as China's largest and most specialized overseas vacation site offering real-time booking for 3,000 resorts worldwide in 70 countries and regions, actually has an offline vacation service provider parent company. Established in 2005, its parent company provides Yueyang Dujia with products from resources accumulated over a decade.
"When it comes to products, we have something for everyone," Mr. Ao boasts, "but we still tweak our products to better suit the online marketplace." For example, they found that hotels still make up the majority of online accommodation products in China, whereas guesthouses and resorts are in short supply. "Chinese facing increasing stress from work prefer to escape the noise of the city and relax their minds and bodies, making resort vacation an increasingly popular choice. We capitalized on this niche and found a firm foothold," he said.
The perfect resort vacation is all-inclusive
Yueyang Dujia has also done extensive consumer analysis. Mr Ao said sales data show most customers who choose overseas resort products are not travelling abroad for the first time and most have experience living abroad. "They don't really like sightseeing and are perfectly content to spend a week lazing about in a resort with everything," he said.
In addition, most of the users who choose the air ticket and resort packages are typically young, single and white collar with annual income above RMB100,000. "Their income level allows them to plan an overseas holiday for themselves or with family every year. Meanwhile they tend to be meticulous planners browsing multiple websites to make their own itineraries and are open to fresh ideas found on the internet," he said.
He said that resorts in Southeast Asia, Australia, New Zealand and Spain are popular destinations among users.
"We've built up a highly loyal user base over the years. We've provided offline services. We receive feedback via direct mail magazines, Wechat and customer hotlines. Our longtime Wechat followers are expecting even more competitively priced products in the future," Mr. Ao said. "After this financing round we will focus on our products and explore how to make more inclusive packages as well as add ancillary services such as visa applications, car rental and local guide service," he said.
"Besides partnership negotiations with several high-traffic O2O platforms for marketing, we will also increase inter-brand coordination and work on company branding. We'd like our brand to become a household name in the eastern coastal region stretching from Beijing, Shanghai and Shenzhen to Chengdu," he said.(Translation by David)
(Report by Xianhao Zeng)