Home
>
Destinations
>
Chinese outbound travelers estimated to top 117 million in 2014
Chinese outbound travelers estimated to top 117 million in 2014
A survey also shows that short-haul destinations were still more popular, though the number of Chinese travelling to Southeast Asia plunged more than 34%
A tourism consultancy has estimated that Chinese travelers made a total of 117 million trips overseas in 2014. The projection by Gold Palm Consulting, based on the results of a survey released on January 7, coincides with the forecast of China National Tourism Administration (CNTA) published last November that China's outbound travel would top the 100 million mark in 2014.
Gold Palm's survey also shows that short-haul destinations were still relatively more popular, though the number of Chinese travelling to Southeast Asia plunged more than 34%
Short-haul destinations still more popular
Korea, Japan, USA, Vietnam and Singapore all recorded over one million Chinese arrivals in 2014, according to a Gold Palm spokesperson, who added the survey findings were based on sampled data from 1,231 travel companies in China.
By continent, the survey finds that 89.5% of the outbound Chinese travelers went to Asia (of which 70.4% visited Hong Kong and Macau), 3.5% to Europe, 3% to Africa, 2.7% to the Americas, 1.1% to the Pacific and 0.2% to other regions.
"Income level is a major factor that differentiated outbound travel numbers in different provinces. It was also a key reason for short-haul destinations being more popular," he said.
The Chinese provinces and metropolitan areas that registered the highest number of outbound travelers in 2014 were Guangdong, Zhejiang, Beijing and Jiangsu. Chongqing and Sichuan were the areas with higher growth in outbound numbers.
Total expenditure abroad increased 18% y-o-y to US$140 billion, according to statistics released earlier by China Tourism Institute.
More peaks than drops in China outbound travel
Overall, outbound travel rose sharply in March and April and peaked in July to August[S1] , but plunged 25% in September and stayed low till December.
Gold Palm's spokesperson explained that outbound travel boomed in March and April as it's the blooming spring season in many popular destinations like the Netherlands, Japan and Korea, while travel peaked in July and August for family holidays and study trips over the summer vacation period.
The outbound figure for September 2014 was relatively normal vis-à-vis the same month in the previous year, when there was a spike in outbound travel before the enactment of the "Tourism Law" on October 1, 2013 triggered price increases.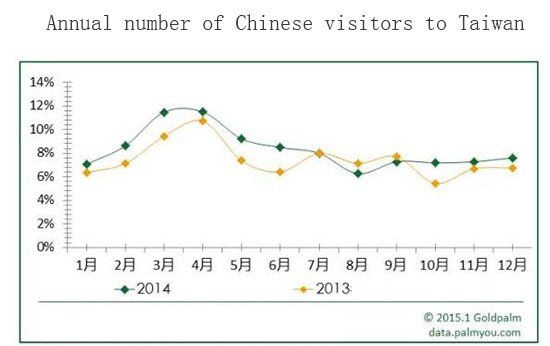 Meanwhile, visitor numbers to Taiwan, one of the most popular destinations for Chinese travelers, remained relatively high throughout the year with steady year-on-year growth and peaked in March and April.
"Most Chinese visitors to Taiwan are retired and their travel time is not linked to holiday seasons. Taiwan's tropical climate is also suitable for year-round travel and it was least affected by the Tourism Law," the Gold Palm spokesperson explained.
Aviation disasters and safety issue spell doom for SEA
Southeast Asia saw a 34.3% plunge in Chinese visitor numbers due to a host of incidents, including the military coup in Thailand, safety issues in the Philippines, Chinese tourists being taken hostage in Malaysia, airline disasters and a crackdown on unlicensed tour operators in China under the Tourism Law.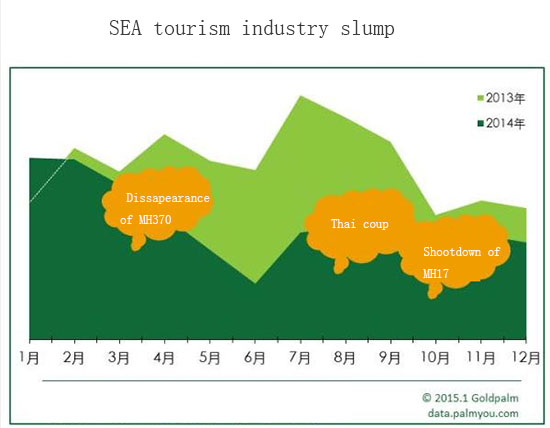 "The Air Asia's disaster will be another hit to the embattled SEA tourism markets, and Chinese outbound travel to Malaysia may remain lackluster in 2015," he said.
In stark contrast, Japan and Korea both enjoyed more than 40% growth in Chinese arrivals as Japan's tourism industry saw a revival after a two-year slump and Korea was in favor thanks to the popularity of K-dramas, he said.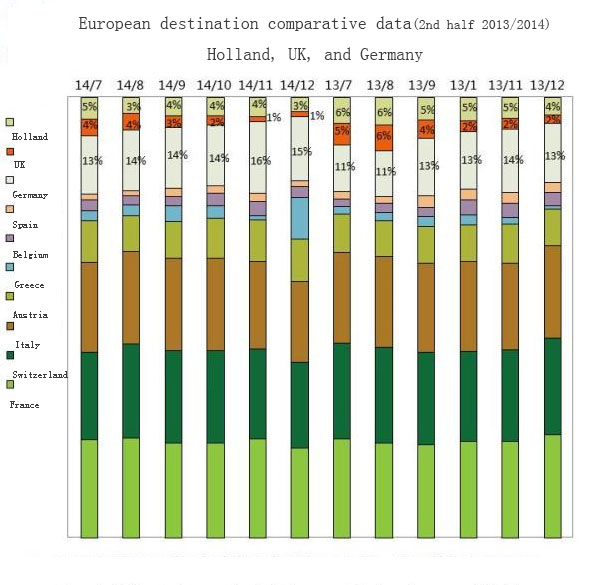 France, Switzerland and Italy received 60% of the Chinese travelers visiting Europe. Germany had a remarkable growth in 2014 at the expense of the Netherlands and the UK. The German government's change of visa policy for Chinese nationals and the nation's high-quality hotels, Michelin-starred restaurants, luxury cars and shopping were contributing factors.
(Translation by David)