Qunar's customer poaching riddled with "phantom sales"
Qunar staff tasked to "poach" hotel customers are airing their frustrations about unscrupulous tactics of the company.
ChinaTravelNews – In a previous article we investigated Qunar's customer poaching campaign. Now frontline sales staff tasked to "poach" hotel customers to its platform are airing their frustrations to the media about unscrupulous tactics adopted to meet sales quotas.
Speaking to our reporter, a Qunar employee wondered why the management hasn't done anything about blatantly fabricated sales for the campaign launched earlier this month.
How phantom sales work
As reported previously, Qunar's destination divisions initiated a "customer poaching" campaign that uses a QR scan to sign over hotels guests to the Qunar platform from other booking sites at hotel check in counters. The campaign targets hotels of three stars or below in second- and third-tier cities.
Qunar's sales staff said they had to resort to bogus sign-ups in order to meet the impossibly high quota of signing over 20 customers a day.
Some staff uploaded the campaign QR codes for to Wechat Moments and Weibo,which users can search, scan, and then fill in the sign up form without even checking into a hotel. The "Qunar gift pack" incentive for signing is delivered to each signed up user after account verification.
Our reporter tested this by scanning the relevant QR code found in Weibo to check in to a Guangzhou hotel at 18:15 on December 25. By 10:55 the next morning, the booking status on Qunar's app indicated that he had checked out and the transaction was complete even though he never went near the hotel.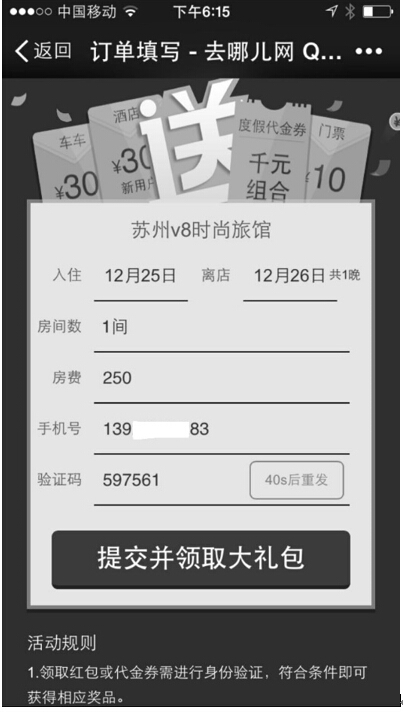 Booking page after QR code scan to fill in for coupons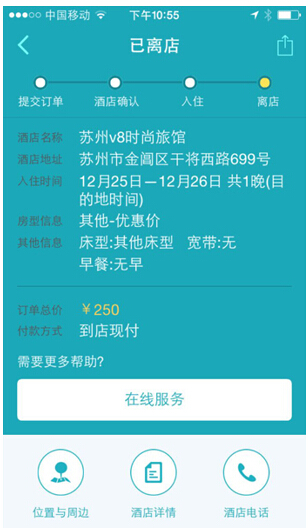 Order status page showing check-out status, dates and fees
Qunar employee ZZ Ma (pseudonym) showed our reporter a transaction record in the back-end system and explained that Qunar's system registers all customers who complete the app form as checked in guests regardless if they actually check in or not and these "phantom sales" are recorded as individual staff's sales performance.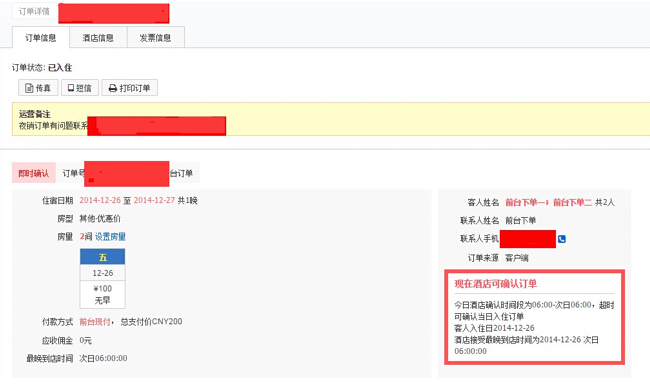 Qunar's back-end system indicating check-in
Triple tiered fraud
Mr. Ma said his colleagues are speculating whether this is merely small scale employee fraud, or it is as serious as a listed company manipulating its financial records.
Sales staff who are found to have committed fraud will be dismissed according to Qunar's company rules, but no sales staff have yet been penalized, nor has the Qunar management taken any action on the matter.
"As soon as the campaign was launched, I doubted hotels would work with us as they already get cash-back from eLong for their bookings. Why would they risk their cash-back and handover eLong's customers to Qunar," Mr. Ma questioned.
"With our targets set so high, we had no choice but to use any means to fulfill the quota – we uploaded the code online and asked anyone to scan the code," Mr. Ma said, admitting that he had been fabricating sales figures since day one and the majority of his colleagues' sales were also bogus.
The sales staff get RMB1 commission for every customer they get (real or fake), according to Qunar's guidelines. An industry expert said that even if these bogus sales figures are not included in financial reports, paying out commissions for falsely claimed sales will have already damaged shareholders' interests.
However, if Qunar ceased paying commissions for its on-site sales, thesales staff would lose out.
Whether these phantom sales are used to boost Qunar's bottom line remains to be seen when Qunar releases its next fiscal report, and it will require a more careful examination of its accounts to determine if there are irregularities.
Another fraud this campaign has produced, besides phantom sales and corporate fraud, is fabricated user reviews. Our reporter received an SMS customer review request at 12:07 on December 26 to review his "hotel experience" that never took place and his "review" was approved and posted the following day on Qunar's webpage (screenshots below).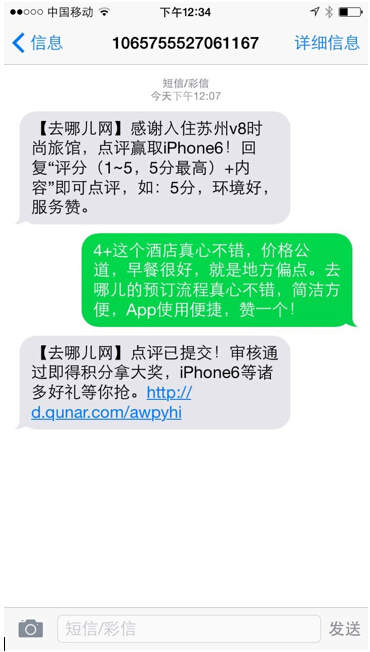 SMS requesting a customer review for a "phantom sale"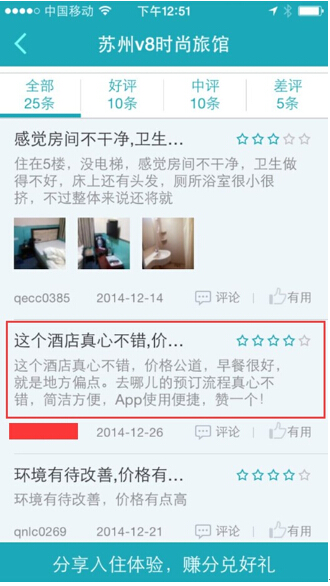 Approved "review" for a phantom sale on Qunar's website
An influential Wechat Public Account columnist told our reporter that there are two possible motives behind Qunar's flagrant action ­– the first is to bolster hotel direct sales to build up its fiscal report and the second is to boost the group's destinations division in preparation for potentially taking over the hotel division in a merger next year.
"With all the media reports, I don't believe CC Zhuang is still in the dark about this," said Mr Ma.
"Actually I'm rather disappointed that everything's being covered up and brushed aside yet our quotas still haven't been reduced," he added.
(Reporting by Xianhao Zeng)
(Share information and views with Xianhao Zeng of ChinaTravelNews at goofy@traveldaily.cn Wechat ID: dppqqb)
(Translation by David)
Read related article: Qunar's "customer poaching" heats up cutthroat OTA war